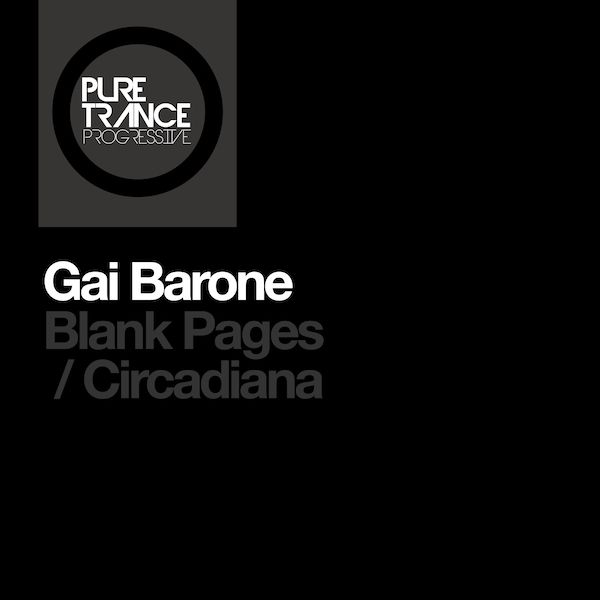 Gai Barone - Blank Pages / Circadiana
There can be no doubt that Solarstone's Pure Trance movement has helped redefine the trance landscape since it's inception in 2012, opening up adventurous new possibilities for the underground scene. Its newest extension is the Pure Trance Progressive label – focusing on promoting the resurgent deeper, slower, highly creative side of the Pure Trance sound.
In the final days of 2015 the label released Forerunners – 'Lost In Translation'/ 'Strange Days' (PTP002), two lush, majestic and addictive, truly progressive pieces of music, courtesy of Arizona-based producer Brenden LaBonte. This was a release that broke down sub-genre barriers for a lot DJs around the world, gaining audience adulation when played in melodic techno sets, deep progressive sets, and slower trance sets. Excitingly, PTP aims to release immersive and unique tracks that continue this trend throughout 2016 and beyond.
Italy's Gai Barone is one of that rare breed of producers that have their own instantly identifiable unique sound. With his recent brilliant 'Towards' album release, his profile has skyrocketed, and has seen him playing at some of the world's most iconic underground clubs.
'Blank Pages' is taken from Gai's own disc from the new 'Pure Trance Vol. 4' album, and is a perfect example of his remarkable production skills, as he layers sounds and patterns with a true musician's instinct to create something that truly #soundsdifferent. 'Circadiana' continues the progressive melodic theme, entwining expressive arpeggiated sequences and lush keyboard movements into an immersive & addictive soundscape. With such a wonderful, creative musical attitude as this, the future is looking very exciting indeed.
Further Info:
http://www.solarstone.co.uk
https://twitter.com/ilikeitpure/
https://www.mixcloud.com/discover/pure-trance/
https://www.facebook.com/gaibarone