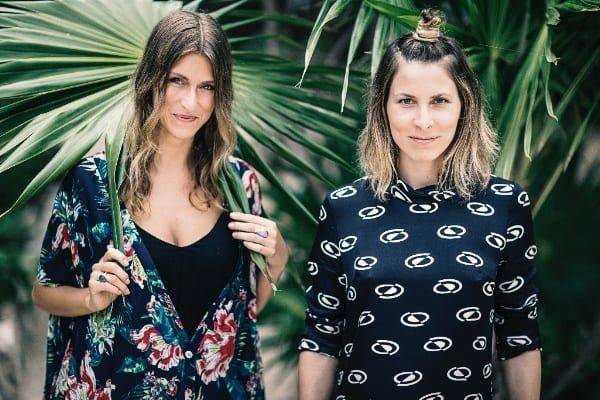 BLOND:ISH Announce Summer ABRACADABRA Tour Dates
ABRACADABRA ramps up their international success this summer, with a return to Scorpios Mykonos for a second year, and the ABRACADABRA stage debut at the epic extravaganza of Tomorrowland, where they'll take over the LEAF stage for both Saturdays, all ahead of the ABRA label launching later this summer.

The lifestyle & event brand, comprised of close friends BLOND:ISH aka Anstascia and Vivie-Ann, Taryn (BLOEM) and Liana (LULI) is fast becoming a global creative movement, thanks to their magical destinations, open-hearted spiritual beliefs, innovative vision and joyful music.

Tomorrowland's LEAF stage is a renowned sanctuary of calm and spirituality, respecting and celebrating nature, which is at the heart of ABRA's ethos, along with the desire to create a wild and free party space for all. BLOND:ISH & Bloem will be joined by Audiofly, Behrouz, Daoud, Maga, Monolink, Dawu & Schemering over both weekends for two enchanting events. They'll perform on LEAF's eco-friendly bamboo floating stage, surrounded by scented plants and edible herbs you can pluck to garnish your drinks.
The brand returns to Scorpios in Mykonos, for five summer Thursday dates. The epitome of mythical vibes, the venue is one of the best beach clubs in the world, a one stop party destination to meet with all your favourite humans from around the globe.

ABRACADABRA is considered to be the most universally adopted phrase that is pronounced in other languages without translation. Of unknown origin meaning 'I create as I speak', ABRACADABRA, born on a beach in Tulum last year, reflects these four women's credo. They're proud to lead a 'self-sustainable raving' movement, inspiring promoters and partygoers to work towards eco-friendly, single-use plastic-free events. Each party, enhanced by its specific natural surroundings, blends music, mischief and mayhem, with surprise DJs, vibrant colours and edible décor.

With ABRACADABRA budding into a record label this year, this summer is only the start …
Join ABRACADABRA @ Scorpios, Mykonos
Thursday 31st May
Thursday 21st June
Thursday 12th July
Thursday 26th July
Thursday 13th September

Join ABRACADABRA @ Tomorrowland
Saturday 21st July
Saturday 28th July
Connect With BLOND:ISH:
https://soundcloud.com/blondish
https://www.facebook.com/Blondish/
Connect with ABRACADABRA:
https://www.facebook.com/welcometoabracadabra/
https://www.instagram.com/welcometoabracadabra/