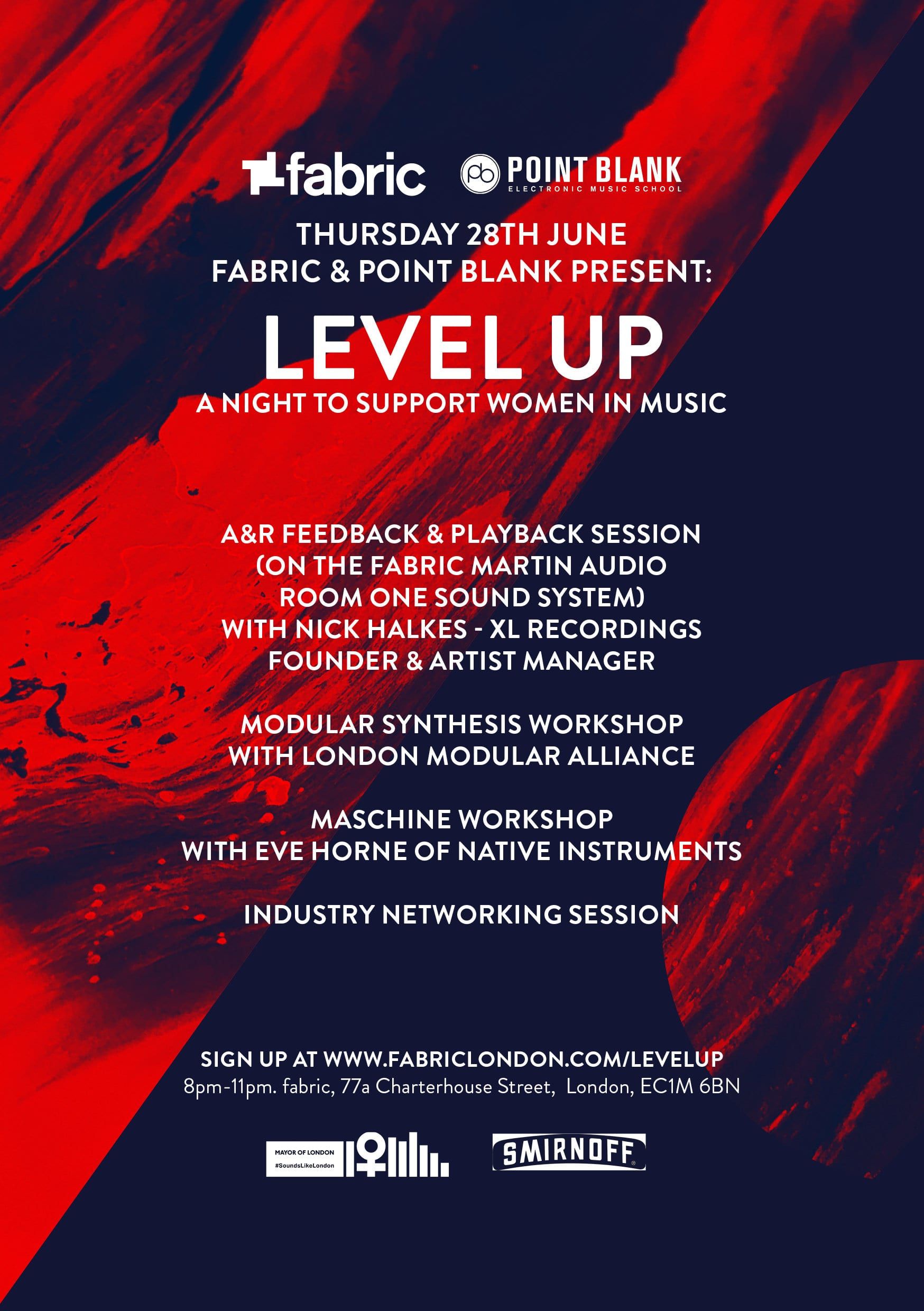 fabric & Point Blank Present Level Up – a night to support women in music
fabric and Point Blank Music School have teamed up with Mayor of London & Sounds Like London, to celebrate and support women in music across the month of June.
On Thursday June 28th, we are hosting an industry networking evening and A&R playback session for female music makers. Nick Halkes, founder of XL & Positiva Records and manager of Liam Howlett, The Prodigy, Stanton Warriors, One Bit and more will be part of listening panel, offering feedback and advice on participants music.
Also joining us for the evening is Harriet Moss (she said so & Manners McDade Publishing) Eve Horne, (Native Instruments) providing hands on Maschine workshops, London Modular Alliance for hands on modular synth workshops, Ceri (DJ, producer & label owner) and Leddra Chapman (Point Blank Music industry instructor). The night will be hosted by Carly Foxx (Point Blank & Love Story Recordings) and Judy Griffith (fabric).
Level Up is part of London Mayor Sadiq Khan's new summer campaign to support the capital's grassroots music venues. Sounds Like London will also shine a light on emerging talent and young women in the music industry.
The campaign – Sounds Like London – forms part as the mayor's draft Culture Strategy – Culture for All Londoners.
Smirnoff have also lent their support to Level Up and will very kindly be providing drinks for the night.

fabric & Point Blank Present:

Level Up

A night to support women in music

A&R Feedback & Playback Session
(On the fabric Martin Audio Room One Sound System)
With Nick Halkes – XL Recordings Founder & Artist Manager

Modular Synthesis Workshop
With London Modular Alliance

Maschine Workshop
With Eve Horne of Native Instruments

Industry Networking Session

Sign up: www.fabriclondon.com/levelup

Thursday 28th June, 8pm-11pm
fabric, 77a Charterhouse Street, London, EC1M 6BN