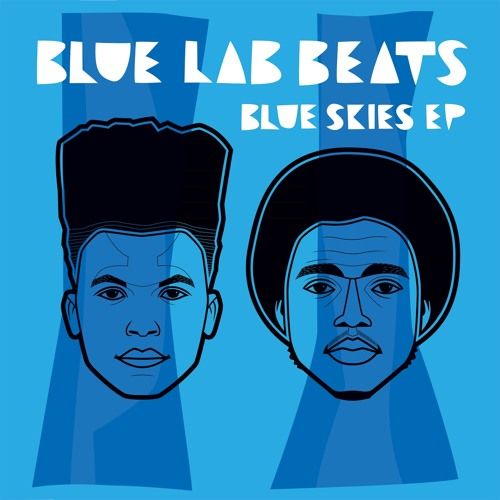 Blue Lab Beats - Blue Skies
Blue Lab Beats is the brainchild of prolific London production duo NK-OK and MR D.M. Stemming from a mutual admiration of jazz, hip hop and neo-soul, the pair offer up a first taste of their uniquely standout debut EP – Blue Skies.

Already the innovation behind acts such as The Age of L.U.N.A, Ruby Francis and Louis VI as well as remixes for Jodie Abacus, Dua Lipa, Rag n Bone man to name a few. The enigmatic pair cite a broad range of genre-spanning influences for the project; from grime artists Wiley, Wretch 32 and Kano to jazz legends Milt Jackson and Oscar Peterson.

In first cut Blue Skies, smokey brass sounds soar over an understated, down-tempo piano riff that slowly captivates the mind, while the ever present percussion gently seduces the body. As it progresses, the focus shifts from the brass to the keys in an immediate but smooth transition ushering in a minute of pure, unadulterated freeform.

Beats are born in the 'Blue Lab' and graced by musicians, rappers' singers from all over London and worldwide via the internet and it is this open door policy that ensures the eclectic Blue Lab sound is ever evolving.

The BLB project provides the perfect counterpart to NKOK's slick hip-hop L.U.N.A beats; showcasing the depth of his creative prowess and production dexterity. Mr DM's multi-instrumental wizardry provides the gravitas and sophistication of sound that rounds out the project.

All of which further unfolds by way of a slick documentary that caught the attention of Dazed & Confused Magazine and showcasing the duo's quest to produce a sample-free sound, contrary to the status quo. Capturing them in the throes of one of their midnight jamming sessions, the doc sees the duo collaborate with notable collectives Theon Cross, Sumo Chief, and the Ezra Collective.

Blue Skies is emphatic statement of intent from this gifted duo, leaving a resounding sense of anticipation for the release of their debut EP this September.