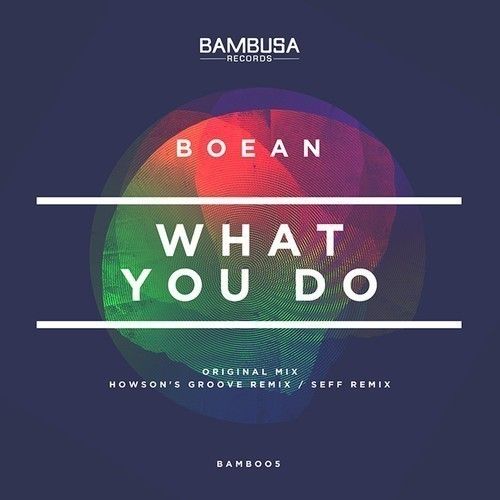 Boean – What You Do
Bambusa Records, the dynamic new label from electronic trio, Panda, is set to drop their latest release,'What You Do' from the hotly tipped duo, Boean, 7th July. Including two remixes from experimental pair, Howson's Groove & underground house producer, SEFF, 'What You Do' is the summer soundtrack we've been waiting for.

The track has already seen DJ support from Kry Wolf, Toyboy & Robin, Doorly, DJ EZ, DEVolution, Vanilla Ace, Rob Da Bank, Golden Boy, Panda and Kastle. The Howson's Groove remix was supported with a premiere on the respected SubSoul, and radio play on Kiss FM and Radio One. SEFF's recent new signing to Hot Creations has seen support on his Boean rework from Sidney Charles, Christoph, Second City, Weiss and Russ Yallop!

London based twosome Boean – made up of Jackson Almond (A.K.A Real) and Jim Rider – are no strangers to the house scene, having already created a buzz with their residency at Shuush at Fire & Lightbox. They recently supported Gorgon City on the London leg of their UK tour, alongside Kidnap Kid, Toyboy & Robin and Kry Wolf, and their debut track, 'I'll be The Rhythm' landed on Eton Messy last year. Now they're back to make waves on Bambusa with this uplifting and rhythmic original production, complete with flowing vocal hooks, sharp beats and catchy chord progressions.

First up on remix duties we see rising producers, Howson's Groove give the original a distinct garage rework with it's shuffling high hats and pitched down vocals. The pair have already seen support from the likes of Pedestrian and Throwing Snow, and their take on 'What You Do' recently had its first airplays on Kiss FM from garage legend DJ EZ, and Rob Da Bank on Radio One.

SEFF steps in on the final remix to give his underground tech house makeover, taking it down a notch and introducing a lower bassline. The prolific producer has seen releases on some of the most respected labels in the country, soon to see another one on Hot Creations. His last couple of productions saw support from the likes of James Zabiela and Steve Lawler, and it doesn't show signs of stopping there.

With the production talents of Panda – who have their own success story – behind Bambusa, the label's ethos is to sign fresh and emerging new talent, and with a roster of Dosage, Ben Remember and Apres – Boean is certainly not an exception, with 'What You Do' lined up to be yet another stellar release on an incredibly promising label.