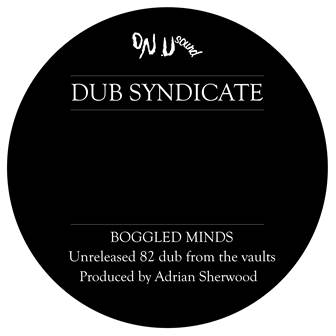 Dub Syndicate - Boggled Minds
Ahead of the reissue of their classic albums, the legendary Dub Syndicate dig deep into their vaults, unveiling a previously unreleased track 'Boggled Minds' (Lifted from the forthcoming 'Displaced Masters' LP, which features nine stripped-back takes of early On-U dub magic.).
Dub Syndicate was initially one of the many studio-based projects masterminded by Adrian Sherwood in the early days of his maverick independent label, built around deep and heavy reggae rhythms, and marshalling the talents of a revolving cast of Jamaican and British musicians. It evolved over time to become the main musical vehicle of Lincoln Valentine Scott aka Style Scott (former drummer with the Roots Radics and Creation Rebel), usually involving Style laying down backing tracks in Kingston, and then Adrian applying his mixing board magic when the tapes arrived in London.
The first four Dub Syndicate studio albums are being re-pressed on vinyl in high quality new editions with printed inners, download cards and bonus tracks where available. This includes the rare second album, One Way System, originally a cassette-only edition on the seminal ROIR label from NYC, and reissued now as a double gatefold version with new artwork, re-cut at 45rpm for maximum frequency impact. Also included in this batch is the collaborative North Of The River Thames set with ace melodica player Doctor Pablo. Once again everything is anthologised on CD in the 5-disc Ambience In Dub 1982 – 1985 boxset, complete with 24 page booklet.
In addition to many much-loved studio albums such as Stoned Immaculate, Dub Syndicate also became a barnstorming live act and a staple of the festival circuit. Tragically, on 9 October 2014 Style Scott was senselessly murdered in his home in Jamaica. An irreplaceable and unique musical talent is gone, but his music will live on forever.
The six albums will all be released on the 10th November.
On-U Sound Records is an English record label best known for releasing its own unique flavour of dub music since the 1981. The label is owned by producer Adrian Sherwood and home to acts such as Tackhead, Dub Syndicate, African Head Charge, The London Underground, Little Annie, Creation Rebel, Mark Stewart, Gary Clail, New Age Steppers and Singers & Players. Producer Adrian Sherwood generates the On-U signature sound.
Sherwood will also be bringing his 'At The Controls' show back to Jazz Café' on the 18th November, featuring a live performance from Little Axe and a special Dub set from Rob Da Bank.