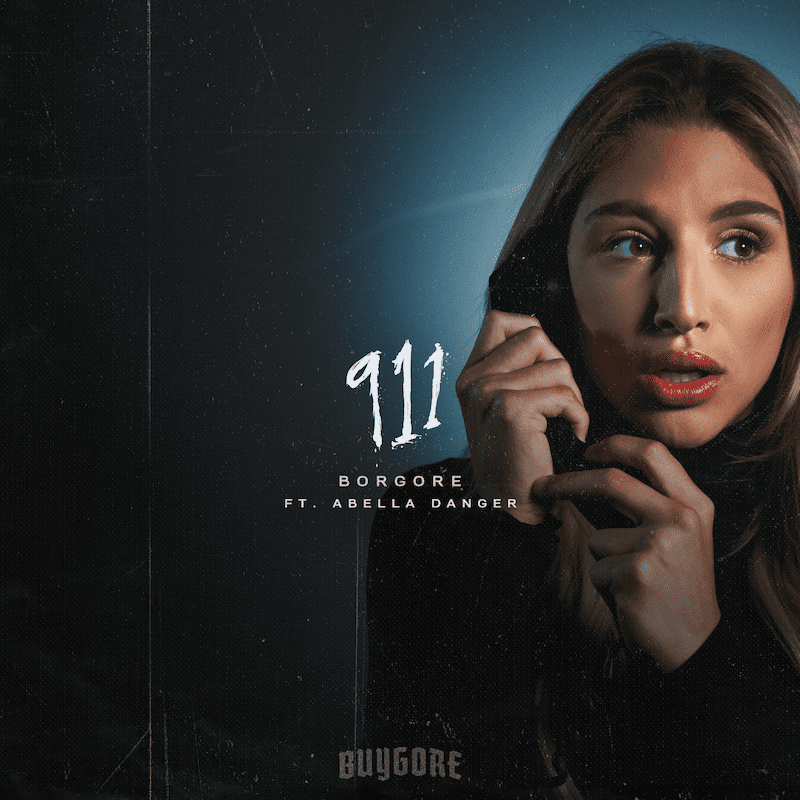 Borgore reunites with Abella Danger on latest track '911' accompanied by a music video
Following their wildly successful 2017 music video release of 'Savages', Dubstep heavyweight Borgore and adult film aficionado Abella Danger reunite on seductive track '911' – set to premiere on Pornhub Friday, July 19th via Buygore Records.
Featuring Borgore's signature "Gorestep" style, incorporating triplet drum patterns and hard-style metal influences, '911' is the summer debut that Borgore fans have been awaiting. Paired with Abella Danger's sultry vocals, the track opens with a bass-laden melody and carries into hard-hitting dubstep drops. '911' is a dubstep fanatic's dream ready to be a mosh-pit paradise.
Borgore explains, "I wrote 911 and didn't even know if it'd be on the album, it's so different. I was sitting on the instrumental and felt the only thing that would make it perfect is a sexy female vocal on it. I met Abella a while back on my Savages music video shoot (she and the rest of the girls killed that music video) and saw her around just regular LA hangouts. She's one of the nicest and most humble people I've come to know, she was just the perfect fit. We met 2 or 3 times to record the verse because she's such a perfectionist, funny enough I eventually just ended up using the first take."
The music video follows Borgore in a foot race between himself and two thieves played by Abella and Gina. After catching the girls breaking into his car and stealing personal items, Borgore chases the thieves through numerous areas – parks, children's birthday parties and bounce houses – only to lose them in a deflated bounce house. Without falling victim to defeat, Borgore gathers himself and continues his chase, trapping the girls in a house and dialing 911. Being as mischievous as the girls are, they slap the phone out of Borgore's hand, seduce him, and leave him tied to the bed when the cops arrive.
Widely-known as one of the Godfathers of dubstep, 27-year-old Borgore has claimed his top spot in the dance music community. As a classically trained producer, songwriter and DJ, Borgore has proven his ability to cross genres and experiment freely in his live sets marking an exceedingly impressive resume and back catalogue. As an artist who thrives off breaking boundaries, Borgore's use of blending bass, trance, hip hop and his self-made genre of "Gorestep" has brought him to the forefront of the music industry. Coming from an Israeli background, he infuses educational influences from Tel Aviv's Thelma Yellin Music Academy in his tracks – some of his more notable releases being 2009's Ice Cream Mixtape and 2010's Borgore Ruined Dubstep, Pt. 1 & Pt. 2.
Borgore's longtime friend Abella Danger has had an extensive career in the adult film industry with appearances in over 801 credited scenes, and won the AVN Award for "Best New Starlet" in 2016. Most recently, she has also been featured on Kanye West's Porn Hub x Yeezy Capsule Collection.
As the label boss of Buygore Records, Borgore has a decade-long list of accomplishments from headlining sold out shows to record-breaking crowds at iconic events such as Tomorrowland, Made In America, Ultra and EDC Las Vegas, and a milieu of collaborative bangers alongside fellow artists like Miley Cyrus, Gucci Mane, Waka Flocka Flame and Diplo.
'911' is premiering on Pornhub's site Friday, July 19th and released everywhere via Buygore Records.