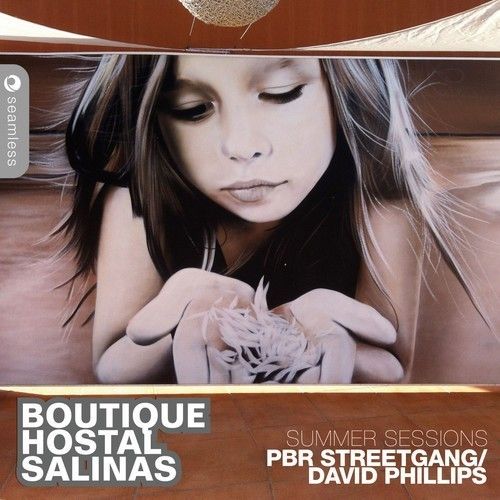 BOUTIQUE HOSTAL SALINAS presents IBIZA SUMMER SESSIONS
With less than a week to go, the countdown is truly on until the BHS' very first compilation CD, aptly titled the 'Boutique Hostal Salinas Ibiza Summer Sessions', out on the Seamless Recordings label, hits the streets on 4th August.

The three discs of awesomeness, lovingly put together by BHS co-owner and Ibiza resident DJ, David Phillips with a helping hand from PBR Streetgang (aka the very versatile DJ duo Bonar Bradberry and Tom Thorpe- fans, friends and fixtures of the Boutique Hostal Salinas) is a clever combo of down tempo, nu disco and deep house and features tracks from the likes of Goldfrapp, DFA, Pyschemagik, Nancy Wang, Bonar Bradberry, PBR Streetgang, Art of Tones, John Talabot, Prins Thomas and Ewan Pearson.

Aforementioned Phillips, who has also been a We Love Space DJ for the last 10 years, is grinning with glee at the long awaited arrival of the 3CD saying, "For years and years I've seen compilation after compilation come out and wondered why the hell we never brought out our own. Here's what we hope to be the first of many!"

Responsible for CDs 1&2, Phillips is a master of crossing genres and has never been tagged as a house-only DJ, so his desire to produce a compilation that was both upbeat and danceable without being restricted to house was understandable.

'Sometimes, I feel like people think that there's just 2 kinds of Ibiza compilation, either a 4/4 mix or some sort of soundtrack to listen to lying on your back on the beach. I'd like to fill in the gaps there".
For CD1 then, expect echoes of the BHS' Lo Cura Lounge daytime vibe with West Coast rock, Weatherall-esque dub techno, 80's Italo-disco and indefinable indie gems all playing their part. Think lazy afternoons filled with much cherished, lovingly selected and perfectly delivered music.

On CD2 David Phillips presents the sound of Lo Cura Lounge by night, describing it as a chance to 'get your boogie on'. It represents years of a misspent youth and endless hours spent dancing to the great DJ's who have passed through the Boutique Hostal Salinas and the Lo Cura Bar, influencing the very essence of both locations.
CD3 is the sound of two guys at the top of their game playing with soul, funk and copious amounts of know-how. We're talking about the duo that is PBR Streetgang aka Bonar Bradberry and Tom Thorpe, a pair who have released on critically acclaimed labels such as 2020 Vision, Future Boogie, Hot Creations, and Southern Fried Records.

On account of all of the above, it just wouldn't be right, in the eyes of the Boutique Hostal Salinas Three (Phillips plus partners Duesi Wolfmeir and Anita Dey) not to commemorate such an occasion. To that end, this Sunday 3rd August and the BHS gang shall seize the day and raise glasses to their brand new musical baby, cranking up the volume whilst they do so. Join them from 6pm till, no doubt, very, very late to hear their Ibiza Summer Sessions sound out across Salinas and be in with a chance to take home your copy. Joining Phillips behind the decks, another stalwart of the BHS, Ms. Daisy Heartbreaker plus a very special guest TBA. All things considered, this is one little Lo Cura Lounge get together that really should not be missed.