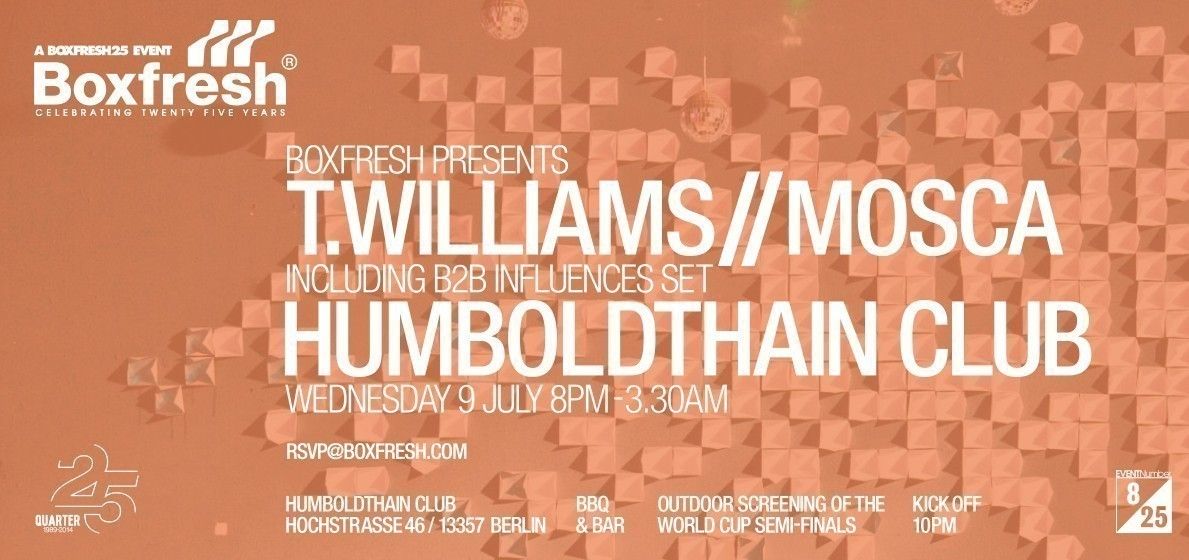 boxfresh x seek berlin afterparty
boxfresh x seek berlin afterparty on wed 9th july 2014
To celebrate launching 'EightyNine' at SEEK, Boxfresh will take its series of anniversary concepts to the heart of Berlin for the eighth event in its 25 programme, an exclusive and invite only after-party at the Humboldthain Club.
The evening will include a rare 'back-to-back influences' set by two of the UK's most impressive electronic music exports, as T.Williams and Mosca span grime, hardcore, bashment, garage and everything in-between.
T.Williams is a London artist who emerged in 2010 with a unique and revivalist house music production. Having been lauded in press such as DJ Magazine, Time Out and the Guardian to name a few, he has since forged ahead with a sound that explores grime, dubstep, UK Bass and the evolution of house music.
Fellow Londoner Mosca is a producer first and DJ second, another of BBC Radio 1's In New DJs We Trust roster, whose influences span dub, reggae and dancehall as well as hip hop, jungle, rock and indie, and has a flair for bringing world sounds to the underground.
RSVP:[email protected]