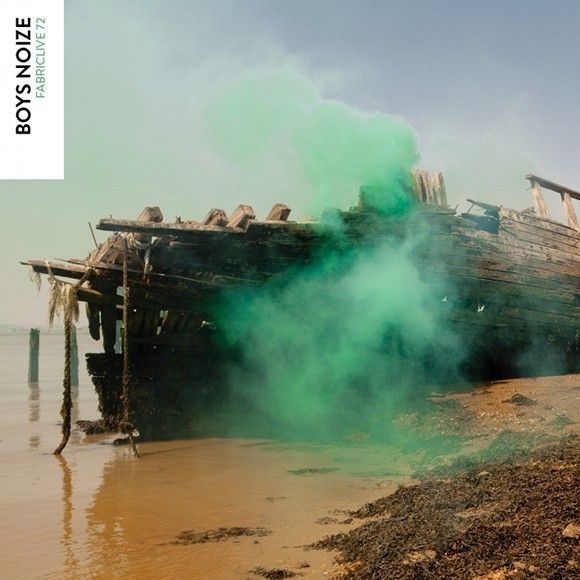 Boys Noize – FABRICLIVE 72
Boys Noize is amongst an elite group of highly respected DJ/Producers to have earned legendary status. Whether producing monster tracks such as 'Starwin', playing to thousands of people around the world, remixing for the likes of David Lynch, Depeche Mode and Daft Punk, working with artists as varied as Skrillex, Snoop Dogg, Santigold and Chilly Gonzales, or as label boss of his own Boysnoize Records, it's fair to say Boys Noize has never been in more demand or on better form than currently: now iced with the proverbial cherry by being next in line to mix the legendary FABRICLIVE series. Working two jobs just to buy turntables and satisfy his insatiable appetite for buying house, disco and hip hop records from the age of 14 years old, Hamburg-born Alex Ridha played his first ever gig at the age of 16 and from there – by his own admittance – "everything went pretty crazy." Happy to just make back the money he'd spent on vinyl, before long his productions were supported by the likes of 2manydjs, Erol Alkan and Laurent Garnier, releasing on Kitsune and Turbo before exclusively releasing on his own label (with Cocoon and Phantasy the only recent exceptions). Renowned as a fast-paced, party DJ, Boys Noize does not disappoint on his FABRICLIVE mix.
"Around 2006-2007 I played together with Justice & crew in Room 2 and I was very excited, because it was really a dream come true to play London's famous fabric. I remember it was super dark: smoke, sweat and lasers and people everywhere. I thought the club was so massive. I had no orientation, I didn't know where the exit was or anything."- Boys Noize
FABRICLIVE 72 is a frenetic, fast-paced representation of a typical Boys Noize set, condensed into 70 pulsating, sweaty minutes. Not simply a melting pot of the newest tracks, but an education in crazy techno and hi-energy jackin' house, it switches up between Boysnoize Records releases – Tracques 'Motor' – to Gesaffelstein's 'Aufstand' and Four Tet's 'For These Times' with timeless ease. Its upbeat, happy attitude is clearly in full swing with Ridha focusing on melody for the home listener. Featuring a demo version of new track 'Anoid' (a gnarly, industrial slice sewn bang into the middle of the mix), his collab with Skrillex under the Dog Blood moniker (the breakbeat-powered 'Chella Ride'), and new edits of underground tracks by Aden, DJ Deeon and Anthony Naples, Boys Noize proves time and time again that he is a man fully in control of his craft.
"I really tried to sum up my two to three hour set in 70 minutes. My sets usually include many styles and at some points I mix pretty fast too. I play some jackin' house and techno with crazy energy stuff and then go back to reduced dub or even classic electro or breaks. My goal was to combine all of the styles I play but also make it listenable. All in all I think this DJ mix is pretty timeless, colourful and happy." – Boys Noize
Boys Noize will launch FABRICLIVE 72 at fabric on Friday, 15th November alongside Strip Steve, SCNTST, Jimmy Edgar, I-F (DJ set), Djedjotronic, Kowton, Daniel Avery and more. More info and tickets at http://www.fabriclondon.com/club/listing/789