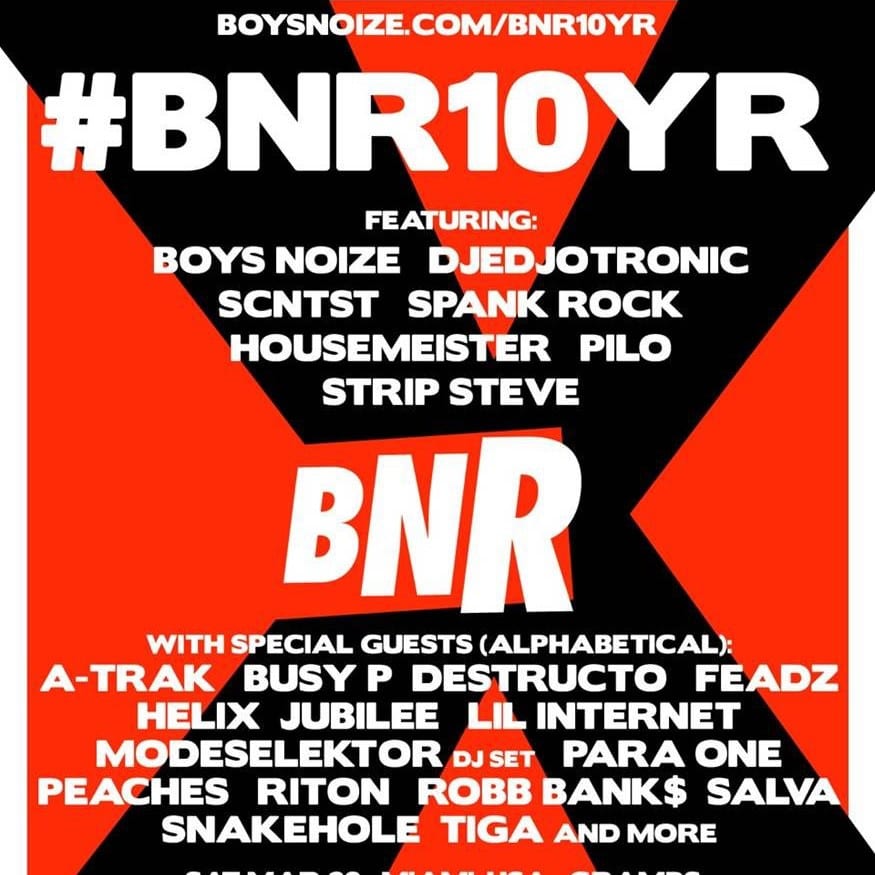 Boysnoize Records is 10
It's been 10 years since the very first record released on Boysnoize Records saw the light of day, and through your ongoing support it has continued to shine, gaining world-wide recognition as a premiere DIY collective, nurturing talent and allowing it's artists to escape cramped genre pigeonholes. This year, Alex Ridha AKA Boys Noize celebrates the success of his non-conformist brigade, Boysnoize Records (BNR). Alex founded BNR in 2005 to retain full artistic freedom under Boys Noize and his different monikers, while releasing the music of like-minded and genre-transcending artists including Spank Rock, SCNTST, Djedjotronic, Strip Steve, Peaches, PILO and many more. The celebration kicked off last month with an exclusive free BitTorrent bundle featuring unreleased music, live mixes and other BNR content. The bundle consists of over five hours of music, including two new tracks from Boys Noize ("Brain Frequent" and "Dawnload"), a live Boys Noize set from Tokyo, a live Dog Blood set from Monegros Festival, an unreleased Boys Noize remix of Jackson and his Computerband's track, "Arp #1," two unreleased SCNTST tracks ("Punk01" and "Beat03"), and a curated selection of 25 songs, the best of BNR classics. Visual assets include a Dog Blood drawing, a collage of BNR album artwork from the past 10 years, and the BNR10YR logo designed by BNR's long-time designer, Paul Snowden.
Click here to download the BNR10YR BitTorrent bundle
Next comes a series of parties around the world, the first dates of which we can announce today. With the whole Boys Noize crew in tow, Alex has also invited a stellar line-up of friends to join the party. Tiga, Modeselektor, Busy P, A-Trak and Peaches are amongst those hitching a ride on the BNR Express, kicking off on March 28th in Miami before heading to Europe to continue the celebrations. See the attached poster for further info.
See you on the dance floor!