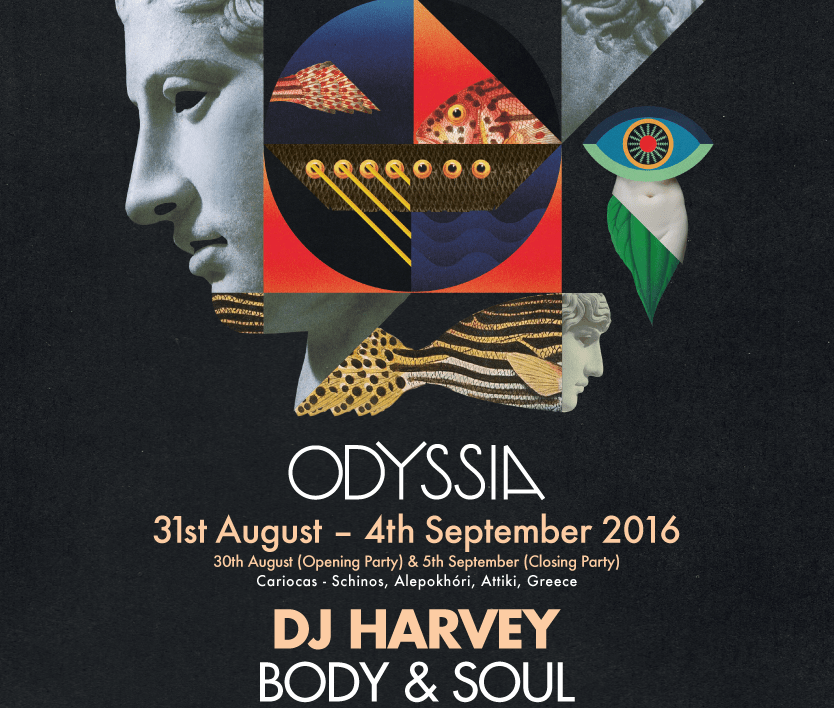 BRAND NEW GREECE FESTIVAL FOR 2016: ODYSSIA
This Summer the spotlight shines on Greece, sensed out by Odyssia who, brought together by Need2soul, Cariocas and NEUHM, will launch its inaugural festival 31st August. A haven from the hordes and hype of a massed festival map, the picturesque and private cove of Cariocas Beach provides the perfect scene for this first-of-its-kind escape. A secluded bar with a proud 18-year legacy hosting historic acts, a shore-side stage in a bay until now secreted away, this little-known locale is the hand-picked and hand built paradise demanded of a festival wishing to create a cultivated escape. With the globally minded DJ Harvey and universally influential Gilles Peterson amongst first names announced, along with the spirited, rarely refined Body & Soul collective of François K, Joe Claussell and Danny Krivit who will be doing a vey special 10 hour set in celebration of their 20th Anniversary. Odyssia promises the most informed curation on the circuit for it's finely crafted launch.
Trailblazing this new and stunning setting, Odyssia is an adventure boasting beauty and artistry from purveyors of pure, experiential electronics – not merely at the peak of the game but changing it. The prodigious selector Benji B – protégé to Gilles Peterson – is among tastemakers from every flavour of music, including Rinse FM's reputed jam-stress Josey Rebelle and NTS Radio's navigator of club sound Jon Rust. Amsterdam's auteurs of Motown to modern dance in Detroit Swindle, Detroit's chosen re-creator Kyle Hall, intrepid Italian Gigi Testa, and authentic and technical techno of Vakula, Midland and more show the uncompromising direction of a festival ahead of the curve. All the while Odyssia hewn this new path it wears its heritage in a host of global, first-generation acts with Boo Williams, Maurice Faulton and Delano Smith on point.
Taking Homer's hero Odysseus as it's own, Odyssia invites the pioneering festival goer to lose themselves in the luxury of an exploration in music, amidst a mythical landscape. This with only the pleasure and none of the trial. The city of Loutraki will accommodate travelers in it's celebrated culture, providing sights to match the natural splendor and organic sounds sampled by day. An accomplished, pan-European team of promoters have crossed the corners of the continent with a discerning eye and ear for detail, to inaugurate a music holiday intimately piecing together an alluring electronic collective cut from only the most credible of the underground. Hence Discodromo and Invisible City, Piranahead and Sunshine Pedro or Lovefingers and Thris Tan; the top tier of the lineup is built on a base of entrenched experimenters scouted with know-how from the niches of Europe and beyond. With acclaimed club partners such as Half Baked, Phonica and Deviation and many more, a custom-made sound system, beach sessions and boat parties that will daily stretch beyond sunset, this prophetic first edition has staked a prime spot on the festival map from which to entrance every goer.
www.odyssiafestival.com
LINEUP TO INCUDE:
DJ HARVEY
BODY & SOUL
CELEBRATING 20TH ANNIVERSARY WITH A 10 HOUR SET
(FRANÇOIS K ~ JOE CLAUSSELL ~ DANNY KRIVIT)
GILLES PETERSON
ANNA K ~ BENJI B ~ BOO WILLIAMS ~ DELANO SMITH
DETROIT SWINDLE ~ DISCODROMO ~ DJEFF AFROZILA
GIGI TESTA ~ INVISIBLE CITY ~ JEREMY UNDERGROUND
JON RUST ~ JOSEY REBELLE ~ KARMAN LINE
KYLE HALL ~ LOVEFINGERS ~ MAURICE FULTON ~ MIDLAND
PIRAHNAHEAD ~ SOULDYNAMIC ~ SUNSHINE PEDRO
THE CRIPPLES ~ THE LOVESICK ~ THRIS TIAN ~ VAKULA
+ MANY MORE TO BE ANNOUNCED
31st August – 4th September 2016
Cariocas Beach, Greece