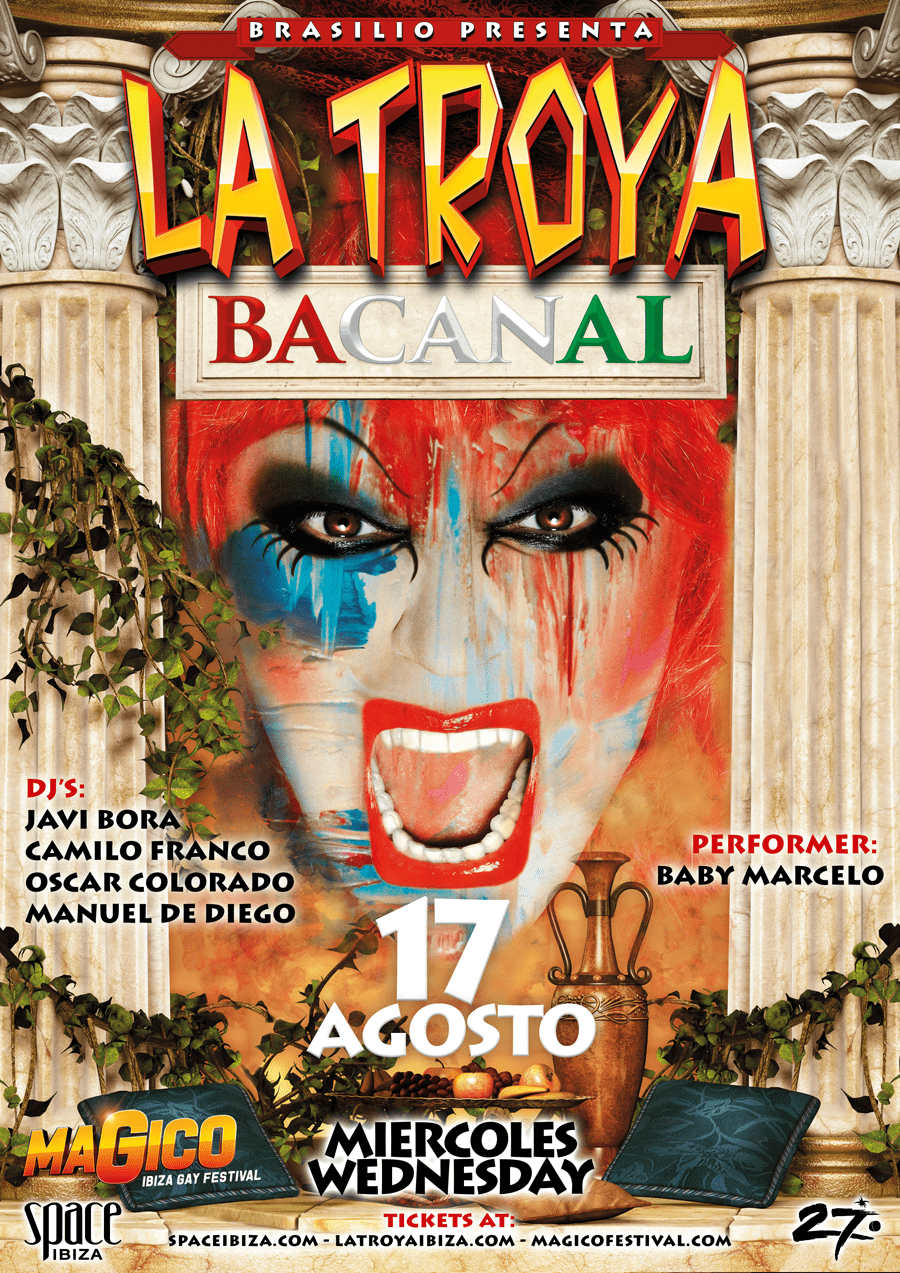 Brasilio presenta La Troya and Magico Festival: BACANAL
La Troya de Brasilio de Oliveira returns this Wednesday with a very special guest… Magico Festival with "Bacanal" at Space Ibiza. Will travel to ancient Rome to celebrate a big party in honor of the god Bacchus. Everything points to it will be a night full of debauchery and madness without restraint.
Baby Marcelo will not miss your appointment and will be present to liven up the night with the freshness and the verbiage that characterizes him. Every Wednesday the party fans anxiously await the performer and the beginning of the extravaganza.
Of course, the genuine Oscar Colorado will not miss what will be his weekly appointment every Wednesday as resident DJ, alongside with Camilo Franco who also the party joins as a resident DJ. Javi Bora will also be present playing the coolest records. This trio of DJs will be there to give it all and delight the audience with the best music and the good vibes.
We not get tired of saying that Brasilio presenta La Troya is the craziest party of the island, the most transgressive and above all, the party of Ibiza people. Unprejudiced and wanting to have fun, we love it so.
Don't miss "Bacanal" with Magico Festival as guest, because The binding of this triple combination, comprising representatives from La Troya, Space Ibiza and Magico-, can only lead to one of the most exciting nights in the island of Ibiza. Without a doubt, Wednesday August 17th will be remembered for being the most fun and free party of the most epic season at Space Ibiza.
Leave behind your preconceptions and come discover "Bacanal", with Brasilio presenta La Troya and Magico Festival. Space will burn! The event will be pure fire, the craziest party of the island, the party of the people of Ibiza, where the only concern is allowed is to have fun.