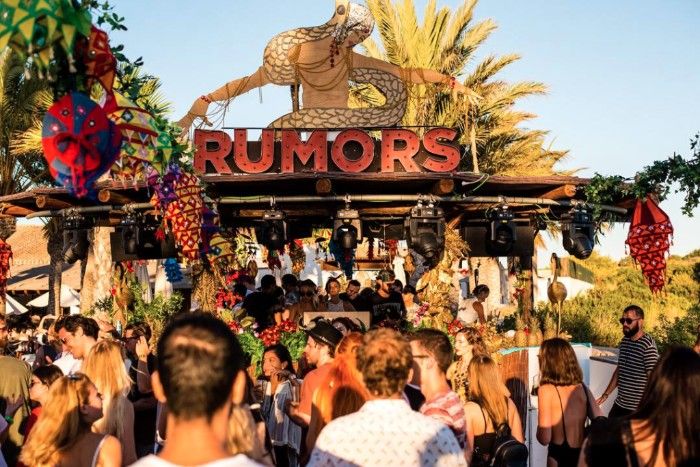 Red Axes join Guy Gerber for RUMORS this Sunday
With the Ibiza season now in full swing, revered producer Guy Gerber is gearing up for the fourteenth edition of this year's RUMORS residency on Sunday, 21st August. Held in the beautiful outdoor setting of Destino, a plush events space set atop the cliffs of Talamanca, every RUMORS party promises bespoke, detail-orientated production alongside quality underground house and techno; this week, it comes courtesy of Red Axes and RUMORS residents Jenia Tarsol and Sean Doran.
Also hailing from Guy Gerber's own hometown of Tel Aviv, Red Axes will be bringing another diverse and exciting set to RUMORS – their previous appearance at the party was recorded and is on the RUMORS Soundcloud. The duo, DJs and producers Dori Sadovnik and Niv Arzi, were raised on a diet of post-punk, new-wave, and Italo-disco at fogged out warehouse and basement parties. Their own productions and remixes have appeared on labels such as I'm a Cliché, Correspondant, and Hivern Discs. Regulars at some of the world's most respected parties and brands, the pair's summer touring schedule takes in Belgium, Croatia, New York, Montreal, San Francisco, Germany and London.
Guy's RUMORS sets have become the stuff of Ibiza legend amongst those in the know, with the parties consistently attracting a clued up and international crowd. Expect a mixture of Guy's own new and unreleased materials, that of his RUMORS compatriots and a few twists and turns along the way. For a taste of what Guy's unique RUMORS sets sound like, listen back to a live recording from the 26th June on Soundcloud.
Cassy, Sasha, Dubfire, Kenny Glasgow, Chaim, Nic Fanciulli, Ryan Crosson, Dubfire and Thugfucker are just a selection of names also confirmed to put in an appearance at RUMORS this summer. One of the longest residencies of the 2016 Ibiza season, RUMORS will continue its well curated musical ethos, expanding and building on Guy's famed residency with a plethora of special guests and magical surprises.
Outside of Ibiza, Guy's also brought his RUMORS parties to a selection of other special European locations this summer, with two successful parties in Mykonos and Sardinia having been held so far. Guy will also be releasing a new EP, Secret Encounters, on the label on the 2nd September – stay tuned for more RUMORS.