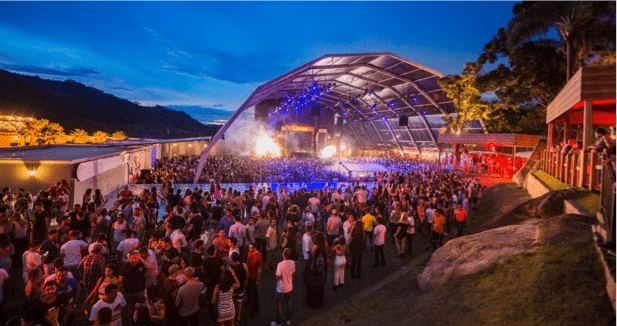 Brazil's Laroc Open Air Club Announces Line Ups For The Start Of The South American Summer
One of the world's leading sunset clubs is back with another season of brilliance all lined-up. Couched in the bottom of the lush green Valinhos valley in Brazil, Laroc will welcome the likes of Sharam and Luciano, Matador, Adana Twins and Anna, plus many more from August until the New Year, with a big 2nd birthday in October also planned. Now well known around the world, Laroc – which is just an hour away from Sao Paolo – has a big outdoor pool and plenty of different bars and terraces, it is surrounded by lush green forests and is an open air sunset club that has DJs play from mid afternoon until sundown, which is a truly remarkable experience.
Each season the club switches up its design and lay out, and as it heads towards its second anniversary will do that once more at the start of the season. There will be new scenery, new lights and a whole new style throughout the club, all designed by the specifically for the anniversary. As such expect avant gardens technology, mesmeric lights and lasers and immersive design that adds another element to the experience.
Last update 16/08/2017© Laroc Clubt gardens tehnology, mesmeric lights and lasers ahat adds another element to the experience.
It all kicks off on August 19th with Sharam and Rodriguez Jr. [live], plus Elekfantz. Then on the 16th September Cadenza boss Luciano and Ratier play with Brazilian acts Leo Janeiro and Joyce Muniz. September 30th then finds techno titan Matador [live], Victor Ruiz, Gabe, Shadow Movement plus Salata. October 14th is the big 2nd anniversary, then in 4th November Kolsch performs, on 18th November as do another local hero Anna plus Hamburgh deep house men Adana Twins and German tastemaker Butch. December then finds Vintage Culture round out the year. For sure it will be another standout year for the spectacular sunset club that is Laroc.
Links:
Facebook:
https://www.facebook.com/larocclub/
Website:
http://www.laroc.club
Lineups:
Sharam & Rodriguez jr. live – 19/08/2017
Luciano long set 16/09/2017
Matador live 30/09/2017
Laroc 2-Year Anniversary 14/10/2017
Kolsch & Jackmaster 04/11/2017
Anna, Adana twins & Butch 18/11/2017
Vintage Culture 09/12/2017