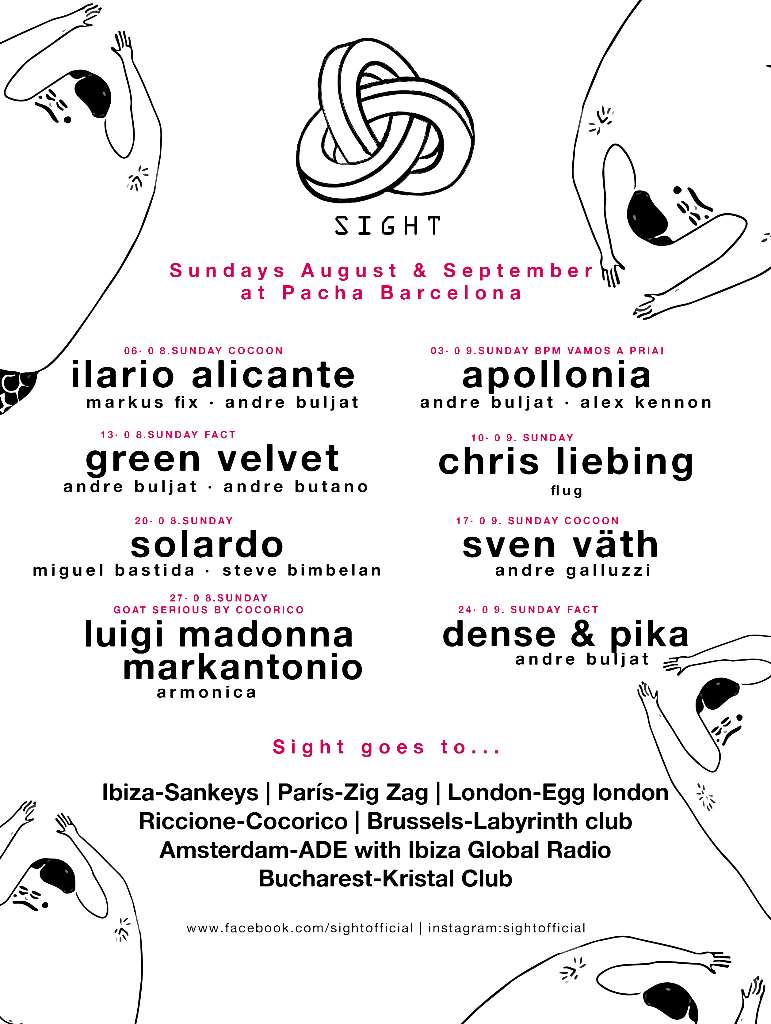 SIGHT presents its schedule for the next months at Pachá Barcelona and its European tour
SIGHT, the event which takes place on Sundays at Pachá Barcelona, has presented its line-up for the next two months in which stands out artists such as Sven Väth, Chris Liebing, Apollonia, Dense & Pika, Solardo and Luigi Madonna.
SIGHT has also announced that shortly it will go on tour around Europe: Ibiza, London, Paris, Brussels, Amsterdam and Bucharest.
Throughout August and September, Sundays at Pachá Barcelona will have the most innovative and best quality electronic music developed by the most outstanding minds in the industry thanks to SIGHT and its mind-blowing schedule.
Ilario Alicante and Green Velvet were in charge of the first two dates of August and Solardo will do the same on Sunday 20th. The duet formed by Mark Richards, better known as MKR1, and James Elliot whose work has been released on Viva Music, Kaluki Musik and Resonance will be accompanied in the booth by Miguel Bastica and Steve Bimbelan. Goat Serious by Cocorico will close the month a week later, on Sunday 27th, with Luigi Madonna´s infectious and enthusiast Techno and Markantonio´s strong and experimental one.
Dyed Soundorom, Dan Ghenacia and Shonky under their common project Apollonia, usual of cubs such as Panorama Bar, DC10 and Fabric, will open September on Sunday 3rd with André Buljat and the always eclectic and unclassifiable Alex Kennon. The laureate Chris Liebing, one of the most iconic figures in the German electronic scene since ´90s, will arrive on Sunday 10thwith the Argentinian resident at Barcelona Flug. SIGHT will still have time to receive another living legend of international electronic music on Sunday 17th, we are talking about Sven Väth, Cocoon´s creator, who will be accompanied by the also German Andre Galluzzi. And on Sunday 24th of September the London duet Dense & Pika will close the month with its analogue and heavy Techno.
But, there is more because SIGHT has announced that it will be going on tour throughout the best clubs in Europe, including Sankeys (Ibiza), Zigzag (Paris), Egg London (London), Cocorico (Riccione), Labyrinth Club (Brussels), Amsterdam ADE with Ibiza Global Radio and Kristal Club (Bucharest).