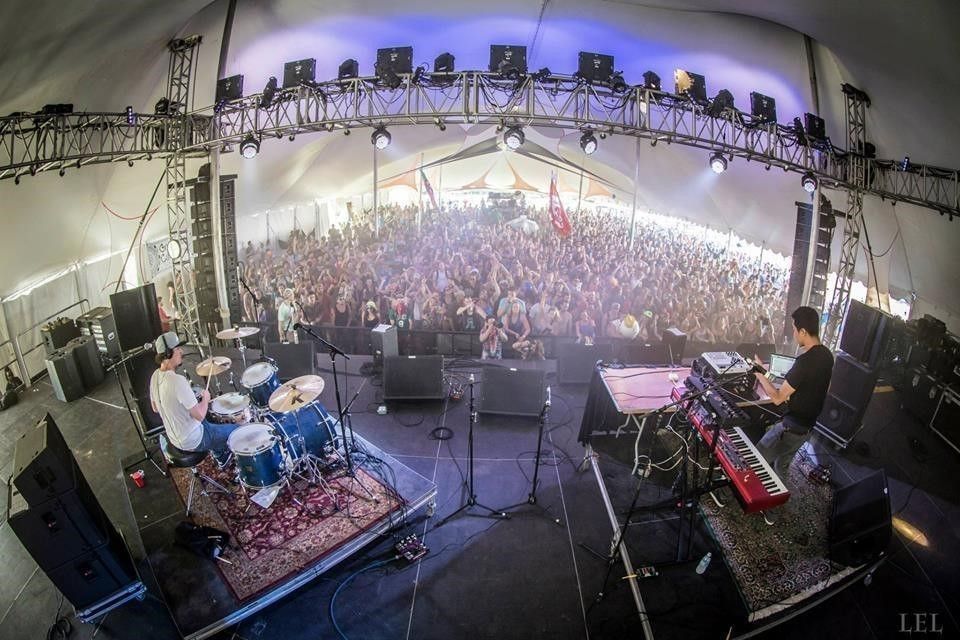 Break Science Announces #BRKTHRU Fall Tour Dates
For Immediate Release: August 27, 2014
Coming off a massive winter-through-summer run that saw the culmination of their Seven Bridges Tour, their debut tour as headliners, packed festival sets at Bonnaroo and Summer Set among others, Break Science have turned their sights to dominating the fall season in over a dozen cities across the United States with the upcoming #BRKTHRU TOUR. Featuring thirteen dates that swing through Colorado, Alabama, Louisiana, Mississippi, and Texas — which includes an Official ACL Late Night set in Austin. Spanning from September to November, the #BRKTHRU TOUR caps it off with one last festival blowout, at Bear Creek Music Festival in Live Oak, Florida. Additional dates will be announced soon.
Joining the Pretty Lights Music-signed duo on select dates is long-time homie Manic Focus — who performed a collaborative set with Break Science as 'Manic Science' at Summer Set Music Festival's first-night after-party. Hailing from Chicago via the Twin Cities, Manic Focus combines hip-hop influences with a taste for the futuristic edge of bass music for a sound entirely all his own. Also joining the ruckus is Brooklyn dubstep innovator Space Jesus, who has been turning heads with his video for "The Weed" and his exclusive-packed "Hudson Prophet" set, along with Denver's remix extraordinaire ProJect Aspect, who will be throwing down his signature glitch-staccato sound.
Independently, these acts leave even the most experienced bass heads slackjawed — together, they're a lineup that will place the #BRKTHRU TOUR among one of the most sought-after bass music tours of the season, with each drawing on ride-or-die fan bases as well as featuring signature sounds that captivate so many at first listen.
About Break Science:
Since their first full length album released on Pretty Lights Music, Break Science have received a wide range of accolades related to their instrumental role in the development and explosion of the live electronica music scene in the United States, placing themselves in the same league with the likes of Pretty Lights, STS9, Gramatik, and Big Gigantic.
Raised and influenced by the rhythm and culture of New York City, Adam Deitch and Borahm Lee fuse generations of the city's rich musical legacy with their own deep-rooted connection to hip-hop heritage. They know each others' style like the backs of their own hands, Borahm's production chops and knowlege on the keys aligning seamlessly with Adam's masterful drumming skill, creating a fusion of hip-hop, soul, funk, jazz, electronic, and heavy bass sounds for a sound wholly signature to Break Science.
Their most recent album, Seven Bridges, along with accompanying winter and spring tours, blew minds from coast to coast. Peaking at #6 on CMJ BPM and #14 on CMJ Hip-Hop charts respectively, the record cemented their place as a live outfit truly cut out for the next generation of musical exploration. Their recent remix, "Vibe Walk" which combines the lyricism of Kendrick Lamar with the sounds of Tycho, has shot to over a half-million listens in 11 days after premiering on This Song Is Sick, peaking at #2 on Hype Machine last week.
To experience Break Science in a live setting is one unlike any other – they rattle venues and fans alike with subsonic basslines and next-level visual production, but also with soulful messages of evolution, integration, and positivity in the face of hardship. Their journey to untold heights is very much underway and there has never been a better time to become a part of it. Grab tickets to the tour in a city near you and get involved – Break Science are here to stay.
#BRKTHRU TOUR DATES:
9/18 @ The Ogden Theatre – Denver, CO * !
9/19 @ Belly Up – Aspen, CO * !
9/20 @ Barkley Ballroom – Frisco, CO * !
9/24 @ Zydeco – Birmingham, AL +
9/25 @ Bourbon Street Bar – Auburn, AL +
9/26 @ Republic – New Orleans, LA +
9/27 @ Kress Live – Biloxi, MS (w/ Galactic)
10/2 @ Fitzgerald's Upstairs – Houston, TX * +
10/3 @ House of Blues, Cambridge Room – Dallas, TX * +
10/5 @ Official ACL Late Night, The Parish – Austin, TX * +
11/12 @ The Culture Room – Ft. Lauderdale, FL * +
11/13 @ Orpheum – Tampa Bay, FL * +
11/14 @ Bear Creek Music Festival – Live Oak, FL
* Manic Focus — ! Project Aspect — + Space Jesus