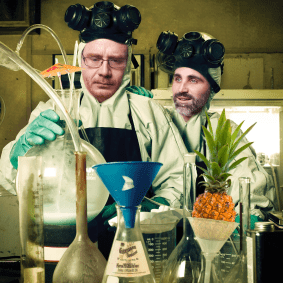 Sheitan - Breaking Trad EP
Lyon-based duo Sheitan Brothers deliver the second EP on the Zelaian Disco Club imprint, featuring one collaboration with former keyboard player in Omar Souleyman's band, Rizan Said.
The collaborative duo of Sheitan Brothers was born out of DJ sets in small bars in their hometown of Lyon where they hosted events for friends, showcasing their eclectic tastes which meander through Arabic and Brazilian music, French Boogie and much more. Following these events the duo gathered enough to cash to fund a trip to Brazil to further discover the music of one of their favourite geographical genres, as well as a special DJ set at the infamous Paribar party in Sao Paolo. Following their return the pair launched Zelaian Disco Club as a transition from local events for close associates into an official brand, and here they mark the second instalment on the imprint.
Leading on the package is the collaborative cut 'Bolide Alaoui' which features Rizan Said, most notably known for his keyboard work alongside Omar Souleyman, who adds a Syrian Dabke musical style to the composition which is composed to bring a modern spin on traditional alaoui music born out of Maghreb, Africa. The record chugs along with plucked strings, heady synth sequences and loosely rolling, organic rhythms to create an eastern tinged Nu-Disco workout.
On the flip-side is 'Acai' from the Sheitan Brothers alone, which takes one of their main influences, Samba, dropping the tempo and stirring in some African vocal contributions to create a raw, dynamic fusion of the sounds they've grown to love over the years.
Sheitan Brother's 'Breaking Trad' EP is out on Zelaian Disco Club 6th September 2018.
Tracklist:
1. BolideAlaouifeatRizanSaid
2. Acai