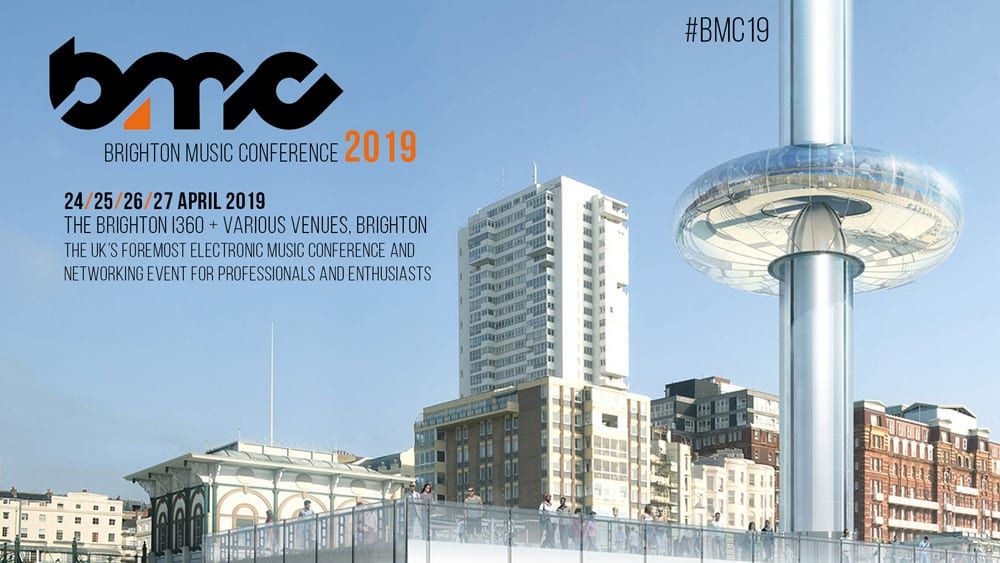 Brighton Music Conference 2019 (Bmc19) Announces Dates, Venue Change To I360 And Golden Ticket
Brighton Music Conference, the UK's foremost electronic music conference, has announced a venue change for its sixth year. BMC19 will take place at British Airways i360 beachfront complex from Wednesday 24th April to Saturday 27th April 2019, following its most successful year to date in 2018.
After 5 years at the Brighton Dome, Brighton Music Conference will be taking over the British Airways i360 venue space and restaurant and are offering 'golden tickets' to launch ticket sales on Thursday 27th September for next year's event. The 50 golden launch tickets will include entry to a VIP panel and exclusive networking party 450 feet above Brighton in the i360 Pod observation tower with a secret DJ.
The special BMC Professional ticket also includes entry to the Professional Conference plus Academy Theatre 1 and 2, the Focusrite/Novation Theatre, all BMC evening networking events, Demo zone including DJ and music tech and services, plus BMC Goodie Bag and BMC Event Guide. Academy 2-day passes will also be on sale.
Brighton Music Conference will be hosting two exclusive events on the i360 Pod observation tower.
BMC19 features talks and panels in the Professional Theatre sponsored by Sharp Stream, as well as workshops, panels and seminars in the Academy 1 & 2 Theatres. The Focusrite/Novation Theatre returns at BMC19 featuring workshops and talks. There will also be a specialised 'Demo Zone' exhibition floor for the tech and services industry for DJs and music makers and a delegate Networking Hub in the exhibition centre's beachfront brassiere. The Toolroom Academy and Hospital Sonic Surgery will host production workshops in at additional venue still tbc. There will be networking events and club nights over 4 days.
Sponsors of BMC19 include Focusrite/Novation, Sharp Stream, HMUK, PRS for Music, Loopmasters, Pioneer DJ, Plugin Boutique, and Horus Music (panel sponsor). Charity partners include Audio Active, Help Musicians UK, Last Night A DJ Saved My Life. Conference partners include ACS, Association for Electronic Music (AFEM),
Beatport, Berlin, British Airways i360, Defected Records, DJ Growth Lab, Hideout, Hospital Records, MonoKrome Music, Patterns, Rubadub Records & Music Technology, R&S Records, Shogun Audio, Tempest Inn, The Arch, Toolroom Academy, Ultra Music, Wunderland, Women In Dance Music Collective, Media Partners include BN1 Mag, Data Transmission, DJ Mag, MusicTech, Skiddle and more.
www.brightonmusicconference.co.uk
www.facebook.com/BrightonMusicConference
www.twitter.com/BrightonMusicCo