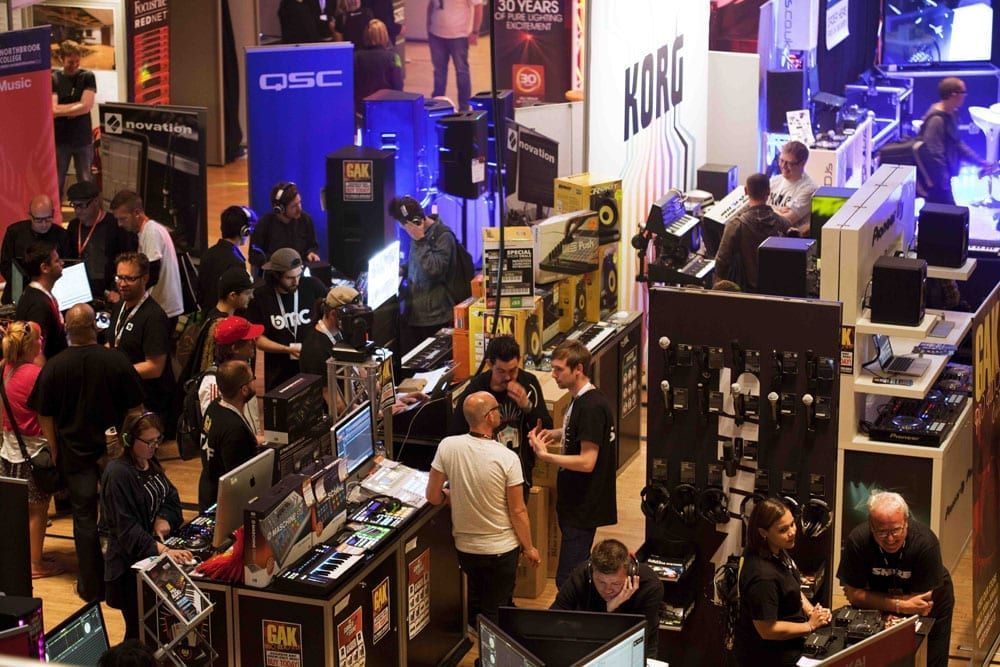 Brighton Music Conference reveals first technology showcases + more…
Brighton Music Conference (BMC16) has announced the first details of the 2016 technology showcases and workshops for the event's third edition.
Taking place at the Brighton Dome on Thursday 14th April & Friday 15th April, BMC will welcome Pioneer, Native Instruments, Sound On Sound, Allen & Heath, GAK Audio, Yamaha Music UK, Steinberg, Doctor Mix, Moog, Korg, Focusrite Novation, Element 5, Next Audio Labs, SSR, SCV, Loopmasters, Nova Distribution with Eve Audio, Warm Audio, Chandler Ltd, Dreadbox, and Fredenstein.
BMC DEMONSTRATION IGLOO
New for 2016 is the BMC Demonstration Igloo. Housed in the exhibition hall, this space will host the following demonstrations and showcases (more to be announced):
– Pioneer will be showcasing new products at BMC (further details to be revealed in April), alongside workshops focused on Rekordbox DJ performance, including software tips and tricks and compatible controllers, plus overviews of CDJ 2000NXS2 and DJM 900NXS2 with Rob Anderson.
– Rekord Buddy 2 presented by Didier Malenfant.
– Allen & Heath
– Yamaha Music UK
– BIMM Workshop
– GAK Seminar on production
– 'Rise of the Synth' Exhibition with Doctor Mix
NATIVE INSTRUMENTS 'NATIVE SESSIONS: INTEGRATION' (BMC EXCLUSIVE)
Native Instruments will bring their highly successful event series 'Native Sessions' to BMC with a takeover of the Founders Room and Mezzanine bar. Expect a packed programme of insightful seminars, artist masterclasses and industry discussions. The Mezzanine bar will play host to a user meet-up style fair offering hands-on workshops with all the latest equipment.
Exclusive to BMC – and a first for music tech brands – the theme for this Native Sessions will be 'Integration', and that means between Traktor, Maschine and Komplete, but also with other brands and services. The Mezzanine will be the place to find industry partners such as sonic educators SSR (who offer product-specific courses), the legends at Moog, plus content from Loopmasters to name but a few. BMC attendees can learn how to use NI products in ways they don't expect, find out how to build a live set around Traktor, Maschine, Stems, Remix Decks, learn how to integrate external modular and analogue synths, and much more.
EXHIBITION HALL
The exhibition hall will see Gak Audio showcase products from Focusrite Novation, Native Instruments, Steinberg, SCV and Pioneer; with further stands from Korg, Element 5, Yamaha Music UK, Next Audio Labs, Nova Distribution with Eve Audio, Warm Audio, Chandler Ltd, Dreadbox, and Fredenstein.
SOUND ON SOUND PRODUCTION SEMINARS
BMC's production seminars are always hugely popular, and this year Sound On Sound's Paul White (Editor In Chief) and Hugh Robjohns (Technical Editor) are holding panels across both days with focused topics 'Big Sound On A Small Budget; 'Which Home Studio Kit Really Makes A Difference' and 'Louder, Bigger, Better; Creative Recording & Mixing Techniques for Software Studio'.
Further details will be announced soon.
THE CONFERENCE
BMC has quickly established itself as a vital meeting point for the electronic music industry, bringing together leading organisations and figures for two days of master classes, panels, and talks featuring key execs from Facebook/Instagram, Twitter/Periscope/Vine, Kobalt, Coda, Sound On Sound, AEI, and more, will join industry figures from Beatport, PRS, AFEM, Toolroom, Hospital Records, NTIA, DJ Magazine, Shogun Audio, BIMM, Mobilee Records, Skint Records, Believe Digital, Safehouse Management, Intec Digital, Critical Records, Wunderground, Republic of Music and GAK Audio.
In line with the event's reputation as a forum for new ideas and challenging conventional industry thinking, Association For Electronic Music (AFEM) CEO Mark Lawrence has revealed the topics for his two talks: "Get Played Get Paid; Building the New Music Industry" and "Stealing Our Own Success; Are DJ's accidently killing sales?". Full details of the conference programme will be announced soon.
The first official BMC nighttime events have also been revealed, with Mute, in association with BMC, taking over Brighton's Patterns on Friday 15th April for a show with Mala, Commodo, and Foamplate. The same night will see English Disco Lovers & BMC present Crazy P Soundsystem at Komedia. Listings details for both events can be found below:
FRIDAY 15TH APRIL
Mute presents Mala, Commodo & Foamplate in association with BMC @ Patterns (11pm – 4am)
[
www.residentadvisor.net/event.aspx?778586]
English Disco Lovers & BMC present Crazy P Soundsystem @ Komedia (11pm – late)
[
http://www.komedia.co.uk/brighton/club/english-disco-lovers-brighton-mus…
Highlights already announced include the Beatport Label Summit, hosted by Terry Weerasinghe (Vice President of Music Services) and Jack Bridges (Beatport European Account Manager), discussing the latest developments and trends affecting the key online music sales portal. Also confirmed is a label Q&A with drum & bass label Shogun Audio featuring Keir Tyrer (Managing Director), Friction (DJ/Owner), Richard Snow (Label Manager), and Icicle (Artist); they'll be discussing how they look for new artists and help them develop their talent.
Brighton Music Conference tickets are now on sale: Academy £15 and Professional £99. http://www.brightonmusicconference.co.uk