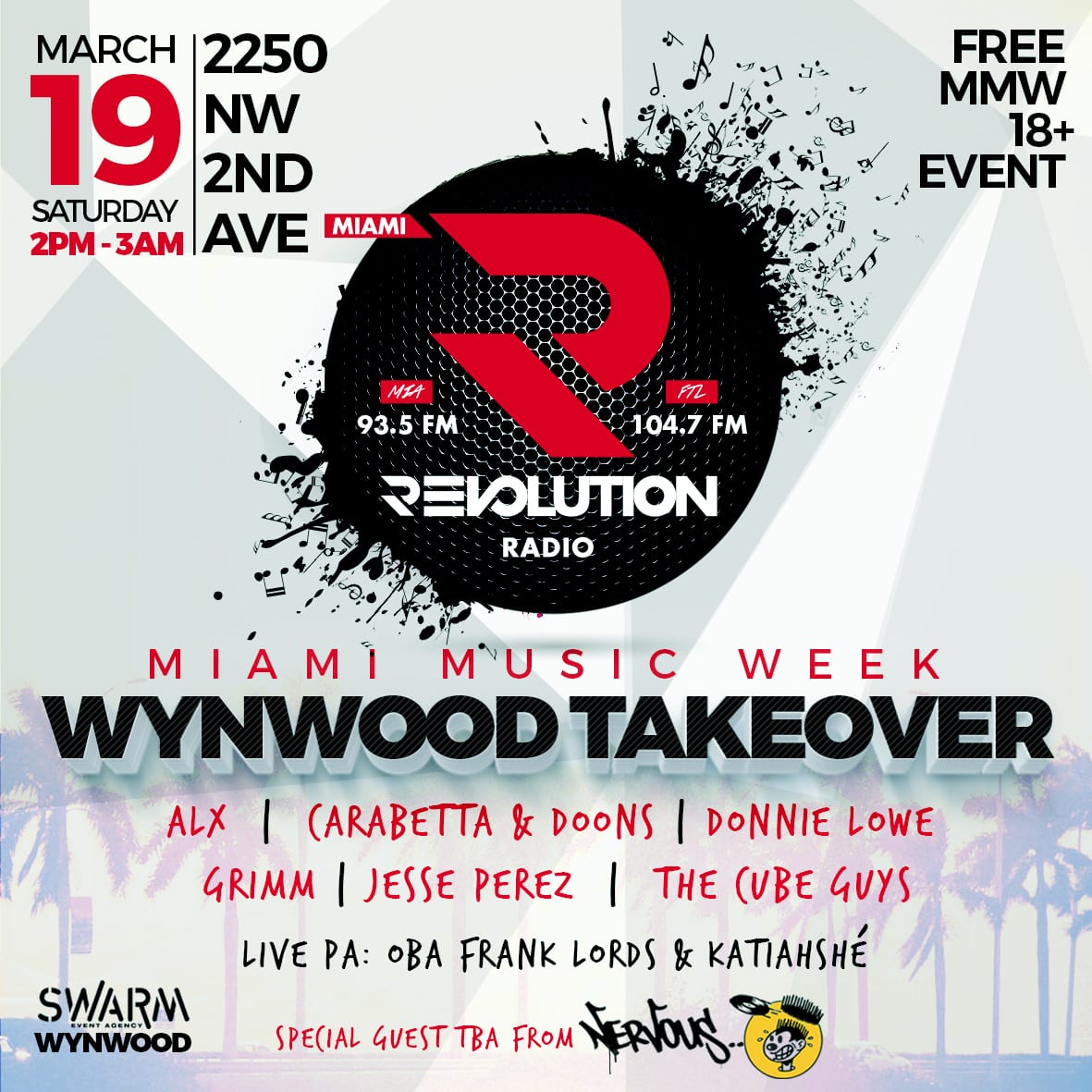 MIAMI WMC – Revolution Radio Takeover Event
As South Florida's only electronic dance music station, Revolution Radio has truly revolutionized radio, while continuing to showcase the real Miami through their cutting-edge programming. Now, for the very first time, Revolution Radio will be taking over Miami Music Week with the launch of their annual Takeover event on March 19th, 2016 in the heart of Wynwood.
As a thank-you to their loyal listeners, the event will be open to the public free of charge to anyone 18 years or older and feature a seriously stacked line-up of today's hottest names among Miami's dark, tech & groovy sound including ALX, Carabetta & Doons, Donnie Lowe, Jesse Perez, The Cube Guys and Revolution Radio's very own Dark Sessions resident and Madhouse in the Morning host DJ Grimm, who will keep the crowd dancing from 2PM until 3AM.
Joining the above, will be a special guest from New York City-based label, Nervous Records, along with live performances from musician Oba Frank Lords and Miami vocalist Katiahshé. The Wynwood Takeover will be held inside of the SWARM Event Agency tent, next to Mana Wynwood located at 2250 NW 2nd Ave.
In addition to the dark, groovy baselines that will keep party-goers on their toes, guests will be able to partake in exclusive giveaways, food trucks, live art installations and so much more! Expect only the best from Revolution Radio's Wynwood Takeover!
https://www.facebook.com/events/228996534112900/
WHEN: SATURDAY, MARCH 19, 2016
WHERE: 2250 NW 2nd AVE., INSIDE SWARM EVENT AGENCY STRUCTURE, WYNWOOD, MIAMI
TIME: 2:00PM – 3:00AM