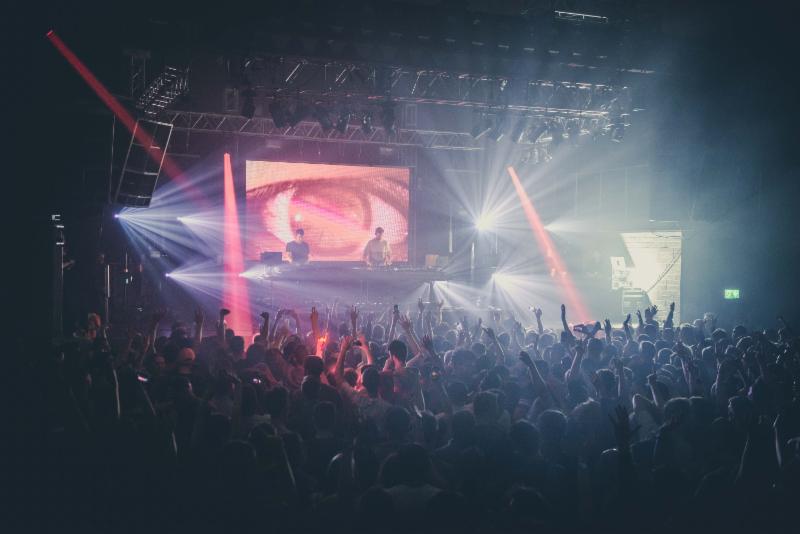 Bristol's InMotion announce The Chemical Brothers, elrow, Hunee, Ben UFO, Chase and Status, Heidi, Skream and many more
As Motion prepares to enter the next chapter of the In:Motion series, we can announce more huge names, including a slew of very special Bristol exclusives and some dazzling surprises in store.
On Friday 1st December we begin with BuggedOut! As one of the UK's longest running club events, BuggedOut! has firmly left its stamp on nightlife culture. It traces back to the halcyon days of UK rave, during which they developed a longstanding relationship with The Chemical Brothers, hosting some of their earliest shows. With a close link to Bristol and Motion's head promoter Jack Scales, BuggedOut! will now bring The Chemical Brothers to Motion, where the seminal UK duo will make a rare Bristol appearance with their glorious DJ set. One of dance music's greatest, The Chemical Brothers have challenged the possibilities for electronic acts, creating some of the most spectacular experiences in the industry. As such we're thrilled to be hosting an act of this calibre and welcome them to the club for the first time – sure to be one of the most propulsive and electrifying moments of the series.
They are joined by more UK dance music institutions and those who represent the adventurous spirit of electronic music, including Trash icon Erol Alkan, esteemed Bugged Out resident Lemmy Ashton and The Chemical Brothers' warm up DJ of choice, Nathan Detroit. Artwork will be making you feel right at home with the house party-influenced Art's House. As a larger-than-life character who's been lighting up dance floors worldwide for decades now, the man knows how to throw a party, and he welcomes you into the fold of his raucous get-together alongside ascendent Glaswegian DJ Jasper James and Rhythm Sister's Jess Farley.
Starting out as a stage at Miami's Ultra festival in 2015, Resistance has since taken on a life of its own with events on every continent and a successful 8 weeks at Privilege in Ibiza this summer, with Sasha and Digweed their residents. On Saturday 2nd December the brand comes to Bristol as a stop on its colossal world tour, bringing with it four heavyweight DJs. Chunky house juggernaut Eats Everything makes another triumphant return to the club, as well as the pioneering veteran and resident DJ John Digweed, Matador, the unstoppable Dublin DJ who's a staple of Richie Hawtin's Minus label, and the globetrottingPaco Osuna, one of the most consistently in-demand DJs in the industry.
On Friday 8th December we welcome London tech house titans ABODE to Bristol for another exclusive debut. The London promoters, who made a name for themselves hosting sell out Sunday day parties, will soon be announcing a selection of very special guests as well as their renowned crew of residents. Watch this space – this one will be big.
We then join forces once more with Bristol-based tastemakers Crack Magazine on Saturday 9th December. With this storming line-up, they host a selection of some of the world's most sought after DJs. A set from the inimitable Ben UFO is sure to reach celestial heights as he returns to the club after two years. Detroit original and one of the most charismatic DJs to ever do it, Moodymann will also return to the club – Grey Goose at the ready. Joining these two beloved DJs are Hunee, whose soaring house and disco is sure to get bodies moving, the dark depths of Hamburg's finest, Helena Hauff, Panorama Bar resident Tama Sumo, the dusty house and Afro excursions of Palms Trax, Studio 89's Mr Price, and Housework residents Gramrcy and Daisy Moon. Overmono, the collaboration between two brothers, Truss and Tessela, who are some of the most vital producers in the UK underground, will also DJ.
Another Bristol In:Motion debut arrives on Saturday 16th December with Amsterdam clubbing institutionSTRAF_WERK taking over, also renowned for their innovative DGTL festival brand. They host a heavy hitting lineup which is headlined by a rare extended b2b from Richy Ahmed and Patrick Topping, and the rest of the line-up doesn't let up, with one of our favourite live music masters KiNK bringing his array of machines, Jackathon head honcho Heidi, Amsterdam and STRAF_WERK Luk van Dijk and Motion resident Em Williams. Expect wild scenes when Skream takes control with a special all night long set – a journey through the various influences and styles that have continually kept him at the vanguard of dance music. Meanwhile, there's even more sublime house and techno, as Kompakt duo Blond:ish, Bristol's own Waifs and Strays, Amsterdam's ANOTR duo and upcoming producer to watch Wouter S will keep things bouncing.
This year we invite you once again to dance off your Christmas dinner at our special Boxing Day event on Tuesday 26th December, where The Blast come through with festive cheer and thrilling, hi-octane sounds. As we've come to expect from The Blast, there's some serious heat among the line-up. Expect mass euphoria when Chase and Status DJ alongside MC Rage, while UK garage soundsystem Heartless Crewbring their infectious energy. There's also epic drum and bass from Dimension, rising Nottingham producer Darkzy, breakthrough drum and bass sensation Mollie Collins and The Blast resident TS2W. Bristol mainstay Sam Binga, Voltage, Nastee Boi and The Blast DJs will also be on hand to tear through the remnants of the holiday season.
Lastly but definitely not leastly, we can announce that In:Motion's New Years Eve event will be presented by global superbrand elrow, who will be transforming the whole Motion complex into a Toontown Farmyard, with elrow mascot Rowgelia taking centre stage at her own theme From Lost To The River! Together with her rowdy bunch of farm friends, Rowgelia alongside twin sister Rowberta will unleash an explosion of farmyard fun to see us into the new year, full of interactive performers and crazy production. That's all we can announce for now, but given the scale of the mammoth event series' past extravaganzas and huge lineups, this is sure to be something special – bringing Motion to life in glorious technicolour for the start of 2018!
Pre-sale tickets are available from 10am on Wednesday 27th September, with General Release Tickets on sale from 10am on Thursday 28th September via www.bristolinmotion.com

---
FULL IN:MOTION LISTINGS
Friday 29th September
FRIDAY OPENING
THE MARTINEZ BROTHERS
JACKMASTER
WILLIAM DJOKO
BAMBOUNOU
HAAI
KIM ANN FOXMAN
ANDREA OLIVA
PEGGY GOU
BENNY RODRIGUEZ
LAUREN LANE
DE SLUWE VOS
COUSN

+++
Saturday 30th September
SATURDAY OPENING
THE BLAST
MY NU LENG & DREAD MC
CASPA & RIKO DAN
MATT JAM LAMONT B2B CONDUCTA & B-LIVE
YOUNG T & BUGSEY
BARELY LEGAL
NOTION
THE BLAST DJS
SPECIAL GUEST:
D DOUBLE E
HOSTED BY: KOAST
THE BLAST
TC
BREAKAGE
KRUST
CYANTIFIC B2B INSIDEINFO
KYRIST
TS2W
SPECIAL GUEST: TBA
HOSTED BY: BASSMAN, JAKES & TEXAS
BODYNOD
LOGAN SAMA
SWIFTA BEATER [BASSLINE SET] DJ EJ
BLAZEY BODYNOD
K KRUSH & OPIE
G WILLIAMSON
DURKLE DISCO
MANI FESTO
NEAR
VERN & MILLA
KOAST [DJ SET] BUG BEAR
+++
Friday 6th October
THE BLAST: TQD X CRITICAL X SWING TING
THE BLAST
TQD (ROYAL-T, DJ Q, FLAVA D)
P MONEY
ELIJAH & SKILLIAM
SKEPSIS
THE BLAST DJS
CRITICAL
DUB PHIZIX & STRATEGY
THE UPBEATS
ENEI B2B KASRA
SAM BINGA
FOREIGN CONCEPT B2B HALOGENIX
SHYUN
TS2W
SPECIAL GUEST:
FOREIGN BEGGARS
HOSTED BY:
GQ
REMIDY
SWING TING
MURLO
FAMOUS ENO
SAMRAI
JOEY B
PLATT
TRIGGANOM
L U C Y
+++
Saturday 7th October
AN EVENING WITH RØDHÅD
RØDHÅD
WARMUP: JON HESTER
SOLD OUT
+++
Friday 13th October
CREAM IBIZA
JOHN O'CALLAGHAN
SIMON PATTERSON
MENNO DE JONG
ANTHONY PROBYN
+ VERY SPECIAL GUEST: PAUL OAKENFOLD PRESENTS GENERATIONS
+++
Friday 13th October
SHALL NOT FADE
ANDRES
DJ SEINFIELD
DJ BORING
ADRYIANO
LK
KGW
+++
Saturday 14th October
HOSPITALITY
HIGH CONTRAST
FRED V & GRAFIX – LIVE
DANNY BYRD
NU:LOGIC
CULTURE SHOCK
HUGH HARDIE
SPECIAL GUEST: THE PROTOTYPES
HOSTED BY:
DYNAMITE
IC3
WREC
CARASEL
TEXAS
LONDON ELEKTRICITY
FABIO & GROOVERIDER (RAGE ERA JUNGLE SET)
ETHERWOOD
MAKOTO
KEENO
ROYALSYON
WHINEY
SP:MC
RUTHLESS
REMIDY
INVADERZ
+++
Friday 20th October
SIMPLE THINGS OPENING
METRONOMY (LIVE)
SOLD OUT
+++
Friday 20th October
AREA 10
MK
SPECIAL GUEST TBA
ICARUS
KC LIGHTS
WILL CLARKE
NOTHING ELSE MATTERS
DANNY HOWARD
KIDEKO
TBC
+++
Saturday 21st October
THE HEATWAVE PRESENTS HOT WUK

THE HEATWAVE
+++
Thursday 26th October
IN:MOTION PRESENTS
PAUL KALKBRENNER (LIVE)
PAUL KALKBRENNER (LIVE)
+++
Friday 27th October
THE BLAST HALLOWEEN
THE BLAST
SHY FX
CONGO NATTY
DARKZY
ROSKA B2B JUS NOW
HARLEM SPARTANS
CHIMPO
CAPO LEE
KENNY ALLSTAR
FIRE MAN SAM
HOSTED BY:
STAMINA
BRU-C
SEROCEE
SKITTLES
FOX
KOAST
BASS MENTALITY
CHRIS LORENZO
ZINC
ZED BIAS
JAMIE DUGGAN
MARCUS NASTY
K STYLZ
SUPER KITCHEN
SINJIN HAWKE B2B ZORA JONES
TASH LC
MINA
NOIRE & DOUBLE
DJ STOLEN
MISTAREEZ
CTRL TRAXX
MACHINNA
JAYDROP & FRIENDS
JAYDROP
INTERLINE
HALCYONIC & G ROOTS
THE SULTAN
DEVIANT
+++
Saturday 28th October
JUST JACK HALLOWEEN
DJ HARVEY – ALL NIGHT LONG
STEFFI
VIRGINIA
YOUNG MARCO
INTERSTELLAR FUNK
+++
Thursday 2nd November
IN:MOTION PRESENTS MOUNT KIMBIE (LIVE)
MOUNT KIMBIE – LIVE
+++
Friday 3rd November
25 YEARS OF RAM RECORDS
2 X SPECIAL GUESTS TBA
KILLBOX
RENE LA VICE
FRANKEE
MOVING FUSION
SHIMON
JAYDROP
TS2W
+++
Saturday 4th November
DRUMCODE
ADAM BEYER
ALAN FITZPATRICK
IDA ENGBERG
DENSE & PIKA
LAYTON GIORDANI
MONIKA KRUSE
B.TRAITS
+++
Friday 10th November
HOLY GOOF & FRIENDS
HOLY GOOF
SIR SPYRO
BASSBOY
MACKY GEE
THE BLAST DJS
HOSTED BY INJA
+++
Friday 10th November
GORGON CITY PRESENTS KINGDOM
GORGON CITY
SHADOW CHILD
MAX CHAPMAN
KLOSE ONE [ALL NIGHT LONG] MANT
+++
Saturday 11th November
SHAPES
TALE OF US
MIND AGAINST
AUDION – DJ SET
MOSCOMAN
SHAPES
SPECIAL GUEST: GEORGE FITZGERALD [ALL NIGHT LONG] +++
Friday 17th November
PERCOLATE
BICEP – LIVE
MANO LE TOUGH
LEON VYNEHALL
GERD JANSON
AVALON EMERSON
ITALOJOHNSON
KRYWALD & FARRER
+++
Saturday 18th November
LOST TAPES TOUR
KURUPT FM
+++
Monday 20th November
KING KRULE [LIVE] KING KRULE [LIVE] PLUS VERY SPECIAL GUESTS
SOLD OUT
+++
Friday 24th November
WORLDWIDE FM
GILLES PETERSON
JULIO BASHMORE
SESSION VICTIM
ROMARE [LIVE] BENJI B
MOXIE
THROWING SHADE
WILL LV
METHODS
+++
Friday 1st December
BUGGEDOUT!
CHEMICAL BROTHERS [DJ SET] EROL ALKAN
LEMMY ASHTON
NATHAN DETROIT
ARTWORK PRESENTS ART'S HOUSE
JASPER JAMES
JESS FARLEY
COUSN
+++
Saturday 2nd December
RESISTANCE
A-Z
EATS EVERYTHING
JOHN DIGWEED
MATADOR
PACO OSUNA
+++
Friday 8th December
ABODE
LINE UP TBA
+++
Saturday 9th December
CRACK MAGAZINE
BEN UFO
MOODYMANN
HUNEE
HELENA HAUFF
TAMA SUMO
PALMS TRAX
OVERMONO (TESSELA & TRUSS) – DJ SET
GRAMRCY
DAISY MOON
MR PRICE
+++
Saturday 16th December
STRAF_WERK
RICHY AHMED B2B PATRICK TOPPING
SKREAM [OPEN TO CLOSE] KINK [LIVE] HEIDI
BLOND:ISH
WAIFS & STRAYS
ANOTR
LUK VAN DIJK
WOUTER S
EM WILLIAMS
+++
Tuesday 26th December
THE BLAST: BOXING DAY
CHASE & STATUS [DJ SET] & RAGE
HEARTLESS CREW
DIMENSION
DARKZY
MOLLIE COLLINS
TS2W
SAM BINGA
VOLTAGE
NASTEE BOI
THE BLAST DJS
+++
Sunday 31st December
IN:MOTION NYE PRESENTS ELROW; FROM LOST TO THE RIVER
LINE UP TBA
+++
LINKS & FURTHER INFO
IN:MOTION
www.bristolinmotion.com
HIGH RES IMAGES
imgur.com/inmotion
ADDRESS:
Motion Nightclub
74-78 Avon Street,
Bristol,
BS2 0PX