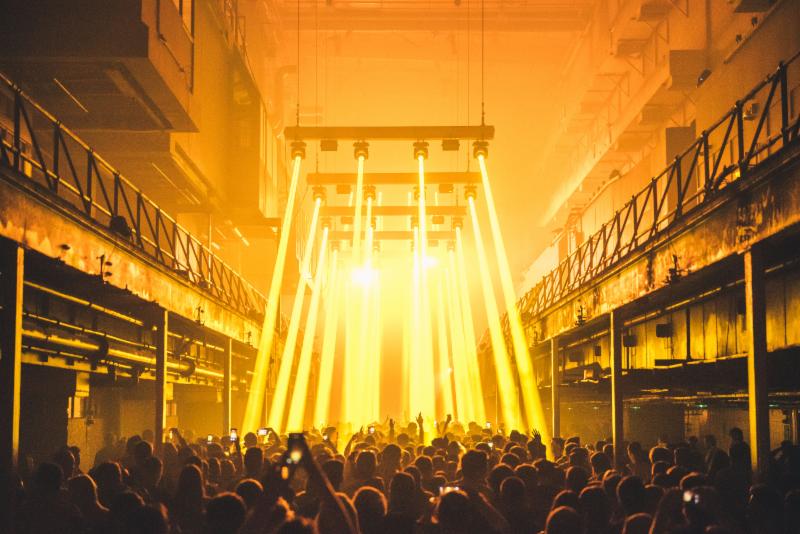 Printworks London Announce December Shows with The Chemical Brothers, Paul Kalkbrenner, Richie Hawtin and more
With less than a month to go until the Opening Party for their Issue 002 music series, Printworks Londonannounce their December event schedule, unveiling three colossal shows to complete the season asBugged Out! host The Chemical Brothers, Paul Kalbrenner showcases his lauded live show and, Richie Hawtin brings together cornerstones of techno for an unmissable Closing Party.
December kicks off with a Printworks debut from one of London's longest running party brands, Bugged Out!, bringing The Chemical Brothers to London for a headline DJ set at the special show which will run from 6pm – 2am, making it the first Printworks club show to run through the night on Saturday 2nd December.
A double-header closing weekend sees the welcome return of Paul Kalkbrenner live on Saturday 9th December, following on from the incredible success of his sold-out show for their Issue 001 closing weekender earlier this year.
Reaching the big finale on Sunday 10th December, Printworks close their Issue 002 music series with a stand-out event that unites pinnacles of techno from across the globe, hosted by Richie Hawtin'sPLAYdifferently technology brand. With a headline session from Richie himself, further sets will come from Benjamin Damage, Chris Liebing, Etapp Kyle, Fabio Florido, HITO, Luciano, Nicole Moudaberand Rebekah, showcasing techno's many textures and making the most of Printworks beefed-up sound-system and dazzling lasers.
Printworks London have also revealed tantalising developments to the venue, with 36 new speaker-stacks suspended above the Press Halls dancefloor. In addition, Printworks are also offering wristbands to access the Press Halls mezzanine and the Control Room – a new third room located on the top floor at the back of the main room, offering stunning views of the electrifying laser show that wowed audiences in their debut series.
Issue 002 shows across October have already sold out with November events selling fast. Sign up for priority access to tickets for the December shows now: www.printworkslondon.co.uk
** Want to DJ at PLAYdifferently presents… The Closing Party?**
There are also a couple of slots up for grabs in Printworks' PLAYdifferently MODEL1 Open Decks offering.You too could join the line-up as they host Open Decks for ticket holders. If you have a ticket to the show and want to test out the mixer in an amazing club environment email [email protected]. This is your chance to play the MODEL 1 mixer, at the closing party of Issue 002 at Printworks.
PRINTWORKS LONDON ISSUE 002 – DECEMBER EVENT SCHEDULE
Saturday 2nd December – 18:00 – 02:00
BUGGED OUT! PRESENTS
THE CHEMICAL BROTHERS
Saturday 9th December – 12:00 – 22:30
PAUL KALBRENNER (LIVE)
Sunday 10th December – 12:00 – 23:00
PLAYDIFFERENTLY PRESENTS:
ISSUE 002 – CLOSING PARTY
A-Z:
BENJAMIN DAMAGE | CHRIS LIEBING | ETAPP KYLE |
FABIO FLORIDO | HITO | LUCIANO
NICOLE MOUDABER | REBEKAH | RICHIE HAWTIN
Sign up for pre-sale tickets now at www.printworkslondon.co.uk