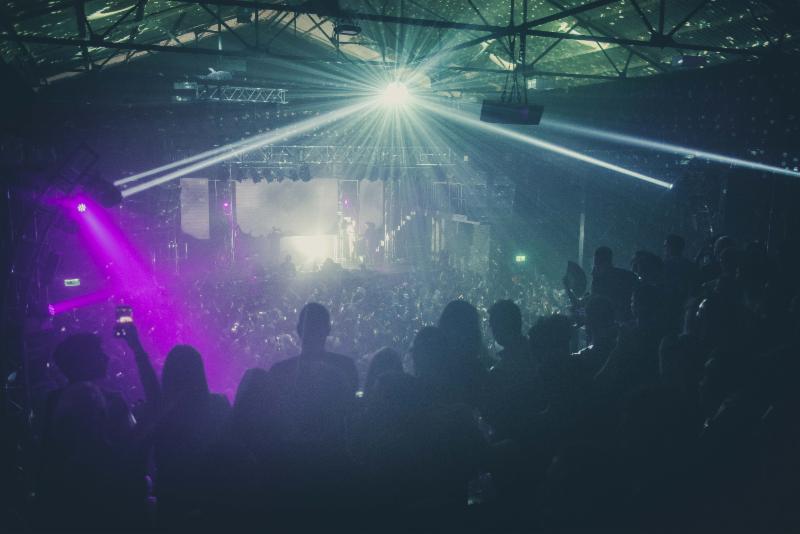 Bristol's InMotion – Phase 2 Line-Up's Revealed
Following the recent Phase 1 announcement, it's clear that the team behind Bristol's stalwart club that has now become a firm corner stone of the UK's clubbing calendar, have dug deep to bring something special for this year's In:Motion series. This years November shows look no different…
Kicking things off on Thursday 2nd November, In:Motion Presents Mount Kimbie (Live), for what will be the first opportunity to catch the duo perform tracks from their third studio album in Bristol, within the intimate setting of the newly refurbished Marble Factory. A melodic yet robust electronic record 'Love What Survives' is a distillation of their career to date.
Next up is Ram Records, the brainchild of Andy C and Ant Miles has consistently led the way in drum & bass since the beginning. On Saturday 3rd November, Bristol are invited to celebrate the quarter century of the brand, with an anniversary party representing the consistent contribution Ram Records has made to drum & bass. With two very special guest still to be revealed, Rene LaVice and Killbox will be holding it down on the evening, along with MCs Texas, 2Shy and Tonn Piper. Heading up Room 2 will be the young superstar Frankee, whose label-launching release on Program! kicked off a new era for Ram, joining him are veteran school friends Moving Fusion and Shimon, who were instrumental in the evolution of drum & bass from jungle.
Adam Beyer's Drumcode label has championed the kind of techno built for huge moments in Ibiza and festival headliner sets across the world, consistently topping download charts and sending dancefloors into a frenzy. Joining Adam at Motion on the 4th November are label stalwarts, including Alan Fitzpatrick, Dense & Pika and Beyer's partner Ida Engberg. They'll also be joined by the likes of Radio 1's B.Traits, young techno talent Layton Giordani and Monika Kruse.
Holy Goof channels the history of bass music in the UK and filters it through his unique lens. The result, as you can hear in his releases and mixes, is ridiculously gassed, with all the hard-hitting power of grime and the unbridled fun of UK Garage. On Friday 10th November, he will be joined the legendary talent that is Sir Spyro. Over more than a decade, few can claim to have had anywhere near the impact he has had on grime, and last year's Topper Top was arguably the track of the year. Also appearing are the Birmingham bassline don Bassboy, jump-up flag-bearer Macky Gee and host Inja.
The anticipation surrounding Gorgon City's second album Kingdom has been at fever pitch for nearly two years, and now they're finally ready to share it with the world. This special event gives Foamo and RackNRuin the chance to present their new album live. They'll be joined by Shadow Child, whose infectious take on deep and tech house has been responsible for such deep and tech house hits as "Bad Girl (At Night)" featuring Lisa Maffia and "Baditude" featuring Sam Obernik. On the 10th November, you can also catch the supremely talented polymath Klose One holding court over Room 2 for the entire night with his razor-sharp blend of house, garage, grime, soca, bashment and plenty more besides.

For Shapes sixth birthday they've pulled something huge out of the bag in the form of Tale Of Us. The Italian duo's brand of verdant soundscapes and irresistible rhythms earned them the runner-up spot on RAs DJ poll in 2013, and their label Life and Death has seen releases from DJ Tennis, Recondite and more. Joining Tale Of Use are purveyors of psychedelic grooves, and fellow Italians, Mind Against, sharing their anthemic journey through IDM, house and techno. Audion AKA Mathew Dear joins them on the bill, as well as Moscoman, one of the current wave of artists from Tel Aviv building the city's reputation as a hotbed of leftfield house and disco. George Fitzgerald will also be joining the bill playing all night long in Motion's Room 2.
On Friday 17th November, Percolate pull off one of the finest line-ups of the In:Motion series. With avid fans from Australia to South America, Bicep's upcoming release on Ninja Tune has everyone salivating in anticipation. On the evening they'll be joined by the likes of Leon Vynehall who'll be bringing disco and hip-hop electro, ItaloJohnson unsurprisingly nod to Italy and a rave sensibility, whilst Krywald & Farrer, Percolate's long-time residents, turn out their unparalleled nous for a warm up. Mano Le Tough's commitment to the art of DJing have drawn comparisons to Innervisions royalty like Dixon and Ame, he's joined by Avalon Emerson, one of the most in-demand DJs on the circuit, the Californian getting props the world over for her sets unbound by genre and peppered with her own playful edits, with Gerd Jansen also turning out a set in his idiosyncratic style.
Everyone's favourite garage loving, pirate radio purveyors Kurupt FM are back on our screens following their successful Champagne Steamrooms tour of the UK. To coincide with the launch of the new series Kurupt FM will be stopping off at Motion on Saturday 18th November. Having previously been joined by the likes of Wookie, P Money and Plastician, there's a strong support lineup still to be announced.

Archy Marshall makes his long-awaited live return as King Krule this year, heading to The Marble Factory on Monday 20th November. King Krule emerged in 2011 as one of the most arresting new voices in music, aged just 19 he released 6 Feet Beneath The Moon: a dark, tangled web of jazz, post-punk and hip-hop. Since then, he's guested on albums by Mount Kimbie and Ratking as King Krule, while his productions as Edgar The Beatmaker have been used by the likes of Earl Sweatshirt. Marshall returns to the King Krule moniker for a series of gigs and heavily rumoured upcoming album, as one of the most singular performers of his generation, this will be one The Marble Factory won't forget.
On Friday 24th November, Gilles Peterson gets out his extensive list of contacts for an evening hosted byWorldwide FM. Bristol don Julio Bashmore needs no introduction, but his recently launched Conch Records, picking up from where UK funky left off, proves there's even more to his game than the world-beating tracks we know him for. He props up Gilles Peterson's headline set in which you can expect a truly Worldwide range of sounds of the highest quality, the kind Gilles has been championing for over three decades. Moxie's On Loop takes the reigns in Room 2, where she'll be joined by Session Victim and Admin, whilst Bristol brand Boogie Nights takeover Room 3 with Throwing Shade from NTS Radio.
Finally, on Saturday 25th November RUN vs Playaz will take over Motion, with a huge lineup to be announced after the Run day party on 9th September.
Pre-sale tickets are available from 9am on Wednesday 30th August, with General Release Tickets on sale from 9am on Thursday 31st August via www.bristolinmotion.com
+++
FULL IN:MOTION LISTINGS
Friday 29th September
FRIDAY OPENING
THE MARTINEZ BROTHERS
JACKMASTER
WILLIAM DJOKO
BAMBOUNOU
HAAI
KIM ANN FOXMAN
ANDREA OLIVA
PEGGY GOU
BENNY RODRIGUEZ
LAUREN LANE
DE SLUWE VOS
COUSN

+++
Saturday 30th September
SATURDAY OPENING
THE BLAST
MY NU LENG & DREAD MC
CASPA & RIKO DAN
MATT JAM LAMONT B2B CONDUCTA & B-LIVE
YOUNG T & BUGSEY
BARELY LEGAL
NOTION
THE BLAST DJS
SPECIAL GUEST:
D DOUBLE E
HOSTED BY: KOAST
THE BLAST
TC
BREAKAGE
KRUST
CYANTIFIC B2B INSIDEINFO
KYRIST
TS2W
SPECIAL GUEST: TBA
HOSTED BY: BASSMAN, JAKES & TEXAS
BODYNOD
LOGAN SAMA
SWIFTA BEATER [BASSLINE SET] DJ EJ
BLAZEY BODYNOD
K KRUSH & OPIE
G WILLIAMSON
DURKLE DISCO
MANI FESTO
NEAR
VERN & MILLA
KOAST [DJ SET] BUG BEAR
+++
Friday 6th October
THE BLAST: TQD X CRITICAL X SWING TING
THE BLAST
TQD (ROYAL-T, DJ Q, FLAVA D)
P MONEY
ELIJAH & SKILLIAM
SKEPSIS
THE BLAST DJS
CRITICAL
DUB PHIZIX & STRATEGY
THE UPBEATS
ENEI B2B KASRA
SAM BINGA
FOREIGN CONCEPT B2B HALOGENIX
SHYUN
TS2W
SPECIAL GUEST:
FOREIGN BEGGARS
HOSTED BY:
GQ
REMIDY
SWING TING
MURLO
FAMOUS ENO
SAMRAI
JOEY B
PLATT
TRIGGANOM
L U C Y
+++
Saturday 7th October
AN EVENING WITH RØDHÅD
RØDHÅD
WARMUP: JON HESTER
+++
Friday 13th October
CREAM IBIZA
JOHN O'CALLAGHAN
SIMON PATTERSON
MENNO DE JONG
ANTHONY PROBYN
+ VERY SPECIAL GUEST: PAUL OAKENFOLD PRESENTS GENERATIONS
+++
Friday 13th October
SHALL NOT FADE
ANDRES
DJ SEINFIELD
DJ BORING
ADRYIANO
LK
KGW
+++
Saturday 14th October
HOSPITALITY
HIGH CONTRAST
FRED V & GRAFIX – LIVE
DANNY BYRD
NU:LOGIC
CULTURE SHOCK
HUGH HARDIE
SPECIAL GUEST: THE PROTOTYPES
HOSTED BY:
DYNAMITE
IC3
WREC
CARASEL
TEXAS
LONDON ELEKTRICITY
FABIO & GROOVERIDER (RAGE ERA JUNGLE SET)
ETHERWOOD
MAKOTO
KEENO
ROYALSYON
WHINEY
SP:MC
RUTHLESS
REMIDY
INVADERZ
+++
Friday 20th October
SIMPLE THINGS OPENING
METRONOMY (LIVE)
+++
Friday 20th October
AREA 10
MK
SPECIAL GUEST TBA
ICARUS
KC LIGHTS
WILL CLARKE
NOTHING ELSE MATTERS
DANNY HOWARD
KIDEKO
TBC
+++
Saturday 21st October
THE HEATWAVE PRESENTS HOT WUK

THE HEATWAVE
+++
Thursday 26th October
IN:MOTION PRESENTS
PAUL KALKBRENNER (LIVE)
PAUL KALKBRENNER (LIVE)
+++
Friday 27th October
THE BLAST HALLOWEEN
THE BLAST
SHY FX
CONGO NATTY
DARKZY
ROSKA B2B JUS NOW
HARLEM SPARTANS
CHIMPO
CAPO LEE
KENNY ALLSTAR
FIRE MAN SAM
HOSTED BY:
STAMINA
BRU-C
SEROCEE
SKITTLES
FOX
KOAST
BASS MENTALITY
CHRIS LORENZO
ZINC
ZED BIAS
JAMIE DUGGAN
MARCUS NASTY
K STYLZ
SUPER KITCHEN
SINJIN HAWKE B2B ZORA JONES
TASH LC
MINA
NOIRE & DOUBLE
DJ STOLEN
MISTAREEZ
CTRL TRAXX
MACHINNA
JAYDROP & FRIENDS
JAYDROP
INTERLINE
HALCYONIC & G ROOTS
THE SULTAN
DEVIANT
+++
Saturday 28th October
JUST JACK HALLOWEEN
DJ HARVEY – ALL NIGHT LONG
STEFFI
VIRGINIA
YOUNG MARCO
INTERSTELLAR FUNK
+++
Thursday 2nd November
IN:MOTION PRESENTS MOUNT KIMBIE (LIVE)
MOUNT KIMBIE – LIVE
+++
Friday 3rd November
25 YEARS OF RAM RECORDS
2 X SPECIAL GUESTS TBA
KILLBOX
RENE LA VICE
FRANKEE
MOVING FUSION
SHIMON
JAYDROP
TS2W
+++
Saturday 4th November
DRUMCODE
ADAM BEYER
ALAN FITZPATRICK
IDA ENGBERG
DENSE & PIKA
LAYTON GIORDANI
MONIKA KRUSE
B.TRAITS
+++
Friday 10th November
HOLY GOOF & FRIENDS
HOLY GOOF
SIR SPYRO
BASSBOY
MACKY GEE
THE BLAST DJS
HOSTED BY INJA
+++
Friday 10th November
GORGON CITY PRESENTS KINGDOM
GORGON CITY
SHADOW CHILD
MAX CHAPMAN
KLOSE ONE [ALL NIGHT LONG] MANT
+++
Saturday 11th November
SHAPES
TALE OF US
MIND AGAINST
AUDION – DJ SET
MOSCOMAN
SHAPES
SPECIAL GUEST: GEORGE FITZGERALD [ALL NIGHT LONG] +++
Friday 17th November
PERCOLATE
BICEP – LIVE
MANO LE TOUGH
LEON VYNEHALL
GERD JANSON
AVALON EMERSON
ITALOJOHNSON
KRYWALD & FARRER
+++
Saturday 18th November
LOST TAPES TOUR
KURUPT FM
+++
Monday 20th November
KING KRULE [LIVE] KING KRULE [LIVE] PLUS VERY SPECIAL GUESTS
+++
Friday 24th November
WORLDWIDE FM
GILLES PETERSON
JULIO BASHMORE
SESSION VICTIM
ROMARE [LIVE] BENJI B
MOXIE
THROWING SHADE
WILL LV
METHODS
+++
LINKS & FURTHER INFO
IN:MOTION
www.bristolinmotion.com
ADDRESS:
Motion Nightclub
74-78 Avon Street,
Bristol,
BS2 0PX