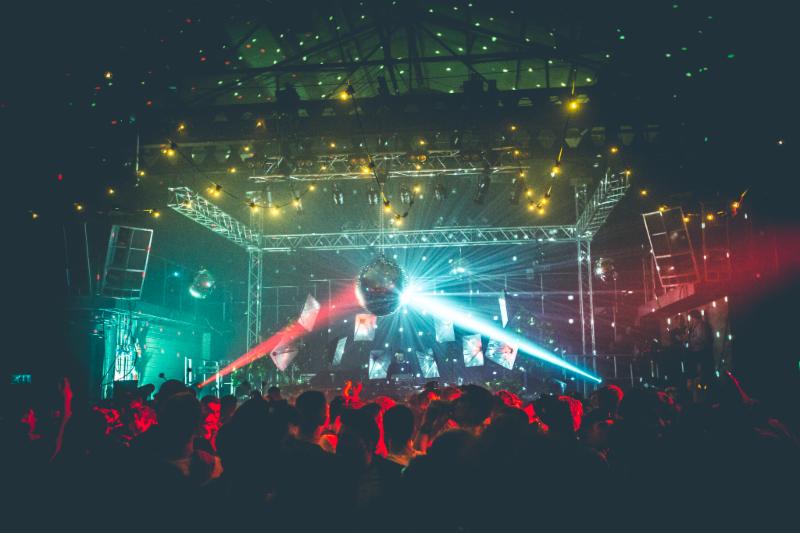 Bristol's In:Motion reveals phase two lineups for 2018
Following the initial tidal wave of announcements that heralded the return of In:Motion for 2018, Bristol's biggest club series now unveils a second round of incredible events primed to send shockwaves through the city this autumn and winter. Whether it's wrecking-ball D&B line ups, spellbinding house and techno or main stage megastars you're after, In:Motion has got you covered.
10 years since he landed at Motion for a riotous session for the Blowpop crew, we're thrilled to announce that Deadmau5 is finally coming back to Bristol. The masked producer has become a true titan of dance music in that time, riding a wave of notoriety from chart-topping collaborations to stadium-busting shows the world over. When he lands in Bristol, everyone's going to know about it.
It may feel like a long time since the peak of the summer, but Love International will be on hand with a star-studded selection of artists commonly found soundtracking their sun-soaked sessions on the Adriatic coast, including the likes of Moodymann, Todd Terje, Josey Rebelle and Joy Orbison. Meanwhile Crack Magazine will be returning for another of their unmissable Christmas parties, this year featuring Detroit techno legend Jeff Mills, disco and house maestro Motor City Drum Ensemble, Danish electro bossCourtesy, Umfang, Powder and many others.
There's plenty of space for respected selectors to take the dancefloor faithful on long and winding journeys through the deepest pockets of their musical tastes. Skream will be running through the full spectrum of his sound via his Open To Close session. Mr Scruff is of course famed for his all night sessions where serious diggers cuts and soulful classics collide, while Northern house upstart Patrick Topping shows how deep he can take the crowd during his own warm-up-to-wind-down set.
Jungle and drum & bass are embedded in the DNA of Bristol music, and that's no more apparent than on two of the gut-busting line-ups we're pleased to announce in this second wave. Chase & Status bring their new jungle inspired RTRN II Jungle tour to town, with the likes of Dillinja, Brockie & Det & Skibadee andSaxon Sound serving up lessons in the sound. Meanwhile, 1st December 2018 sees an almighty soundclash between RUN vs Playaz Recordings with DJ Hype at the helm, Dimension in the Marble Factory on his mammoth UK tour, and V Recordings with Bryan G in the Tunnel. Also watch out for bona fide supergroup SaSaSaS coming to town on Boxing Day bringing their NXT LVL tour alongside The Blast.
There's every shade of house and techno on offer, from London minimal house promoters FUSE making a welcome return with their hypnotic, heads-down sound indoors to Maceo Plex and his celebrated Mosaic event series, joined by Danny Daze both playing unmissable four hour sets. Meanwhile Claptone will be weaving his magic at the helm of The Masquerade, while Glitterbox welcomes Dimitri From Paris, The Shapeshifters and Melon Bomb for a more glamorous take on house music.
With all this on top of the first wave of announcements, this is shaping up to be In:Motion's biggest season yet.
All tickets available here: www.bristolinmotion.com
IN:MOTION PHASE TWO LINEUPS:
Date: Saturday 20th October
Hours: 22:00 – 06:00
Age: 18+
Event Title: In:Motion / RTRN II JUNGLE
Chase & Status (DJ set) & Rage
Dillinja
Conducta
Brockie & Det & Skibadee
Saxon Sound
Critical Impact
Sir Hiss
L U C Y
Zha
Bethbethbeth
The Blast DJs
Inja
Navigator
—
Date: Saturday 17th November
Hours: 22.00 – 06.00
Age: 18+
Event Title: In:Motion / Glitterbox
Dimitri From Paris
The Shapeshifters
Melon Bomb
—
Date: Sunday 18th November
Hours: 16:00 – 23:00
Age: 18+
Event Title: In:Motion / Deadmau5
Deadmau5
—
Date: Friday 23rd November
Hours: 21:00 – 06:00
Age: 18+
Event Title: In:Motion / Love International
Todd Terje (DJ Set)
Moodymann
Joy Orbison
Craig Richards
Nicolas Lutz
Josey Rebelle
Saorise
Ruf Dug
Dave Harvey
Christophe
Ellie Stokes
—
Date: Saturday 24th November
Hours: 22:00 – 06:00
Age: 18+
Event Title: In:Motion / Claptone And The Masquerade
Claptone
Special Guests
—
Date: Friday 30th November
Hours: 22:00 – 06:00
Age: 18+
Event Title: In:Motion / Maceo Plex presents Mosaic
Maceo Plex (4 hrs)
Danny Daze (4 hrs)
—
Date: Friday 30th November
Hours: 22:00-04:00
Age: 18+
Event Title: In:Motion / Mr Scruff (All Night Long)
Mr Scruff
—
Date: Saturday 1st December
Hours: 22:00 – 06:00
Age: 18+
Event Title: In:Motion / RUN x Playaz x Dimesnion: UK Tour x V Recordings
DJ Hype
DJ Hazard
Problem Central
Sub Zero b2b Limited
Critical Impact
Annix
Tyke
Kings of the Shadows [Kings of the Rollers X Shadow Demon Coalition] Dimension
Turno
Culture Shock
1991
Benny L
D*Minds
Skank and Bass
Bryan Gee
Need For Mirrors
Jumpin Jack Frost
Heist
Social Misfits
—
Date: Friday 7th December
Hours: 22:00 – 06:00
Age: 18+
Event Title: In:Motion / FUSE 10 Years
Lineup TBA
—
Date: Saturday 8th December
Hours: 21:00 – 06:00
Age: 18+
Event Title: In:Motion / Crack Magazine
Jeff Mills
Motor City Drum Ensemble
Courtesy
Umfang
Powder
Gideön
Izabel
Danielle
Facta
David J Bull
—
Date: Saturday 15th December
Hours: 22:00 – 06:00
Age: 18+
Event Title: In:Motion / Patrick Topping (All Night Long)
Patrick Topping (All Night Long)
—
Date: Wednesday 26th December
Hours: 21:00 – 05:00
Age: 18+
Event Title: In:Motion / SASASAS presents NXT LVL Boxing Day
SASASAS
The Prototypes
Logan D & Eksman
Bassboy
Mampi Swift b2b Crissy Criss
Distress Signal: K Motionz, Simula, Kanine & IC3
AFT Showcase
The Blast DJs
Carasel
Texas
—
Date: Saturday 29th December
Hours: 22:00 – 06:00
Age: 18+
Event Title: In:Motion / Skream Open To Close
Skream
+++
ADDRESS:
Motion Nightclub
74-78 Avon Street,
Bristol,
BS2 0PX