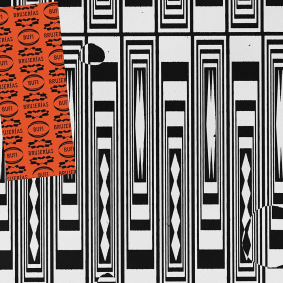 Bufi - Brujerias
Duro return with the third fantastic single from Bufi's forthcoming Mexico 70 album. The package includes remixes from Richard Rossa and Maya Danon, plus cover art by Portuguese visual artist Bráulio Amado.
Mexican artist Bufi mixes up house and disco influences into warm, authentic tracks on labels like Discotexas, Electrique Music and Duro and has done for a decade now. After two previous singles he continues to tease his much-anticipated new album with another pair of characterful offerings.
Majestic opener 'Brujerías' is a tropical disco number with loose, jumbled percussion and a hypnotic lead synth line. It's a jungle tinged sound with big drums and plenty of funk in the bass. 'Africa Latina' is more intense and steamy, with breathy male vocals and driving synths and drums all working you into a lather. It's an emotional affair that makes for a great trip on the dance floor.
Richard Rossa has put out music on the likes of Tom Tom Disco, Pizzico and Disque Discos, here he remixes 'Africa Latina' into a freaky, psyched-out cut with withering synths and haunting atmospheres all tethered to a chugging and muscular disco groove.
Lastly, Maya Danon from Israel follows up work on Relish and remixes on Mange Moi, Sulk Magic, Wonder Stories with another fine reconstruction. Her version of 'Africa Latina' has a darker machine soul. The machines blurt and spit, the bass drills deep and off kilter hits bring late night mischief to the track.
This is a fantastic standalone package as well as another mouthwatering teaser of the full length to come.
Tracklist:
1. Brujerías (Original Mix)
2. África Latina (Original Mix)
3. África Latina (Richard Rossa Remix)
4. África Latina (Maya Danon Remix)