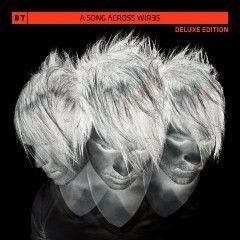 BT – A Song Across Wires (Deluxe Edition)
This deluxe edition contains a never-before-released remix from Ashley Wallbridge and remixes from Ilan Bluestone, Dannic, LTN, and Shogun — 'A Song Across Wires' is back and better than ever!
The official follow-up of the critically acclaimed 'If The Stars Are Eternal So Are You And I' and Grammy-nominated 'These Hopeful Machines', 'A Song Across Wires' is an album that reconfirms Brian Transeau's status as one of the most cutting-edge artists both in and outside the EDM world. BT has left an indelible mark on electronic music and the technology and techniques that make it possible. The architect behind classics such as 'Flaming June', 'Every Other Way' and 'Love Comes Again', he's also the creator of the legendary Stutter Edit and has worked with the likes of Madonna, Britney Spears, Tori Amos, David Bowie, Tiësto, Armin van Buuren, Paul van Dyk, Peter Gabriel and many more. It's impossible to put boundaries on his experimental and genre-bending sounds, making 'A Song Across Wires' a real flight for the imagination.