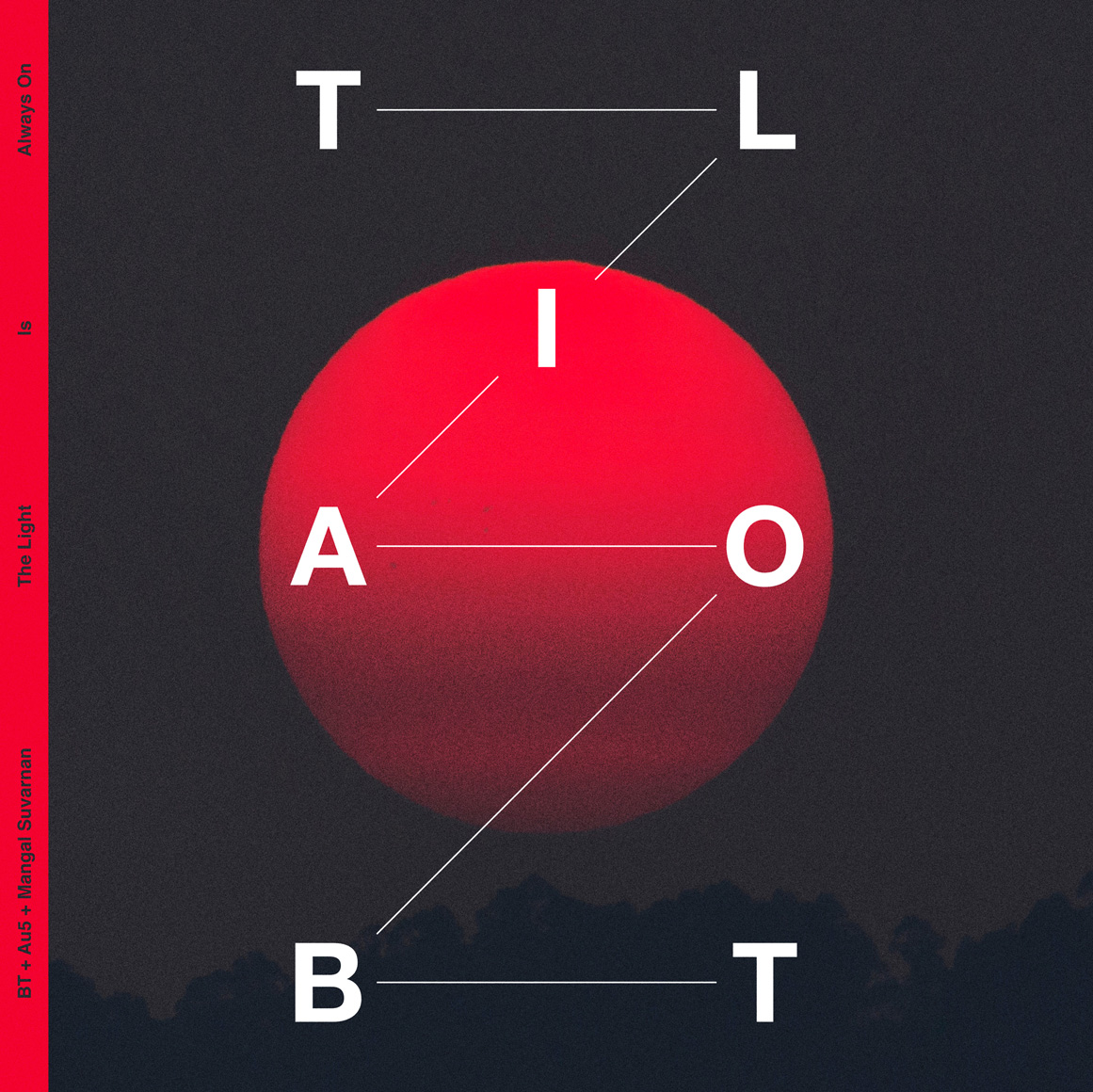 BT, Au5 & Mangal Suvarnan – The Light is Always On (Original Mixes + Le Youth Remixes)
Taken from 2020's 'The Lost Art Of Longing', BT's marshals an elite co-production, singing-songwriting and remixing complement to the album's next single, 'The Light Is Always On'.
Studio-side with the Grammy-nominated electronic music pioneer is New Jersey native Au5, whose album-reconnecting with BT for the first time since 2013's 'A Song Across Wires'. Multi-talented muso Mangal Suvarnan swaps headphones for mic to handle 'Light's song-based duties, whilst on the remix is his fellow Los Angelino Le Youth.
Collectively they've created a masterpiece, which again puts into the sharpest perspective BT's "imagination over instant gratification" cause for 'The Lost Art Of Longing'.
On its original version, BT & Au5 play an outstanding dual-hander, generating a musically complex overture of drawn orchestral strings and Gaelic-tipped harmonies. The pair then max the engagement with dynamic breakbeats, higher frequencies and stutter-edit sequences. Throughout Mangal Suvarnan song radiates the positivity of the track's title, while his lyrics leave 'The Light Is Always On's message unambiguously clear.
On his reworking, Le Youth's drops the track onto a later-night freeway. Undulating bass and coolly evolving synth patterns are painstakingly modulated throughout, unfolding the big feel of his remix in a cruisingly unhurried fashion.
'The Lost Art Of Longing' surrenders another single gem: 'The Light Is Always On' arrives on streams and stores today (https://blackhole.complete.me/light).
Tracklist:
01. BT, Au5 & Mangal Suvarnan – The Light Is Always On (Original Mix)
02. BT, Au5 & Mangal Suvarnan – The Light Is Always On (Le Youth Remix)
03. BT, Au5 & Mangal Suvarnan – The Light Is Always On (Extended Mix)
04. BT, Au5 & Mangal Suvarnan – The Light Is Always On (Le Youth Extended Remix)

btmusic.com
facebook.com/bt
twitter.com/bt
soundcloud.com/bt
blackholerecordings.com
soundcloud.com/blackholerecordings
facebook.com/blackholerecordings
twitter.com/BlackHoleRec