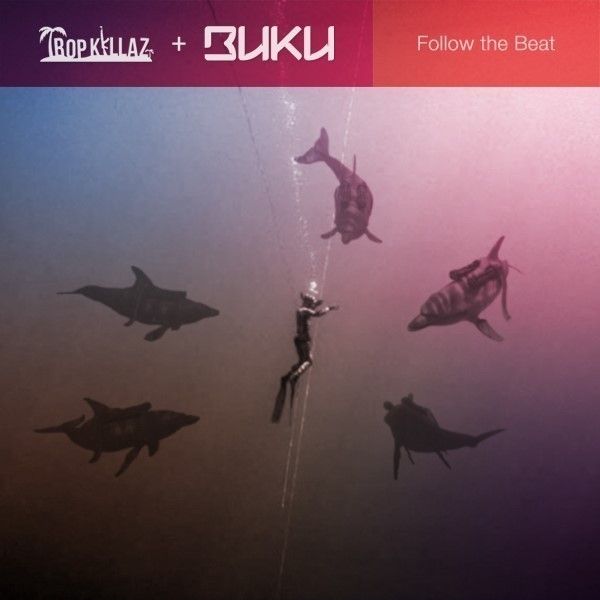 Buku + Tropkillaz – Follow The Beat
Yesterday Buku dropped his latest collaboration with breakout Brazilian producers Tropkillaz as a free download via This Song Is Sick, who boasted how the track is a "jazzy trapped out beat filled with various bass hits and a slinking synth pattern to make this a club and festival ready turn up!"
Under 24 hours since "Follow The Beat" premiered, it reached over 50K plays combined on This Song Is Sick and Buku's Soundcloud, causing quite the stirrup amongst the online music community.
This Song Slaps followed suit, noting how the "infusion of reggaeton sounds with big trap drums makes for an awesome tropical trap track that is sure to make you want to dance for hours and hours."
Buku explains his motivation behind releasing this production: "I've always loved the fun party vibe that the Tropkillaz infuse in all of their tracks, not to mention the percussion. It seemed like a no-brainier for both of us to come together with this tune." – Robert Balotsky aka Buku
"Follow The Beat" isn't the only collaboration this young Pittsburgh native has up his sleeve. Over the next couple of months Buku will be dropping a hot new remix by Fool's Gold co-founder Nick Catchdubs and a slew of upcoming collaborations with Willy Joy, Troyboi, Big Chocolate, and more.
Stay tuned!
BUKU'S UPCOMING TOUR DATES:
8/09 @ Werk Out Festival – Thornville, OH
8/15 @ Branx w/ EPROM, Bleep Bloop, Yheti + More – Portland, OR
8/16 @ Showbox SoDo w/ an-ten-nae and Govinda – Seattle, WA
8/22 @ Cosmic Ascension Music and Arts Festival – Wauburn, MN
8/23 @ Ground Zero – Spartanburg, SC
8/31 @ Imagine Music Festival – Atlanta, GA
9/11 @ 1UP Colfax w/ Branchez – Denver, CO
9/14 @ Thrival Festival – Pittsburgh, PA
+ More Dates TBA