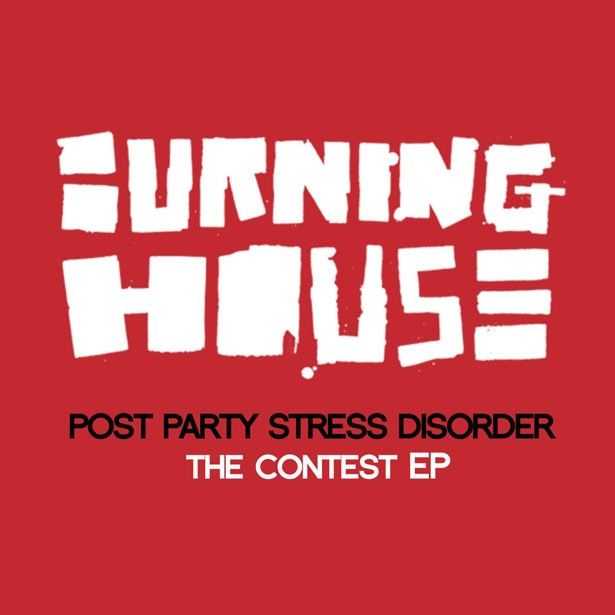 Burning House – Post Party Stress Disorder
On November 25th French imprint Naïve present 'Post Party Stress Disorder', the latest single by Burning House, AKA beat-maker extraordinaire Chief Xcel (from seminal hip hoppers Blackalicious) and keyboard wiz vocalist Hervé Salters (aka General Elektriks).

Created across Paris, Berlin and San Francisco, Burning House's single is taken from their recently released debut album 'Walking Into A Burning House'. The second single is a gorgeous slice of pure French electro pop with mechanized guitars and bouncy beats, with a brilliant animated video from the creative mind of Arno Salters, who had this to say about it:

"I wanted to imagine what kind of party would give you "Post Party Stress Disorder. And I felt like it should be quite dark and surreal but also true to the upbeat "dance" nature of the track. And this is what came out of my head.
The process was really interesting – first I did a very LoFi shoot with the main character (performed by Olivier Casamayou), which I edited into a live version of the video. This live action "animatic" was then pain-stakingly rotoscoped and distorted by grandmaster animator Joseph Pierce.
And this process gave the video its surprising aesthetic of loosely surreal imagery combined with distinctly realistic motion." https://www.youtube.com/watch?v=JFOTM3BaaUA
The debut album is a radical and unprecedented collage of hip hop, funk, vocoders, squelchy vintage synths, disco-boogie and jazz. They are joined by fellow backing vocalists and instrumentalists on a selection of tracks, with lead vocal duties handled by Salters.

One of the founding members of heralded San Francisco Bay Area Hip-Hop collective Quannum Projects (Blackalicious, DJ Shadow, Latyrx ), Xcel met Salters when the latter moved from his native Paris to San Fran in the early 2000s.

Quickly realizing that they both shared a common love for all things funky and irreverent (with both agreeing that when it comes to music, anything goes), The Chief would go on to invite Hervé and his vintage keys onto numerous tracks and projects, while Salters invited Xcel to guest on his first album as General Elektriks.

The Frenchman then joined Blackalicious live on keys in 2005 to tour their 'The Craft' album. The seeds for what would become Burning House were planted around that time. Things blossomed when Xcel joined Salters for a week in Paris, where much of the writing and producing groundwork was laid down. They reconvened a few months later, this time in Berlin where Hervé was residing, and finished the album. They weren't quite done with the country hopping though, and decided to head back to San Francisco to mix the record.

http://www.facebook.com/burninghouseofficial
www.naive.fr