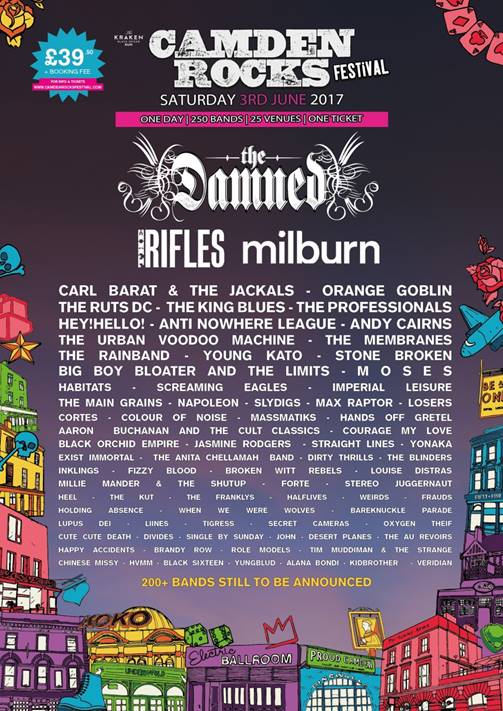 Camden Rocks announces even more acts!
Having announced The Damned, Orange Goblin and Ruts DC amongst the first acts to be confirmed for Camden Rocks Festival 2017, today Sheffield's recently reformed indie pioneers Milburn join the line-up, alongside Camden's own Carl Barat & The Jackals, The Rifles, The King Blues, The Membranes and many more.
Following a sold-out fifth year in 2016, this year will see Camden Rocks Festival up the stakes again, set to host a staggering 250 bands and artists across 25 of Camden Town's venues on June 3rd 2017.
"We can't wait to play this year's Camden Rocks Festival, a great line up as always and right in our own back yard!" say The Rifles.
"Camden Rocks is the weekend when Camden comes as alive as it ever was and should always be. I'm always proud to be a part of it." Carl Barat adds.
Speaking ahead of The King Blues' appearance, frontman Itch says, "We are ridiculously excited to be playing at Camden Rocks this year. Camden was where we cut our teeth and has been a spiritual home for us. I can't wait for this one!"
Camden Rocks 2017 will also host a special reformation from original Sex Pistols drummer Paul Cook's The Professionals, and in addition to Milburn, Carl Barat & The Jackals, The King Blues, The Rifles and The Membranes, Andy Cairns of alt-metal mainstays Therapy? will also perform an acoustic set.
"I'm honoured and excited to be part of the burgeoning Camden Rocks festival this year," Cairns says. "My previous experience of the event was amazing and I'm very much looking forward to getting stuck in to 2017's chapter. See you there!"
Further line-up additions are noted below in bold.
The Damned, Orange Goblin, The Ruts DC, The King Blues, The Professionals, Hey! Hello!, Anti Nowhere League, The Urban Voodoo Machine, The RainBand, Young Kato, Stone Broken, Big Boy Bloater and the Limits, MOSES, Screaming Eagles, Imperial Leisure, Habitats, The Main Grains, Napoleon, Slydigs, Max Raptor, Losers, Cortes, Colour Of Noise, Courage My Love, Black Orchid Empire, Jasmine Rodgers, Straight Lines, Yonaka, Exist Immortal, The Anita Chellamah Band, Dirty Thrills, The Blinders, Inklings, MassMatiks, Hands Off Gretel, Fizzy Blood, Broken Witt Rebels, Louise Distras, Millie Manders & The ShutUp, Forte, Stereo Juggernaut, Black Sixteen, Lucie Barat & The Au Revoirs, HVMM, Halflives, Weirds, Frauds, Holding Absence, When We Were Wolves, Bare Knuckle Parade, Lupus-Dei, Liines, Tigress, Divides, Single By Sunday, John, Desert Planes, Happy Accidents, Brandy Row, Role Models, Tim Muddiman & The Strange, Chinese Missy, Alana Bondi, Itamar, Oxygen Thief, The Franklys, CUTE CUTE DEΔTH, Heel, The Kut, Secret Cameras, Yungblud, Kidbrother & Veridian.
Camden Rocks Festival 2017 venues include: Koko, Electric Ballroom, Underworld, Camden Market Amphitheatre, Dingwalls, Proud, Camden Assembly, The Black Heart, The Monarch, The Forge, The Crowndale, Dublin Castle, Devonshire Arms, Irish Centre, Dingwalls Canal side, Bloc Bar, Hawley Arms, Good Mixer, Brew Dog, Fifty Five, Be At One & Winnicott.
Early-bird tickets for Camden Rocks Festival 2017 are now sold out. £39.50 tickets are now available from the link below subject to booking / transaction fees.
www.camdenrocksfestival.com/tickets