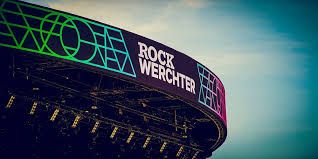 Rock Werchter Adds More Acts!
Rock Werchter 2017 are delighted to add blistering American rap-rock supergroup Prophets of Rage, top indie-rock duo The Kills, sun-drenched electropop leaders Crystal Fighters, new bluesy rock heroes Kaleo, big Belgian talent Warhaus, and piano soul revelation Benjamin Clementine.
Four days, three stages; The best headliners, fiery young stars, hard-hitting rockers and melodic singer-songwriters will flock to Belgium's greatest music festival this summer as Rock Werchter has announced the biggest names in contemporary music for this year's line up. The newly added names will join incredible headliners like art-rock powerhouse Arcade Fire, hottest young artist/producer duo The Chainsmokers and Kings of Leon lead the charge on the festival's opening night, with alt-rock giants Radiohead, nu-metallers Linkin Park, System of a Down and American rock legends Foo Fighters promising an unforgettable weekend.

Known for their stunning debut album 'Funeral', Canada's finest art-rock troupe Arcade Fire will be returning to Rock Werchter after a seven year absence in to perform all-encompassing hits from their critically acclaimed career. Joining Arcade Fire are Nashville's favourite sons, Kings of Leon, as they promise to bring their sweeping southern anthems to Werchter's Festivalpark.

No strangers to Belgium's hallowed festival ground, alt-rock giants Radiohead are one of the most revered live bands of all time. In their vast 32 years, the band lead by Thom Yorke have written the most influential albums of this century, and their return to Rock Werchter promises to be another landmark moment in their acclaimed career.

Bringing the mosh to Rock Werchter are two of the most intriguing bands to emerge from the metal scene. Nu-metal pioneers Linkin Park, known for their hard-hitting rap-metal debut 'Hybrid Theory' and their monumental Jay-Z mashup EP 'Collision Course', and the ever-intriguing System of a Down are poised for septic singalongs such as 'Toxicity' and 'Chop Suey!'

Known for their highly anticipated catalogue of singalong anthems such as "Everlong", "Monkey Wrench", "My Hero" and "All My Life", the multi-award winning Foo Fighters are set to unleash their iconic brand of american stadium rock on Rock Werchter.

Joining these mammoth headliners will be Alt-J, Blink-182, The Chainsmokers, Imagine Dragons, James Blake, Lorde, Oscar And The Wolf, Royal Blood, Agnes Obel, Bazart, Bonobo, Dropkick Murphys, The Lumineers, White Lies and Future Islands.

Mastering the art of European festivals, Rock Werchter recently won Best Major Festival at the European Festival Awards with last years blistering display. With close to 150,000 unique visitors descending on the Festivalpark each year, Rock Werchter Festival 2017 is set to be the most highly-anticipated party of the summer, promising an unforgettable weekend celebrating the best in arts, music and culture, bringing an exciting new chapter to the Werchter fields.

Full Combi tickets across the weekend start from £204, with limited day tickets for the Thursday, Friday and Sunday still available. Head to http://www.rockwerchter.be/en/ for more information.