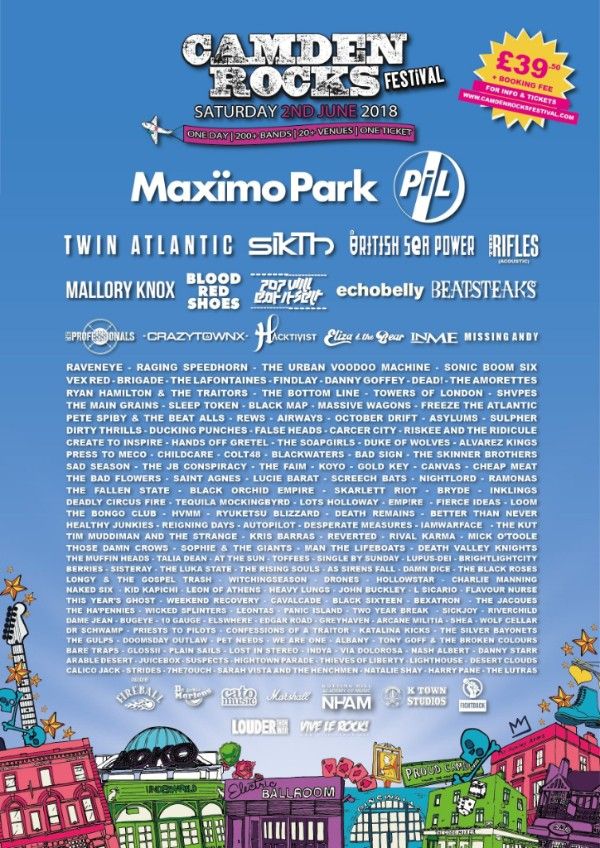 Camden Rocks Festival announces Blood Red Shoes, Carl Barat DJ set + 50 more acts
With less than a month to go until North London enjoys the annual Camden Rocks Festival on June 2nd, the penultimate line up has been revealed with over 200 bands playing across multiple venues in Camden. This is the 6th all-dayer that Camden Rocks would have graced Camden Town with, a festival known for sunshine, cold drinks and good times alongside over 1500 musicians and 8000 music fans soaking up the carnival atmosphere!
British indie rock duo, Blood Red Shoes have been announced to play today and add: "We're excited to play Camden Rocks for the first time and share a stage with the legendary Public Image Limited,"
They are joined by Carl Barat, who is this year's guest to DJ at the Koko aftershow, Essex Mod legends Missing Andy and another 54 rock and indie acts that include INME, Findlay, Pete Spiby & the Beat Alls, October Drift, The SoapGirls, Bryde, Reigning Days, Reverted, Berries, Longy & The Gospel Trash Drones, Hollowstar, Kid Kapichi, Leon Of Athens, Heavy Lungs, John Buckley, Flavour Nurse, BeXatron, The Jacques, The Ha'pennies, Missing Andy, Panic Island, Two Year Break, Sickjoy, 10 Gauge, Elswhere, Edgar Road, Greyhaven UK, As Sirens Fall, Arcane Militia, Wolf Cellar, Dr Schwamp, Priests to Pilots, Confessions of a Traitor, Katalina Kicks, The Silver Bayonets, Doomsday Outlaw, Pet Needs, We Are One, Albany, Tony Goff & The Broken Colours Glossii, Plain Sails, Lost In Stereo, Indya, Scrubs, Arable Desert, Juicebox Suspects, Hightown Parade, Thieves Of Liberty, Lighthouse, Desert Cloud, Those Damn Crows, Danny Starr, Mick O'Toole and The Lutras.
Also announced today is that Dr. Martens will run a new competition whereby Camden Rocks Festival ticket holders can enter to be allocated a spot to two very special and intimate gigs for Mallory Knox and The Rifles (Acoustic) at the Dr. Martens Boot Room; a 60 cap venue the size of your living room in the heart of Camden Market. Tickets will be allocated at random to Camden Rocks Festival ticket holders that sign up to the gig via the Dr. Martens Boot Room website before 24th May: http://www.drmartens.com/uk/dmsbootroom.
In addition to these performances, the Dr. Martens Boot Room will also be showcasing performances from emerging artists Heavy Lungs and Kid Kapichi (selected by The Joe Strummer Foundation), Glossii and Pet Needs, open for all Camden Rocks Festival ticket holders to attend.
North London's most prestigious rock festival has previously announced British Sea Power, Sikth Hacktivist, Crazy Town, Echobelly, Danny Goffey, Mercury-prize nominees Maxïmo Park, fabled post-punk originators Public Image Limited (PiL), Scottish rockers Twin Atlantic, grebo gurus Pop Will Eat Itself and post-Sex Pistols legends The Professionals and many more.
Grab your tickets now whilst they are still available from www.camdenrocksfestival.com where you can also find the full line-up and all festival information.
General sale tickets are priced at £39.50 (subject to booking fee) and give festival goers access to all 200+ bands and 20+ venues on the festival.
Aftershow tickets are priced at £10 (subject to booking fee) and give festival goers access to the aftershow at KOKO 11pm – 3am.
Ticket terms and conditions can be found at our website.