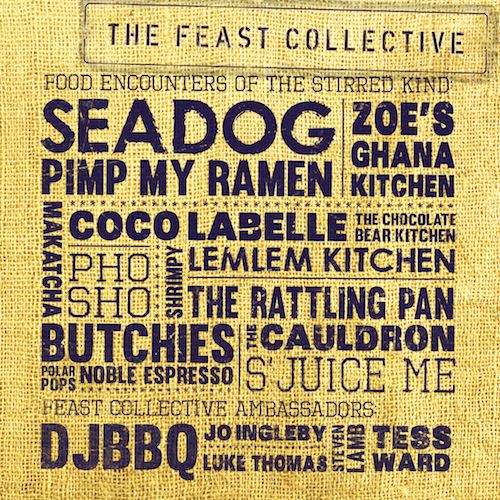 Camp Bestival Feast Collective line-up
Feast Collective Producer Gemma Thorogood says: "This year we've trawled the country for the cream of the crop with British Street Food celebs Seadog bringing their seaside popcorn to the fields, plus Bánh Mì from Pho Sho, buttermilk chicken from Butchies, and sweet potato pancakes from the Chocolate Bear Kitchen. Not to mention the extraordinary Eritrean tacos carefully crafted by Lemlem Kitchen, oh and Polar Pops ice lollies made only from real fruit and vegetables (with NO added sugar)! I just hope I can get around it all in one weekend!"
This year's Feast Collective Ambassadors will also include Steven Lamb who has been the lynchpin of the River Cottage operation for more than a decade, and specialises in curing and smoking meats; Children's Food Ambassador, and former BBC Cook of the Year, Jo Ingleby, who will be offering Children's Feast Collective Tasting Sessions; Luke Thomas, the UK's youngest head chef, who was just 18-years-old when he took charge of his restaurant in Cookham and our Healthy Food Ambassador, Tess Ward, a Le Cordon Blue trained chef and rising star in the foodie world whose book, The Naked Diet, has put her at the forefront of making healthy food a mainstream concern.
The line-up for this year's multitude of Feast Collective food marvels, speciality chefs and streetfood gurus will include Seadog, the winners of the 'Best of the Best' prize at the 2015 British Street Food Awards, plus we will have contemporary twists on traditional Ghanaian cooking from Zoe's Ghana Kitchen, noodle burger fusionists Pimp My Ramen, and real Southeast Asian street dishes and food to inspire happier living from Makatcha. Commenting on joining the Feast Collective line-up Makatcha's Maria Knowles said: "Told by many customers that the "Feast Collective Tent has the best food!", Makatcha is so proud to be part of that. We will be bringing the EXOTIC taste of Indonesia's Rendang and special peanut sauce. The Feast Collective dream team are a real pleasure to work with too! Win Win!! for customers and traders."
Even more super-tasty treats are in store with 100% gluten-free, unrefined sugar and vegan treats from The Chocolate Bear Kitchen, Mauritian, Jamaican and Sicilian flavours from Coco Labelle, modern African fare including an amazing brunch menu from Lemlem Kitchen, delicious, vegan, gluten-free soup that will change your life from The Rattling Pan and high rollin' Vietnamese streetfood from Pho Sho.
Spreading the shrimpster message far and wide, Shrimpy will be on hand at this year's Feast Collective alongside the ultimate fried chicken sandwich courtesy of Butchies, succulent meaty meat combined with fresh, vibrant and inspiring salads from The Cauldron, beautiful, delicious and nutritionally balanced juices, smoothies and kombucha from S'Juice Me, 100% natural ice lollies with no added sugar, handmade in the UK from real fruit and vegetables by Polar Pops and speciality coffee served up by Noble Espresso's top baristas.
Full of ambrosial adventure and flavoursome inspiration, make sure you try out the wondrous spread of deliciously decadent treats at this year's interstellar Feast Collective!
And don't forget tickets are flying for our Outer Space adventures so make sure you grab yours while you can and keep on checking our website, Facebook and Twitter for all the latest sub space communications.