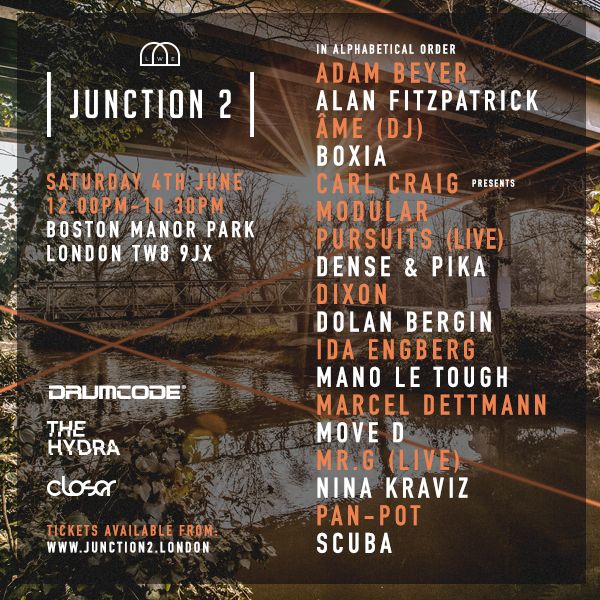 Junction 2 Festival – Stages announced…
Adam Beyer's Drumcode takes centre stage underneath the dominating bridge structure. Powerful lines of pillars run down the length of the dance floor creating a unique, raw experience that can only be compared to the infamous Kappa Future festival in Italy.
Contrasting with the brutalist aesthetic of the main stage, the site's natural beauty is truly revealed when you follow tree-lined pathways to the field where The Hydra and Closer stages will sit.
Drumcode
Adam Beyer
*Alan Fitzpatrick
Carl Craig Presents Modular Pursuits Live
Ida Engberg
Pan-Pot
Boxia
The Hydra: electric minds 10
Dixon
*Âme (DJ)
Mano Le Tough
Move D
Mr. G (Live)
Dolan Bergin
Closer
Marcel Dettmann / Nina Kraviz
*Dense & Pika
Scuba
(*In alphabetical order)
The Site
Boston Manor Park immediately presents the contrasts of the capital city. All at once it is both green space and abstract architecture. On approach the site is dominated by the overhead bridge. Powerful lines stream into the distance as the bridge stretches across the park below creating a corridor of pillars. Visitors will be drawn into lush parkland and woodlands, then onward, down the length of the avenue ahead, crossing a bridge over a small moat and onto an island upon which the mainstage will sit, cocooned amongst concrete and trees with water on all sides.
Contrasting with the brutalist aesthetic of the Drumcode stage, the site's natural beauty is truly revealed when you see the location of The Hydra and Closer stages. Enclosed by a tree line and linked to the bridge area through a series of winding woodland paths, step down into an inviting open field where LWE will be creating an array of beautiful bars, interesting art and a delicious food area.
Each of the stages will provide a unique and different atmosphere, all are covered so you can enjoy the music and not worry about any unreliable British weather!
The message
This summer sees the launch of Junction 2, a new festival for London. At an intriguing, new location. The message is simple – great sound, high-end production, an attention to detail, no short sets, no VIP, no plastic tents and like-minded people. Stages hosted by Drumcode and The Hydra alongside LWE's brand, Closer.
Junction: 'An act of joining; combining. A place or point where two or more things meet or converge.'
More information at:
www.junction2.london
www.facebook.com/Junction2London
www.twitter.com/Junction_2
www.instagram.com/Junction_2
(Last entry 8pm)
Tickets:
http://bit.ly/TICKETTANNOYJUNCTION2
http://bit.ly/RAJUNCTION2
Coaches:
Coach trips are being arranged by outgoing from: Birmingham, Bristol, Cardiff, Leeds, Manchester, Portsmouth, Sheffield, and Southampton.
http://bit.ly/Junction2_coaches
Drumcode, The Hydra and Closer
Saturday 4th June 2016
12:00pm to 10:30pm (Last entry 8pm)
Boston Manor Park, TW8 9JX
Zone 4, London
Subject to licence.