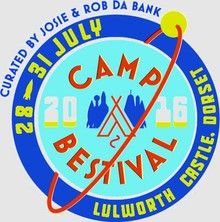 Camp Bestival Heads Into Outer Space
The countdown to Camp Bestival 2016 has well and truly begun. Our ninth festi-holiday jamboree is on the launch pad and we're all set to blast off into our intergalactic 2016 theme – Outer Space!
Transmitting from the Camp Bestival Lunar Module, Commander Rob da Bank says: "Attention all space personnel, cosmic explorers, astronauts and little astronutters… prepare for blast off. Yes friends it's time to whizz off into orbit down at Lulworth Castle aka Spacecamp Dorset and explore the outer regions of our glorious galaxy, the stars, the planets, the moondust, the asteroids and the occasional scary black hole…and remember kids – Outer Space is the place!"
Exploring strange new worlds of music, theatre, shows, attractions, activities, poets, authors, talks and delicious, healthy food, we're heading past the Karman Line out into the unknown on a cosmic adventure. Filling the Lulworth Castle universe with rocket ships, crazy constellations and shining stars, our four-day family festival escapades, this coming 28th-31st July, are guaranteed to be out of this world. So get your space suits on, grab those moon boots and come with us on a voyage into the infinite possibilities of Outer Space!
Whether you're heading out at warp speed or leisurely floating in space, we'll have a host of familiar celestial destinations to visit, including the Kids' Gardens, Bollywood, the Big Top, The Greatest Tent on Earth, the Dingly Dell, the Bestival Inflatable Church, Caravanserai, the Castle Stage, Son et Lumiere fireworks and lots, lots more. Our heavenly line-up will be announced very soon but please don't miss out on Camp Bestival's greatest adventure yet, grab your Outer Space Early Bird tickets now!
For anyone looking for the peace of mind of a guaranteed space to pitch your tent, our ground breaking Camping Plus plots go on sale this Friday 27th November. And, for those who love a touch of additional luxury when it comes to camping, our premium Backstage VIP Camping tickets are on sale from Friday, too.
And, as an interstellar treat, we have a very special Camp Bestival Christmas offer. As well as entry to the most cosmic Camp Bestival ever, anyone who orders their Camp Bestival tickets before Friday 11th December will receive a jolly festive and exclusive Outer Space Camp Bestival Christmas card. If you've already got your Camp Bestival 2016 tickets but would like the Christmas card, never fear, sign up here and we'll send you one! Numbers are limited so grab this splendid Yuletide offering while you can.
And, as Christmas draws ever nearer, don't forget to get involved with the legendary Camp Bestival Advent Calendar kicking off on the 1st December! A veritable feast of Christmastime joy, Camp Bestival's Advent calendar will feature a truck-load of festive fun from a host of CB faves, including wondrous prizes, fantastic activity sheets, crazy carols and seasonal stories galore!
Ticket Info:
Camp Bestival 2016 Weekend Tickets are on sale now via: Ticketline / 0844 888 4410
Camp Bestival 2016 Weekend Ticket Prices:
Adult Weekend Ticket – £197.50*
Student Weekend Ticket – £185*
Age 13 to 17 Weekend Ticket – £118*
Age 10 to 12 Weekend Ticket – £93*
Age 5 to 9 Weekend Ticket – £45*
Age 4 & Under Weekend Ticket – £15*
Babes In Arms (1 & Under) – FREE (but ticket required)*
All tickets include camping from Thursday or Friday.
*NB: please refer to the Camp Bestival Ticket Terms & Conditions
Weekly Payment Plan:
Use our 30 week payment plan to purchase your tickets meaning that an adult ticket can now be bought at a payment of around £5 per week over 29 consecutive weekly payments following an initial deposit payment. Book online via Ticketline only: select 'Camp Bestival 2016 – Weekend Payment Plan'. Once you have signed up to the payment plan, which basically means giving your agreement by ticking the bank mandate form on Ticketline's website, they will automatically debit your card on a weekly basis. NB: Booking fees and a deposit (£27.50 per adult ticket) will be charged with your initial transaction. More info here.
Car Parking – £20 in advance
Campervan Ticket – £85 per vehicle – please read Campervan T&Cs before booking
Caravan / Trailer Tent Ticket – £96 (One car only per caravan/trailer tent – no exceptions). Please read Caravan/Trailer tent T&Cs here.