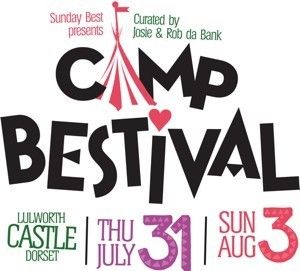 Camp Bestival: The Feast Collective
Food glorious food! Food has always been a highlight at Camp Bestival, from the Young British Foodies and Gizzie Erskine, to the Underground Restaurant, the Surplus Supper Club, and myriad amazing street foods, the Camp Bestival roustabouts have strived to make the grub on offer the very best. Well, this year, we've trumped them all by creating the ultimate taste-fest, a celebration of all that is great about the British food movement – introducing The Feast Collective! A delectable celebration of creative food makers we regard as exceptional street food traders, artisan food producers, specialty chefs, and organisers of pop-up supper clubs from across the UK, we will also be selecting at least two popular restaurants to join us in the fields to create the ultimate outdoor feasting experience.
Food has always been one of the stars of the show at Camp Bestival and The Feast Collective will take it to the next level, showcasing a heavenly selection of the exquisite things happening in the food scene right now, with a carefully curated collection of appetising offerings complementing each other perfectly. Situated in front of the Castle with views of the main stage and plenty of green spaces to picnic, The Feast Collective will be a space where all the family wants to hang out. With long tables for communal dining, a bar with mixologists, talks, demos and the hustle bustle of a trading market space, it will be THE destination to head for food and drink.
Josie da Bank says: "Food is such an important part of family life and often the foundations of our social lives; sitting around the kitchen table with the children or wine and lunch with your oldest and dearest friends. It makes sense that we feature food as one of the stars of our festival; it's something we've always done.
"We have surpassed ourselves this year with the debut of a new foodie alliance; The Feast Collective. The likes of the lovely Martin Morales and Jack Monroe will be working as ambassadors and cooking up a storm on site and we have cherry-picked the cream of current talent to serve you up amazing dishes all weekend – from beautifully spiced Indian and exotic Mexican street foods to local shellfish, crafted cocktails and perfect baking. This is seriously good food and drink from some of our country's most exciting chefs, cooks and producers.
"Take the time to wander through the marquee and smell and taste what's on offer, talk to the people behind the cuisine, grab a glass of something beautiful, share a bit with your friends and picnic on the lawn with your family in the sunshine. It'll be a culinary carnival under canvas!"
The Feast Collective will feature some extraordinary culinary talent, including chef, restaurateur, Sunday Times Cookbook of the Year author and music producer Martin Morales. The man behind Ceviche the pioneering restaurant that kick started the Peruvian food revolution in the UK, he continues to innovate with Andina, a new restaurant celebrating the superfoods of the Andes. Martin is joining us as a Food Ambassador, helping create an exciting space where food from around the UK will be served, independent food producers and growers will be able to exhibit and where interactive food demos, tastings and more will take place. Martin will be holding both a talk and cooking demonstration on site and is also the star of the first of five Feast Collective videos. Head here to watch Martin's video now.
Commenting on The Feast Collective, Martin Morales said: "I'm incredibly excited about The Feast Collective and working with the Camp Bestival team. It's an amazing platform that allows innovative food and exciting flavours to be experienced with live entertainment and music as the backdrop. We're all very excited here at Ceviche and we're sure this will be an event not to be forgotten."
Also adding her know how to The Feast Collective as a Food Ambassador is award winning, frugal foodie and blogging superstar Jack Monroe whose blog, A Girl Called Jack, attracted thousands of followers for the nutritious recipes she created to feed herself and her son on a tight budget. We are extremely pleased to say that Jack will be hosting a cooking demonstration and talk on site and has given us one of her most popular recipes for our series of recipe cards for Food Fortnight, so keep an eye on our Facebook page for Jack's lip-smacking recipe.
There will also be delicious Feast Collective offerings from brother and sister team David and Lindsay who run The Cake Shop Bakery winners of "Britain's Best Bakery" on the recent ITV programme of the same name, the unique Indian street food flavours of Rola Wala, popular crayfish dishes from Louisiana, courtesy of Crayfish Bob, who heads up Crayaway, an initiative leading action on the American Signal Crayfish environmental problems local British waters currently face, Brighton-based specialty coffee roasters Small Batch Coffee who will showcase a different single origin coffee on their Brew Bar each day, taco champions Breddos who treat the taco as an 'edible plate' for their world inspired recipes, delicious vegetarian and vegan whole foods from husband and wife team Wholefood Heaven, who offer the very highest quality food using unrefined, unprocessed ingredients and organic produce wherever possible and finally for now, award-winning wine blogging expert, Helen McGinn AKA Knackered Mothers Wine Club, will be telling us more than a thing or two about the finest tipples at her wine tasting session. There are still plenty more names to announce for the Feast Collective, so keep checking the Feast Collective page for more info.
Exhibiting the wealth of enticing food fare that Dorset has to offer we're very pleased to say that the Farmers' Market will be back at Camp Bestival once again, and will feature Bridge Farm's delicious cloudy apple juice and conference pear juice, Lizzie and Bekki-The Baking Birds' fantastic fresh bakes and sweets; Dorset Shellfish with the freshest shellfish and fish all caught off the Dorset coast from their boat based in Weymouth, The Dorset Coffee Company's ethical, natural and delicious fare, and Manna Kitchen's mouth-watering range of quiches, cheesecakes, brownies and children's meals. Plus Sherborne's Oxfords Bakery will be on hand with delicious bread and cakes, Peaceful Poultry will provide free range chicken, an extensive help-yourself salad bar, as well as tasty bacon rolls to start the day, Not Just Sushi will have fantastic Japanese food made from local ingredients, Dorset Pie Co. will have pies and pasties and sausage rolls and more, Dorset Blue Vinney Co. will serve fantastic soups alongside their cheese and ploughmans and jacket potatoes, the award winning Capreolus Find Foods will bring their artisan cured and smoked locally-sourced meats, Sopley Farm will have a fantastic array of delicious soft fruit and seasonal vegetables, Olives & Things will have a huge selection of green and black olives and Wootton Organic will offer award winning hard and soft cheese made from milk from their own herd of cows and sheep.
If all that has got your tastebuds tingling, then you're in luck, as every day in the coming two weeks, Camp Bestival will showcase some of the outstanding talent The Feast Collective has to offer in a delectable Food Fortnight, with a selection of must-see videos from Martin Morales, Breddos, Cake Shop Bakery, Crayfish Bob and Jack Monroe and exclusive recipe cards from Jack Monroe, Cake Shop Bakery, Rola Wala, and Wholefood Heaven, plus there are tasting tips from Small Batch Coffee and wine recommendations from Knackered Mothers Club, all so you can get involved in the wonder of making incredible food and get yourselves in the mood for some seriously tasty treats at Lulworth Castle, with the ultimate in festival food finery.
For everything else Camp Bestival, and to keep yourself up to date, head to our website and our Facebook and Twitter.
Ticket Info
Ticketline / 0844 888 4410 / www.ticketline.co.uk/camp-bestival
Adult Weekend Ticket (inc. camping) – £195 Adult Tickets are for anyone aged 18 or over on 31/07/2014
Student Weekend Ticket (inc. camping) – £180 Student Tickets are for Students with valid ID between 31/07/2014
Age 15 to 17 Weekend Ticket (inc. camping) – £113 Age 15 to 17 Weekend Tickets are for anyone aged 15 to 17 on 31/07/2014. These ticket holders must be accompanied by a Ticket holding parent or guardian over the age of 30*
Age 11 to 14 Weekend Ticket (inc. camping) – £88 Age 11 to 14 Weekend Tickets are for anyone aged 11 to 14 on 31/07/2014. These ticket holders must be accompanied by a Ticket holding parent or guardian over the age of 26*
* NB: All teens (aged 11 to 17) MUST camp in the same area as their families with a maximum of 2 teens per adult (over the age of 26)
Age 5 -10 Weekend Ticket (inc. camping) – £20 These ticket holders must be accompanied by a Ticket holding parent or guardian over the age of 21*
Age 4 and Under Weekend Ticket (inc. camping) – FREE (but ticket still required) Age 4 and Under Weekend Tickets are for anyone aged 4 and under on 31/07/2014. These ticket holders must be accompanied by a Ticket holding parent or guardian over the age of 21*
Camping Plus Plot – £125
Advance Car Parking – £11
Campervan Ticket – £72 per vehicle
Caravan/Trailer tent ticket (includes a car parking space) – £83
All Tickets:
– will incur a booking fee.
– are non-transferable and cannot be re-sold.