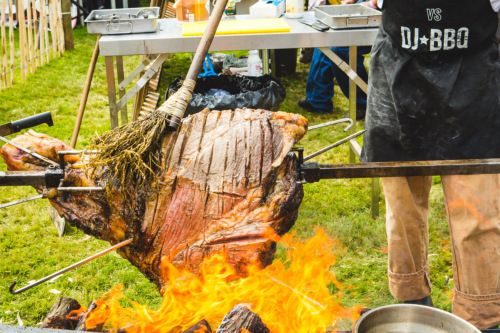 Camp Bestival's Feast Collective Announced
From mouth-watering tastes and heavenly smells, to creating somewhere special to enjoy a family meal, elevating festival food from a hurried snack to one of the star attractions of the show has always been the Camp Bestival way. So, we are very happy indeed to announce that our legendary carnival of cuisine, The Feast Collective, is back for its fifth year celebrating globally inspired, Great British fare with a smorgasbord of delicious delights, including a much greater variety of vegan and vegetarian treats, to tempt and tantalise all the family, from the 26th to 29th of July at Lulworth Castle.
Feast Collective curator Gemma Thorogood said: "We're super stoked to be bringing The Feast Collective back for its FIFTH YEAR in the fields! This lot take care to source responsibly, think sustainably and consider the environment carefully, all while pushing the boundaries to take risks with cuisine. I'm loving new additions from Oishii Yatai with their fluffy cloud-like Japanese pancakes and breakfast brioches from Zephyr Californian Kitchen. All laid out on the castle lawns, I can't think of place I'd rather be on a sunny day at Camp B…"
Showcasing a truly scrumptious line-up for its fifth outing we are pleased to announce that two of our long-time favourites will head-up this year's Feast Collective. Back once again as the host with the most spandex, be prepared for the charcoal-based culinary genius of DJ BBQ, who will be accompanied by his BBQ Zoo. And bringing an entirely different flavour and style to the tent, we have the welcome return of West African trailblazer Zoe Adjonyoh of Zoe's Ghana Kitchen, serving impeccable home-cooked Ghanaian food with love.
As the appetite for more vegan and vegetarian choice gathers pace, The Feast Collective remains at the forefront of festival food offerings with an array of the finest culinary talents we could find, including Young Vegans whose acclaimed vegan take on the British classic, pie and mash, is a must. Biff's Jack Shack who are hell-bent on making the world's most indulgent fast food. Arancini Bros whose speciality is wheat-free, vegetarian risotto balls. Happy Maki who serve up vegan sushi bursting with fusion fillings. And our old friends, Milgi who specialise in everyday plant-based eating and foraged foods.
Seafood lovers will be spoilt for choice with oceanic enticements from Shrimpy who create magic with shrimps in a brioche bun, Jeff the Oyster Man whose cart of marine wonders is as fresh as the sea breeze and Seadog who are British Street Food Award winners and local fish virtuosos.
Fear not if you are carnivorously inclined as we have some exquisitely full-flavoured behaviour to excite and delight you too including prime beef, gluten-free hand-rolled meatballs stuffed with a secret herb mix from Melter Meatballs, authentic Japanese dishes served from a Yatai, a traditional Japanese cart, courtesy of Oishii Yatai, woodfired pizza and street food from 2016 British street food awards winnerBaked In A Brick and south Californian style sandwich experiences and breakfast brioches from Zephyr Californian Kitchen.
There will also be Taiwanese bao with a gallic twist from Le Bao, Malay and Indonesian street dishes by Makatcha, next level buttermilk fried chicken from Butchies, meaty meat with fresh and inspiring salads from Thoroughly Wild Meat Co., and a taste of Northern Thailand from Krapow.
We'll also have speciality coffee roasters run on grrrl power from Girls Who Grind Coffee who source their beans from female producers and those who work to support them.
And finally, as well as being an integral part of this year's Feast Collective, chef and author Zoe Adjonyoh will have a bigger than ever Supper Club: Zoe's Ghana Kitchen Kente-Kalabash will feature drumming, dancing and wait for it… dabbing for your dinner! Numbers are limited so be quick and book your place now http://bit.ly/2Ha2FFC.
Don't forget there are a host of premium camping experiences including Camping Plus, Backstage Camping and Hospitality Camping on sale now.
Keep checking www.campbestival.net and our Facebook and Twitter for all the latest info.