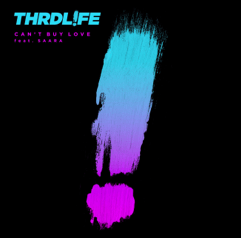 THRDL!FE ft Saara - Can't Buy Love
South London duo THRDL!FE have revealed their first official release, 'Can't Buy Love' featuring Finnish singer-songwriter SAARA, out now on Ministry of Sound.
An instantly addictive smash, 'Can't Buy Love' is a formidable statement of intent from the pair. Fusing oscillating synth ripples with euphoric swells and thumping beats, the track is amplified with an anthemic summer-ready vocal from SAARA.
The duo, aka Sam and Jake, have been bubbling under for the last couple of years both together and independently. The hotly tipped pair have worked with some of the biggest names in the UK, European and US dance scenes respectively, making waves behind closed doors.
Having recently unveiled their first offering as THRDL!FE, remixing the double platinum selling London Grammar, the pair immediately hit upon streams in excess of one million. The anticipation for their own single release remained high, accelerated by the news that they have been working with some of the biggest songwriters in the world such as Ester Dean (Rihanna).
Delivering on expectations with a vibrant hit of dancefloor perfection, 'Can't Buy Love' features the vocals of Finnish native, LA-based singer-songwriter SAARA, signed to Universal Music. The 23-year-old struck gold with debut EP 'Hello I'm SAARA' last year, working with Rodney 'Darkchild' Jerkins, Toby Gad (Beyoncé, John Legend) and Detail (Drake, Tinashe, Jennifer Lopez).
It's a strikingly well-crafted, undeniable debut. All signs point to THRDL!FE taking over, yet this marks just the beginning…
You can listen to/download 'Can't Buy Love' here:
https://thrd.lnk.to/CantBuyLove
THRDL!FE online:
Twitter – https://twitter.com/thrdlifemusic
Instagram – https://www.instagram.com/thrdlifemusic/
Facebook – https://www.facebook.com/THRDLIFEmusic/
Snapchat – https://www.snapchat.com/add/thrdlife
Spotify – https://play.spotify.com/artist/04O00MEN0lHEKWTwRjb1nS?play=true&utm_sou…
Soundcloud – https://soundcloud.com/thrdlifemusic
Youtube – https://www.youtube.com/channel/UCKFy_bSSynoh3SADTleuX-g