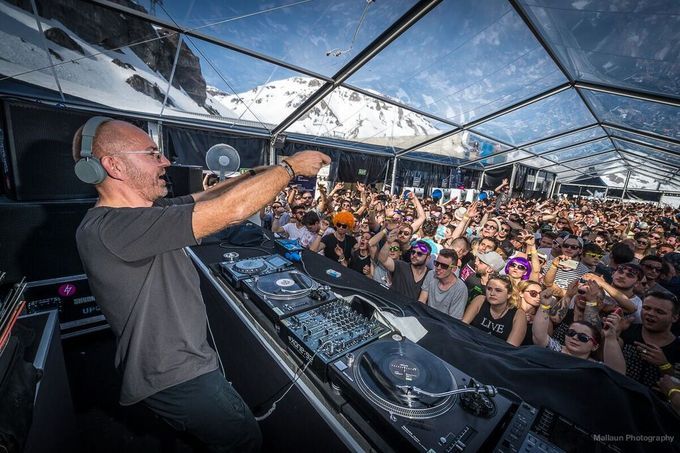 Capices Festival 2016 First Names: Sven Vath, Ricardo Villalobos, Jamie Jones, Nina Kraviz and more
First names announced: Sven Vath, Ricardo Villalobos, Jamie Jones, Maceo Plex, Tale of Us, Nina Kraviz, The Martinez Brothers, Rødhåd, Guy Gerber and Recondite.
Caprices Festival is excited to unveil the first names on the lineup for it's 13th edition set to take place at Crans-Montana, Switzerland, on April 7th through April 10th. With heavyweights like Sven Vath, Ricardo Villalobos, Maceo Plex, Jamie Jones and Tale of Us already signed up, Caprices festival will not fail to thrill the electronic dance community coming to this prominent spot of the Swiss Alps. At alt. 2200m, facing both the Matterhorn and the Mont Blanc, the crowd immerses itself in the visuals of the mountains surrounding Modernity stage while throwing some intense, exciting and musically on-point parties to Nina Kraviz, The Martinez Brothers, Rødhåd, Guy Gerber or Recondite's sets. And when the sun comes down, the sets go on at a special venue –The Moon- at the foot of the ski slopes! With this unique setting both day and night in the ski resort, Caprice Festival holds an astonishing 4-day party! These few names add up to a dashing 25+ artists lineup that will entrance the 20'000 clubbers expected in this special environment.With the avant-garde cast of its 13th edition, Caprices shows its strong dedication to electronic music. An evolution in its musical programming exemplified by its brand new visual identity. A vectored animal created by London agency Saentys. "They came up with the idea of a vectored figurative element, explains Maxime Léonard, Caprices Festival director. We picked up on that and immediately thought of the wolf. It's a night and day animal, thriving in outdoor mountain settings, with very strong social bonds. Exactly the main features of both Caprices Festival and its electronic community. It just fits perfectly."
With Cutting-edge lineup, Slick operations, dazzling sound, unparalleled locations with natural beauty and a new key visual, this 4-day festival have established itself as a must-attend event.
Be ready to dance, party and chill on April 7th through April 10th. Until then, stay tuned on caprices.ch as the ticket office and the full lineup go live on January 14, 2016.
About Caprices Festival:
Initiated in 2003, the first edition of Caprices Festival came in 2004 with the idea to bring people and artists together in a dreamlike location in the Swiss Alps: Crans-Montana ski station. With artists like Björk, Portishead, Gorillaz performing next to the ski slopes, Caprices Festival quickly became a tremendous event that draw people from all over the world. In 2009, Caprices carefully conceived the first electronic event on the Swiss Alps slopes. Named [email protected], this event instantly became a huge success among avant-garde electronic dance community and reached a broader crowd shortly after. Shifting from a mainstream multi-type of music programming to a cutting-edge electronic exclusive cast last year, Caprices Festival made a bold move showing its strong dedication to the community. The artistic and commercial successes of the 12th edition of Caprices Festival have pushed the 4-day event to the top-of-pile. This year, on April 7th through April 10th, with a brand new key visual, a truly outstanding electronic lineup, an operational excellence, a creative mindset and one of the finest mountain line of the Alps, Caprices Festival is set to be an unmissable party.
www.caprices.ch