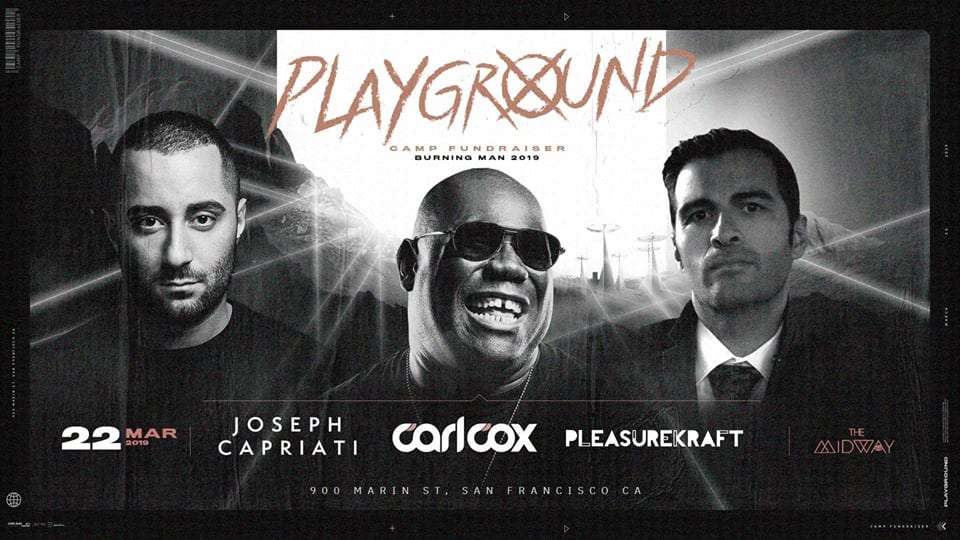 Carl Cox Announces Lineup for his Burning Man Fundraiser Event in San Francisco on March 22
Carl Cox returns to San Francisco on March 22nd to perform at the Midway to raise funds for his theme camp, Playground. All proceeds go toward the camp with all DJ's donating their services. The fundraiser is the only such event done for the benefit of the theme camp and will be one of only a handful of US performances that Carl will do in 2019.
This will be his first US show of 2019.
Carl & the Playground Camp
Carl has become a fixture at the counter-culture event going on ten years now, and has a special place in his heart and mind for the both people and the experience itself. He knew after his first Burning Man experience, that he had the soul of a burner and vowed to attend every Burning Man he could.
Carl started his Playground Camp as a way to celebrate all that Burning Man is, and as a way to give back to a culture that he loves. It started small and most who landed in the camp that first year were those just passing by to get someplace else, but the music and vibe pulled them in. From that humble start it has steadily grown over the years and in a very organic way because the energy, music and people are what makes Playground so special. Each year the camp receives hundreds of requests to join and Carl makes every effort to include as many new members as possible.
When Carl returns to the playa with Playground this year, you can expect that he will make the experience unforgettable in every way possible and put every bit of raised funds toward an even more amazing production than last year. From Playground's welcoming lounge area with space to chill and drinks on tap, to the now iconic Arrival stage, you can bet that Carl and the whole Playground team are always striving to deliver an immersive experience to remember forever.
Carl counts his time in Black Rock City as some of the best times in his life.
Please join Carl Cox on March 22nd at the Midway in San Francisco for a night filled with family, music and the best vibes on planet earth.