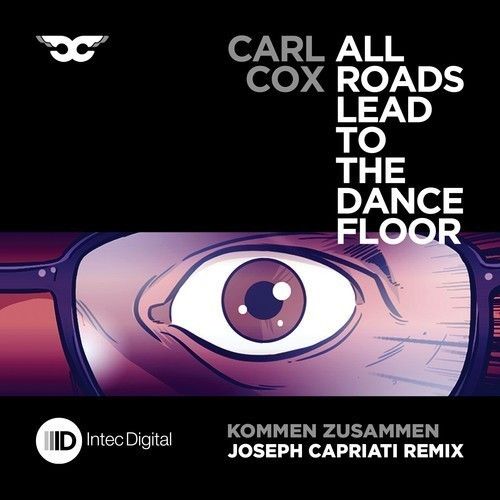 CARL COX – KOMMEN ZUSAMMEN FT JOSEPH CAPRIATI REMIX
On March 5th 2014, the seminal Techno imprint Intec will celebrate its milestone 50th release in the form of 'Kommen Zusammen' from none other than the label's creator himself, the legendary Carl Cox.
'Kommen Zusammen' is a well selected offering to mark this monumental occasion and a great representation of Intec. The track first featured on Carl's acclaimed artist album 'All Roads Lead To The Dancefloor' and now boasts an exclusive re-rub from the very in-demand Joseph Capriati.

Carl Cox: "It's fantastic Intec has reached its 50th landmark release and we're eternally grateful for the praise the label frequently receives. Jon has done an amazing job handling A&R with me and we've worked very hard to build the great roster of talent that we are very proud to represent. We are very pleased that Joseph could do this mix for us, we could not of asked for more from him."
Intec's dedication to quality has been paramount to its success, which has remained consistent throughout its first inception and its re-birth in 2010, and has enabled it to rise to the forefront of the global dance music scene. Jon Rundell says "We just want to put out reliable and solid releases in a good way. We have had some really memorable releases and moments already so far and we will continue to work hard to keep creating them for people."
Throughout the years, Intec has prided itself on releasing music from a diverse array of talented producers, with EPs from the likes of Daryl Stay, Pirupa, Dosem, Nicole Moudaber, The Junkies, Mark Reeve, Marco Bailey & Filterheadz, Tomy DeClerque, Carlo Lio and Project AKC plus the label bosses themselves.
The last 12 months have proved particularly significant for Intec, with two major developments under their belt. First, the re-birth of their 'Pure Intec' compilation series and second, the conception of their highly successful globetrotting 'Pure Intec' club night, which has taken over some of the world's best clubs and, returns to London's Fabric for the second time on April 3rd.
For all up-to-date information on Intec's forthcoming releases please visit:
https://www.facebook.com/IntecDigital
https://soundcloud.com/intec-digital
www.intecdigital.com
www.carlcox.com
www.jospehcapriati.com
www.jonrundell.com