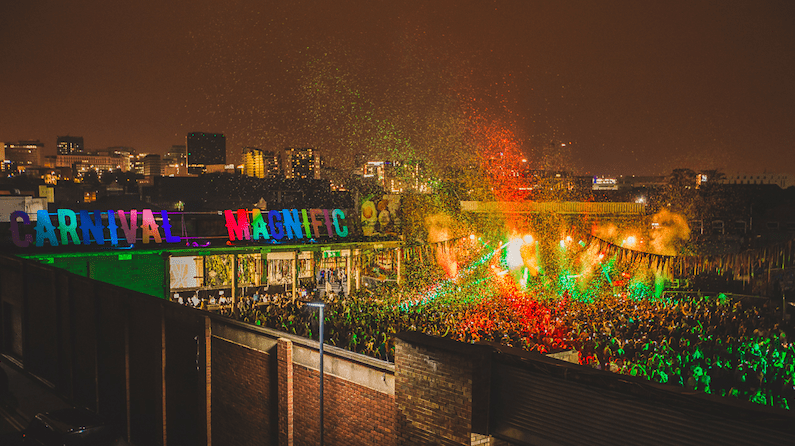 Carnival Magnifico Announce 2017 Line Up
After the sold out success of their first year and subsequent mammoth international takeovers, Carnival Magnifico returns to Birmingham for an explosion of colour and feast for the senses.
Carnival Magnifico is the Rio themed colour explosion that is taking venues and festivals by storm. Known for their endless streams of confetti and quaking bass, it combines the vibe of the Rio street carnival with the hedonistic heydays of early raves.
Set across five stages with over 30 acts across the night, Carnival Magnifico 2017 is taking over The Rainbow Venues in Birmingham for their most ambitious show yet.
Carnival Magnifico has enlisted the iconic Reggae and Dub selecta David Rodigan MBE. For over 35 years Rodigan has been the top dog in the bass heavy atmosphere of Britain's and Jamaica's reggae dance-halls. His encyclopedic knowledge of music is unrivalled, and his unique collection of customised dub plates and classic recordings give Rodigan a sound unmatched by anyone else in the game. Joining him will be Radio 1's own dance hall don Toddla T who will perform alongside cult Manchester MC DRS.
Another long term stalwart of the urban music world General Levy will be hitting Birmingham in June. Thanks to his far ranging influences from across reggae, soul, ska, hip hop, Jungle and calypso alongside his unique voice, General Levy is without a doubt one of the most in demand MCs of his generation.
Fast rising DJ and producer Royal T joins the line up alongside London's not-so-secret weapon Champion for an extra special back to back, whilst Swamp 81's Klose One will play a Bashment set to add to the carnival vibes.
Berlin based, Wonky Disco Bassline Banger producer, Red Rack'em, heads up The Warehouse, joined by a second performance from Klose One and up and coming producer Elliot Adamson, all set to the colourful fiesta that Carnival Magnifico has become known for.
Friction's forward thinking label Shogun Audio is a household name for Drum & Bass fans across the country. They join Carnival Magnifico with a veritable mix of their outstanding roster including groundbreaking Belgian producer Alix Perez, evocative duo Technimatic, and Shogun Audio's latest signing Pola & Bryson, with more to be announced very soon.
Carnival Magnifico is an original production from one of the UK's best known independent promoters, Weird Science, creators of Birmingham's MADE Festival.
Weird Science Director Luke McGovern adds:
"Carnival Magnifico's first year was more explosive than we could have ever imagined. This time we're taking it up a notch and making it bigger and better. We've added more production, more performers, more colour and even more confetti to the 5000 capacity outdoor festival show"
With a sold out first year, two more stages and many more acts still to be announced, Carnival Magnifico is sure to be the biggest and most colourful party Birmingham has ever seen.
Catch it soon before it goes global.
Carnival Magnifico
Friday 2nd June, 8pm – 4am
The Rainbow Venues, Birmingham
Final release tickets £30
---
The Arena
David Rodigan
Toddla T & DRS
General Levy
Royal-T b2b Champion
Klose One (Bashment Set)
LFM & Mali
The Warehouse
Red Rack'em
Klose One
Elliot Adamson
+ more TBA
The Blackbox – Shogun Audio
Alix Perez
Technimatic
Pola & Bryson
+ more TBA
PLUS OVER 30 ACTS ACROSS 5 STAGES