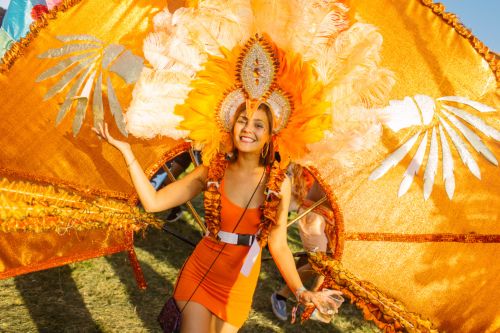 Carnival Returns to Bestival
Navigating the glitter-filled frontiers of festival performance and sailing straight into The Future is Carnival! Don't miss our motley crew of dancers, drummers, drag artists, DJs and more who will be spreading some seriously contagious carnival fever into Bestival 2016's Future.
Produced by Kirsty Henderson in collaboration with Bestival, Arts Council England and Shademakers, one of Europe's leading carnival groups, you can expect a weekend filled with fantastical shows to take you to another dimension.
Anchored in the Magic Meadow, the Shady Lady pirate ship stage has sailed the galaxies to bring you the weirdest, wildest and most wonderful carnival stars who'll be blowing minds to a tasty high-energy soundtrack. Barulho, a rhythmically possessed samba bloco, and Carnival Collective, boasting Brazilian drums and dirty bass lines, will be filling the air with their exotic beats.
Get your dose of tropical vibes on Saturday night with Love Carnival, who'll be setting the dancefloor alight with a delectable selection of DJs and MCs. Reaching for his carnival favourites we've got AAA Badboy at the decks, and our brother from another planet, Dub Boy will be swapping skills with Jus Now taking their international sounds into the unknown with a fusion of dancehall, soca.
If all that doesn't get you doing the robot, we've got Hype Dance on hand to get your body popping and our pirate ship rocking with their blend of bhangra, calypso and African dance. Keep your telescopes trained on Cirque Bijou whose mischievous seers will be roaming Bestival on a heavenly quest, packed with stilt walking, mesmerising juggling and acrobatics.

You'd have to be on another planet to miss the Day Parade, which will be bursting into Bestival each day packed with more energy, music and colour than you can shake a light sabre at. Getting the party started in the most fabulous style will be Sink the Pink, Bestival's resident divas. These Glamazons from beyond infinity will be partying like it's the year 3000. Kinetika Bloco will be bringing their distinctive musical mash up showcasing a unique new British Carnival sound.
And the party won't be stopping when the sun goes down and our site is infected with the menacing minds of the Macnas crew. Emerging from cover of darkness the night parade will be lighting up the skies with Cirque Bijou's kaleidoscopic glowing umbrellas to the beat of explosive percussion from Batala Portsmouth. As the moon shows its face, intoxicate your eyeballs and dance the night away with the illuminated Day of the Dead skeletons from the New Carnival Company.
Grab your hover board, don your cybersuit and join us on an epic journey into the future of carnival, and beyond!
Giving you the Future of festivals now, don't miss out on our Robin Hill adventures. Keep an eye out for the omens: www.Bestival.net, Facebook, Twitter, Instagram / Tumblr
#Bestival16
BESTIVAL TICKET LINKS & INFORMATION:
www.ticketline.co.uk/bestival-tickets, 0844 888 4410