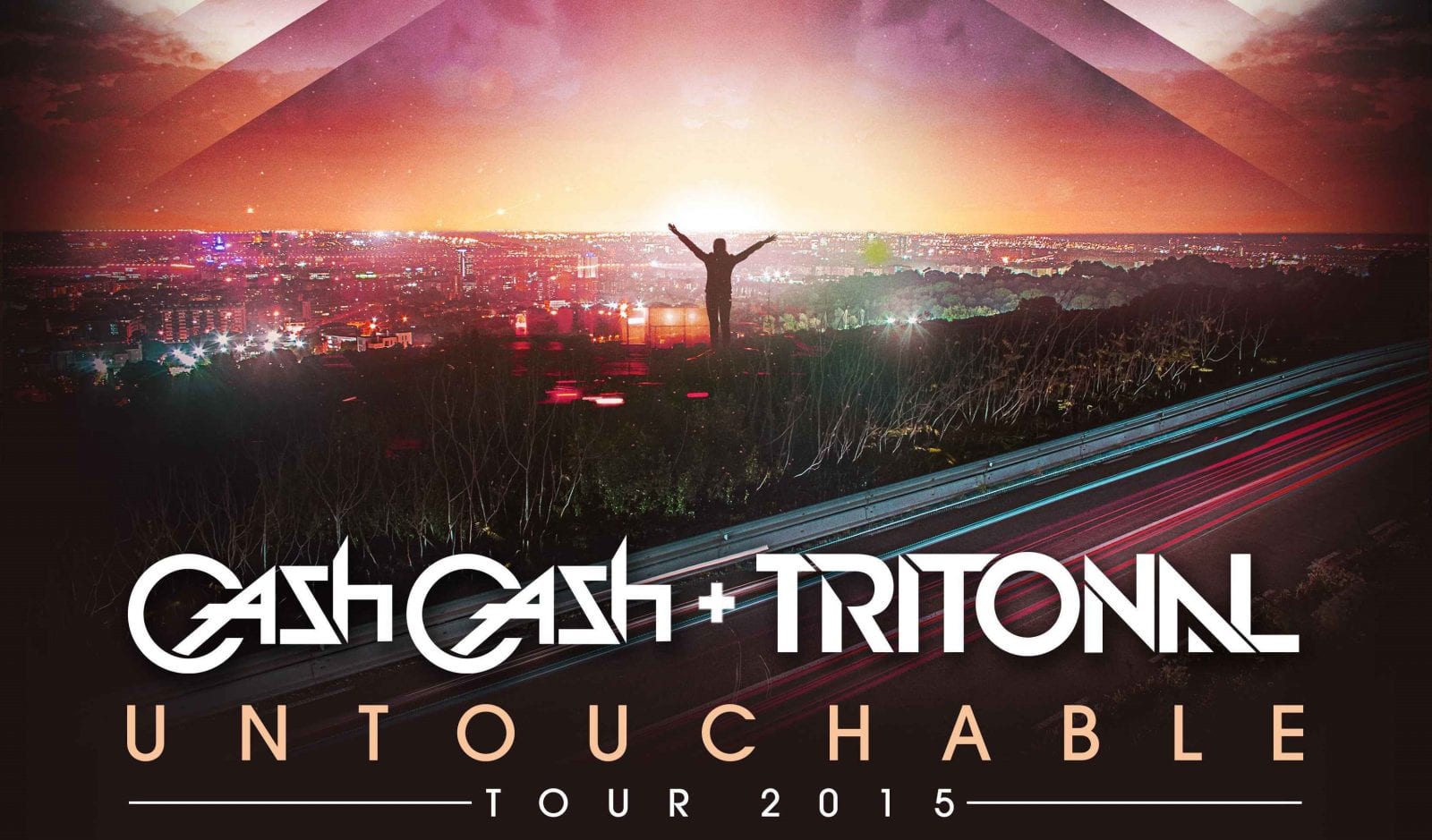 Cash Cash and Tritonal unveil Fall North American 'Untouchable Tour'
Two of dance music's rising favorites Cash Cash and Tritonal raise the bar on touring – announcing an incredible three-month joint UNTOUCHABLE TOUR across the length and breadth of North America.
Kicking off on September 17th in New Orleans LA and peaking in Tampa FL on November 21st, the Cash Cash & Tritonal UNTOUCHABLE Tour will take Jean Paul Makhlouf, Alex Makhlouf and Sam Frisch (Cash Cash) and Chad Cisneros and Dave Reed (Tritonal) across San Francisco and Seattle on the West Coast to New York City, Boston and Miami on the East, hitting almost every major city in between.

"We've been wanting to do a full US run like the UNTOUCHABLE TOUR for quite some time" tells JP Makhlouf "Clubs and festivals are amazing but it's always fun to go city by city night after night in a bus hitting all the places we don't normally get to play when we're on a fly out schedule. That being said, we're thrilled to embark on this journey with our good friends Tritonal. Our styles fit together really well and doing a song/tour together makes perfect sense. Mark your calendars and come get wild with us!"

"The UNTOUCHABLE TOUR is hands down the largest and most extensive American and Canadian tour that we've ever embarked on," said Cisneros, one half of Texan-based duo Tritonal. "There have been so many countless hours in the studio leading up to this point, and we can't even express how excited we are to play all the new and old Tritonal records across all of the cities. We could't pick a better bunch of guys than Cash Cash to jump on a tour bus with. Let the craziness begin!"

After their collaboration "Untouchable" scaled the heights of the iTunes and Beatport charts last month, it should come as no surprise to fans and industry insiders alike that the two groups have chosen now to join forces. Both have made serious in-roads establishing themselves as frontrunners in the new generation of homegrown talent and both have scored multiple hit records – Tritonal with an impressive three Billboard Top 10 Dance Chart hits to their name in only the past 12 months while Cash Cash clocked up over 48 million Spotify streams and 15 million YouTube views for hit single "Take Me Home" ft. Bebe Rexha.
Purchase tickets to the Cash Cash and Tritonal UNTOUCHABLE TOUR for a fan download of a brand new "Untouchable" remix for the summer smash from young talent BRKLYN via:
http://www.untouchabletour.co/.
CASH CASH & TRITONAL UNTOUCHABLE TOUR DATES:
9/17 New Orleans, LA – Republic
9/18 Dallas, TX – Bomb Factory
9/19 Austin, TX – Emo's East
9/20 San Antonio, TX – Club Rio
9/24 Scottsdale, AZ – Livewire
9/25 Los Angeles, CA – Club Nokia
9/30 Santa Barbara, CA – Soho
10/1 Santa Cruz, CA – Catalyst
10/2 Avila Beach, CA – Avila Beach Resort
10/3 San Francisco, CA – The Warfield
10/6 Reno, NV – Knitting Factory
10/8 Eugene, OR – Hi-Fi Music Hall
10/9 Seattle, WA – Showbox Sodo
10/10 Portland, OR – Roseland
10/11 Vancouver, BC – Commodore
10/13 Victoria, BC – Sugar
10/16 Calgary, AB – Flames Central
10/17 Edmonton, AB – YEG Event Centre
10/21 Missoula, MT – Wilma
10/22 Boise, ID – Revolution Center
10/24 Denver, CO – Bluebird Theater
10/27 Columbia, MO – Blue Note
10/28 Urbana, IL – Canopy Club
10/29 Nashville, TN – Exit/In
11/1 Pittsburgh, PA – Diesel
11/3 Bloomington, IN – The Dunkirk
11/4 Ann Arbor, MI – Necto
11/5 Buffalo, NY – Town Ballroom
11/6 Toronto, ON – Uniun Nightclub
11/11 Syracuse, NY – The Westcott Theater
11/13 Boston, MA – House of Blues
11/19 Miami, FL – LIV
11/20 Orlando, FL – Venue 578
11/21 Tampa, FL – Amphitheatre