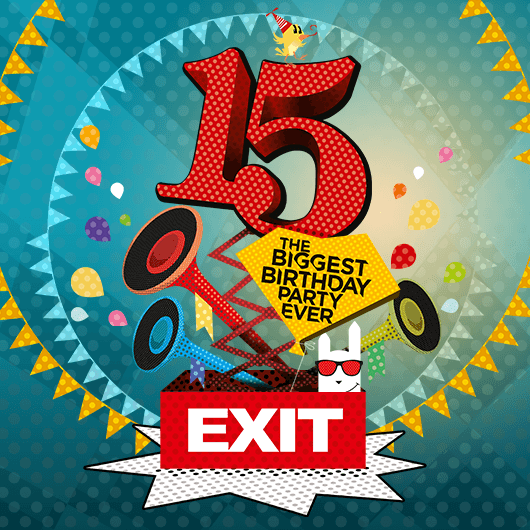 Celebrate 15 Years of the Award Winning EXIT Festival
EXIT started off humbly but bravely back in 2000 when it was a student movement fighting for freedom and democracy in Serbia. Today it's the 'Best Major European Festival'! What a difference 15 years can make. Being awarded that prestigious title was no small feat, but it reflects how EXIT has grown over the years attracting a global audience of 2.5 million visitors from 60 different countries. What was once a movement is now one of the most prestigious music events in the world!
The huge international reputation, fans from all over the world, an incredible location, and its 15 year anniversary promise a memorable EXIT which you'd be mad to miss! The grand birthday party will be marked by another EXIT Adventure with 7 days or music, mayhem and partying. EXIT festival will be held from 9th to 12th July at the Petrovaradin Fortress in Novi Sad, Serbia. The second Sea Dance Festival will be held from 16th to 18th July at the Jaz beach in Montenegro.
You don't need an invite to join EXIT's party – everyone's invited: from school leavers and students to the good, loyal EXIT fans who have helped fan the festival's flame with their positive energy.
As with previous years, EXIT has special promotions set up for all loyal early birds. Very limited amount of early bird tickets priced at £79+b/f / €99+b/f will go on sale on 12th December at noon CET. Everyone who buys the 4-day ticket set will be rewarded with a free ticket to the EXIT Adventure! That means that early bird buyers will get a ticket for SEA DANCE FESTIVAL completely free once they register for it. That's 40% discount compared to a regular ticket for 7 days of EXIT Adventure!
A very limited run of tickets for 3 days of Sea Dance Festival priced at £39+b/f / €49+b/f, will also be available from 12th December at noon CET.
Camping tickets are also available at the price of £25+b/f / €30+b/f for EXIT camp and £25+b/f / €30+b/f for SEA DANCE camp. The EXIT camping site will be open 7th-14th July, while Sea Dance Festival camping site will be open 13th-20th July.
Love lists? We do, too. There's a list of all the links you can go to if you want to buy tickets for EXIT and SEA DANCE FESTIVAL at www.exitfest.org. Just don't forget that early bird tickets are limited and available on a first come first serve basis.
Come and join the party in 2015! First performers will be announced soon! Watch this space!