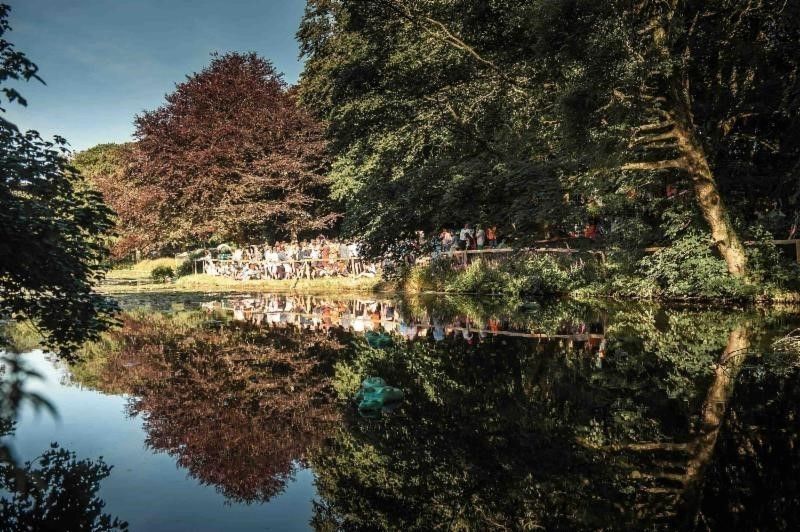 Gottwood 2015 Line Up Announced
Taking place in a now infamous Welsh forest location, Gottwood boasts a mystical fairytale-like setting. Entering its sixth year, the Gottwood team are excited to be bringing the most established and forward thinking line-up to date to their wholly independent, electronic music based festival.

This years fully stacked line-up welcomes a whole host of the finest underground talent, including rising stars and established veterans drawn from all corners of the scene:

Gottwood 2015 Line Up So Far…
(A Number Of Very Special Guests Still TBA)
Adam Shelton / Andrew Ashong (Live + DJ) / Artwork / Brawther Craig Richards b2b Ben UFO / dBridge / FaltyDL / Frank & Tony Hunee / Leon Vynehall / Marcellus Pittman / Margaret Dygas
Maxxi Soundsystem / Midland / Motor City Drum Ensemble
Mouse Outfit (Live) / Move D / Om Unit / PBR Streetgang
Point G (Live) / Radioactive Man / Ralph Lawson / Subb-an
Tornado Wallace / Zenker Brothers / Zip

Plus:
2 Bad Mice / Al Dobson Jr / Alex Arnout / Alex Jones / Bad Passion
BEHR (Live) / Bell Towers / Blackhall & Bookless / Bradley Zero / Brinsley
Casino Times / Cassio Kohl / Cedric Maison / Chimpo / Cottam / Denney
Dom Chung / eLDOKO / Francis Inferno Orchestra / Futureboogie DJ's
General Roots (Live) / Hesseltime / Ishmael / Josh Tweak / Lee Coombs
Luv*Jam / Michael James / Morris Cowan (Live) / Nils Diezel / Prequel
Real Nice / Red Eye Hi-Fi (Live) / Romare / Ruf Dug / Sean Brosnan
Sisterhood / Soul Jazz Soundsystem / Sounds Of The Universe DJ's
Steevio (Live Modular) / Tenderlonious / Tristan Da Cunha
Wolf Music / Zoo Look

Amongst the delicate balance of DJs and live acts, there's upcoming talent and established names in equal measure. Gottwood favourite and host of this year's new 'The Nothing Special' stage, Fabric's Craig Richards will be joined by the returning Hessle Audio co-founder Ben UFO for a special back to back set.

Perlon head honcho Zip, pioneer of the microhouse and general minimalist sound is making a rare UK festival appearance alongside Panorama Bar bi-monthly resident Margaret Dygas. In addition to this Gottwood welcomes globally profiled DJ and producer Motor City Drum Ensemble, renowned for his eclectic taste in music and his technical production wizardry.

Germany's Move D will be bringing his own inimitable style to the forest, with the diverse live performance on par if not superior to his studio work. In addition to the house and techno mainstays Exit Records boss dBridge, NYC's genre hopping FaltyDL, live Mancunian hip-hop act Mouse Outfit and Metalheadz Om Unit are ensuring all corners of the musical spectrum are covered.

Gottwood is known not only for its ambitious and credible bookings, but also its carefully curated party vibes that are this year being delivered by Futureboogie's Maxxi Soundsystem, fast rising star Tornado Wallace and the Detroit veteran Marcellus Pitttman.

The now legendary London record store Sounds of the Universe are programming a day of live music next to the picturesque Gottwood Lake, the Gilles Peterson favourite and Theo Parrish collaborator Andrew Ashong is closing affairs with the 22a and Rhythm Section regular Al Dobson Jr providing an eclectic afternoon soundtrack. Acts returning to Gottwood following the Festival's 5th Birthday earlier this year include Futureboogie label regulars PBR Streetgang, Artwork, Ilian Tapes co-founders Zenker Brothers and 2020 Vision records owner Ralph Lawson.
Other names on the bill include One Records stage hosts Subb-an and Adam Shelton, Rush Hour Record's Hunee, AUS's Midland, Boilerroom host Bradley Zero, France's Point G and the highly regarded Leon Vynehall.

Determined to bring the finest of underground talent to their coastal woodland location, Gottwood will host stages from – Back To Basics, Bad Passion, Bade Records, Brotherhood Soundsystem, Butterside Up, Dog Eat Dog, Future Disco, Futureboogie, Fresh Out The Box, Hit & Run, Hypercolour, Jaunt, Jigsaw Presents, Louche, Nixwax, One Records, Percolate, Real Nice Presents, Rhythm Section, Road To Nowhere, Sounds Of The Universe, Studio 89, The Nothing Special, Tief, Waxxx, Wigflex, Wolf Music.
Further artists still to be announced in the New Year.

In a promise to preserve the festivals roots, the Gottwood team are welcoming a close knit family of only 4,000 revelers to share this special weekend with them.
Weekend tickets are available now from: http://www.residentadvisor.net/event.aspx?643096