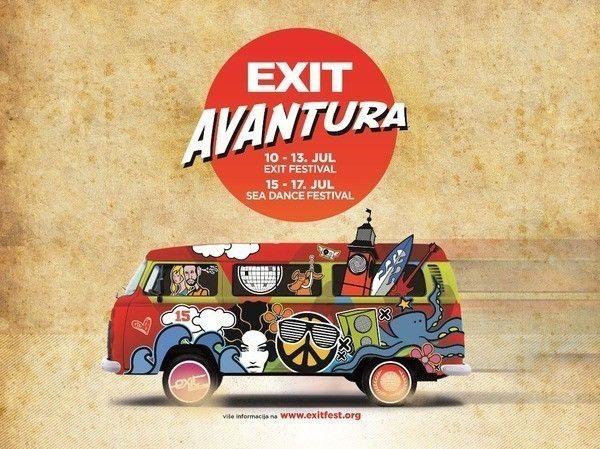 Celebrate the 15th Edition of EXIT Festival
If you really love EXIT festival and four days are just not enough, do we have a surprise for you! To celebrate the 15th edition, EXIT festival invite you on a seven-day EXIT ADVENTURE in two different countries! In 2014 EXIT will be held at a very well-known place, the best festival venue in the world – Petrovaradin Fortress in Novi Sad, after which the party moves on to one of the most beautiful beaches on the magical Adriatic Sea in Montenegro. With its central stage and camp site at the Jaz beach, the festival finally gets its"sea" edition, named SEA DANCE FESTIVAL.
Are you ready for EXIT ADVENTURE? You better be, as EXIT has once again prepared an unbelievable early bird offer! From December 12 until January 15, a limited amount of four day tickets to EXIT at the Petrovaradin Fortress in Novi Sad will be available for only £75 / 89 Euros! And that is not all! Everyone who buys this ticket package during this promo period only will get free camping in Novi Sad and a three-day SEA DANCE FESTIVAL ticket for free.
EXIT 2013 was markedby a record breaking year. There was a huge increase in audience numbers with over 200,000 people during the 5 days of the festival, as well as a burst of true , revolutionary energy which filled the fortress walls, later spreading through the veins of Novi Sad – its beautiful streets. Watch the 2013 EXIT highlights here
This year, EXIT ADVENTURE spreads this energy even further, all the way to beautiful beaches of Montenegro. Get roady for a road trip and enjoy a diverse range of artists, for seven unforgettable nights spent with your best mates in the sizzling hot balkan sunhine. Sounds good? It's time for EXIT ADVENTURE!
EXIT is also one of the top 10 'Best Overseas Festivals' in the 2013 UK Festival Awards and a top 10 finalist in the European Festival Awards for 'Best Major Festival'.
SPECIAL EARLY BIRD TICKET OFFER:
Package 1: from 82 GBP / 99 EUR EXIT Festival package = EXIT Festival ticket + camping pass + transfer from surrounding airports to Novi Sad plus FREE ticket to EXIT SEA DANCE FESTIVAL.
Package 2: from 133 GBP / 159 EUR EXIT ADVENTURE package = EXIT + Sea Dance festival tickets + camping pass, Serbia + Budva, Montenegro + transfers to/from EXIT and to/from SEA DANCE.
From January 15, the regular ticket price for EXIT Festival will be available for £95 / 110 Euros + b/f, while the entire EXIT ADVENTURE (EXIT + SEA DANCE FESTIVAL) ticket can be yours for £115 / 135 Euros. After January 15, camping tickets for EXIT and SEA DANCE will be sold separately, and will be available at the price of £25 / 30 Euros each + b/f each.
Buy tickets here: www.exitfest.org/en/worldwide
Travel and accommodation here: www.exittrip.org
WHAT THE ARTISTS SAY:
Annie Mac (Radio 1): "Exit was unforgettable, the setting was spectacular, the line up was massive, (I will never forget that dance stage sound system as long as I live!) and the people were completely inspiring. It's a truly special festival."
David Guetta: "The Exit festival was really magical! The place was unbelievable – a rave up a mountain. The energy of the people was fantastic – the crowd were so enthusiastic."
Diplo: "Massive vibes, festival was amazing"
John Taylor, Duran Duran: "To headline here in the Balkans, their own Glastonbury Festival, their Coachella, was a real trip. The audience was fantastic, kids travelling in from all across the region, gave us a great welcome which made for a career high!"
Ed Lay, Editors: "We went up to the festival as punters the day before our show and felt it was the most fantastic place to watch live music. When we finally played the following night, the crowd, the view and the atmosphere were even more perfect. Exit is a special place."
Feed Me: "Probably the most unique festival on the continent and a great crowd, my only regret is that I couldn't stay for the whole thing."
Alex Kapranos, Franz Ferdinand: "Exit was more than we could have expected it to be. The audience were exceptional and the setting was breathtaking. I hope they have us back sometime."
Gregor Tresher: "EXIT absolutely lived up to the high expectations – magical venue, great crowd, spectacular lineup and wonderful staff! Can't wait to do it again!"
Adrian Utley, Portishead: "It was good to be part of such a politically important non corporate festival that has much good music and intentions in a really beautiful place"
Liam Howlett, The Prodigy: "One of the best festivals in the world. For real"
Mike Skinner, The Streets:"I'm so glad I've seen the Exit Festival. It is not just a festival, it is a truly unique all night celebration. The crowd were great fun."
Karl Hyde, Underworld:"Exit was in a extraordinary setting with so much diversity in one place and it reminded me of how festivals' used to be in the 90's. The history of the festival made it even more significant to be part of the event and the enthusiasm and energy with which we were greeted, was a humbling and emotional experience."
EXIT – MORE THAN JUST MUSIC:
As well as the Music, EXIT never forgets its beginnings and aims to evolutions the revolution it started more than one decade ago with several key topics to improve initiative, engagement and further development of young people. EXIT is the only music festival to be created as an effect of youth activism and aims to continue to mobilise the public opinion and thought leaders in the field of youth development on a regional and a global level.
On the opening day of the festival, and the birthday of Nikola Tesla, one of the greatest scientists and inventors of all time, an initiative for Serbia's (re)branding took place with EXIT taking a leading role in promoting positive changes and the image of Serbia and Balkan region to the world and boost its tourism and economy development.
An agreement with the cooperation of the University of Novi Sad and EXIT was signed, with a goal to promote the importance of culture, science and education among the youth and the society in general. A special tribute was paid to one of the biggest scientists and inventors of all time, the brilliant Nikola Tesla, whose name was featured on the name of the festival's main stage, as well as the Tesla Corner, named after the famous Tesla Corner in New York City, where the visitors had the opportunity to interact with various experiments.
Through a series of public discussions, media articles, workshops, lectures by successful startups, Exit is encouraging young people to take destiny in their own hands and start their own start up business. Several workshops took place on festivals were mentors were giving free lecturing about various topics including; how to create/produce electronic music.
The leading European eco-conference Go Group in cooperation with the European Festival Association was also held, alongside a large number of socially responsible actions that were created during the festival, and whose results will come to life during the next edition of the festival.
Other projects EXIT are involved with are promoting positive role models for young people in the region and highlight all those young, talented, creative people who work hard everyday to make positive change in their own life and their community. Exit donated hundreds of free tickets to the best students, youth activists, young artists and young humanitarian workers.
EXIT. Where hedonism meets activism.
www.exitfest.org