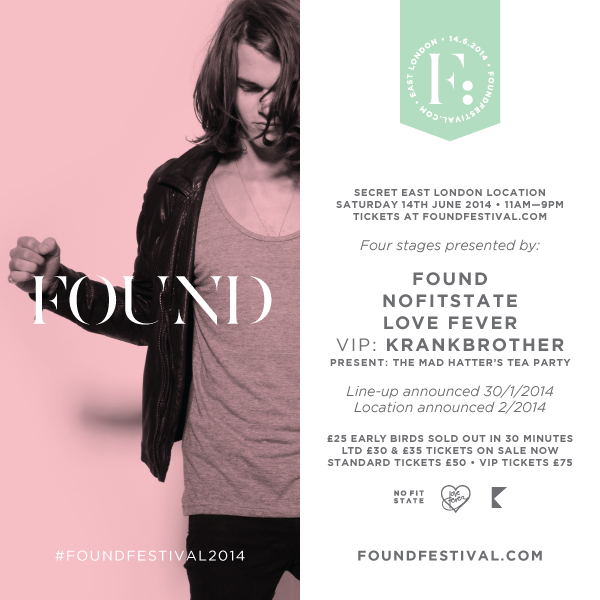 FOUND Festival 2014 early bird tickets go on sale & stage hosts revealed
On Saturday 14th June 2014 FOUND Festival returns to East London for an intimate outdoor showcase of the world's most celebrated electronic talent.
FOUND once again curate the main stage with an eclectic group of artists renowned for standout contributions to electronic music culture past, present and future.
Joining FOUND in 2014 are a selection of brands that rest at the core of London's thriving underground club community: Nofitstate, Love Fever and hosting a brand new VIP concept, Krankbrother Present: The Mad Hatter's Tea Party.
Nofitstate is a key destination for the more discerning house & techno lover. The brand has built a hard won reputation for throwing parties in interesting spaces, with extreme attention to sonic detail in quality music – as well as for its famous annual New Year's Day parties. Resident Geddes has recently partnered with Simon Baker to launch the brand's label NFS. Their FOUND line-up is set to explore the tensions between house & techno with a forward thinking set of DJs from the UK & Europe.
A 'contemporary showcase of sights and sounds for cutting edge people', Love Fever, whilst drawing inspiration from the spirit of yesteryear, pushes the boundaries forward, searching for a new way of clubbing. Their London parties see revellers from every walk of life coming together in dark basements and glamorous lofts to dance the night away to a free spirited mix of disco, deep house, dubbed out techno and leftfield sounds. Love Fever has an extremely special line-up in store for FOUND, spearheaded by a legendary international selector.
Krankbrother (aka Danny and Kieran Clancy) is a London based party and DJ duo. Krankbrother specialise in 'off location' electronic music, showcasing artists in unique locations such as rooftops, streets, beaches, mountain tops, yachts, theatres and railway arches, with regular guests including Josh Wink, Magda, Four Tet, Daphni, Andrew Weatherall & Ellen Allien. Having hosted landmark events at a string of festivals, across London but also in Germany, Ibiza, Brazil, Croatia and beyond, krankbrother now take to the FOUND 2014 VIP and present: The Mad Hatter's Tea Party!
This year in the FOUND VIP, krankbrother will be drawing on their experiences in both restaurants and club nights to curate an afternoon of the best in house music, festival food, cocktails & craft beer. The Mad Hatter's krankbrother party will feature a DJ line up hand-picked by Danny and Kieran, as well as some incredible British street food, banqueting tables, fancy dress, a rabbit hole and some serious all round weirdness. Krankbrother will also be bringing their London renowned mixologist from their Hoxton cocktail bar Beagle, to oversee the VIP bars and create some quality British cocktails for the party…what's not to like?
The FOUND team have worked closely with these discerning brands and dedicated three months to selecting a stellar line-up comprised of some of the biggest European talents, pioneering US artists and some of the UK's brightest future stars. This is a set of DJs chosen for their genuine dedication to sound.
The line-up will christen summer 2014 and deliver a very special assortment of artists in boutique surroundings.
THE FOUND FESTIVAL AFTER PARTY.
Once again the FOUND Festival will be followed by an epic London FOUND After Party, running through the night until 6am.
An impressive event in its own right, the After Party moves to a new location for 2014. With four rooms of programming at one of the city's grandest venues, the sunshine fuelled sounds of the Festival are set to give way to a darker, eclectic late-night offering.
FOUND will present an international line-up of over 20 artists, featuring select talent from the Festival playing special sets, joining a host of new headliners and room hosts for the evening.
Beyond the FOUND main room, dynamic house & techno label Hypercolour present a showcase of some of their most exciting talent. Bubbling up from London's underground, nomadic boogie crew Percolate promise a true party atmosphere, whilst East London's comm•une will deliver a secret line-up centred around audio quality, exploring the dustier realms of their favourite DJ's record collections, played by a host of very special secret guests.
As with 2013's event, the FOUND Festival and After Party line-ups and locations will be announced early in the New Year. Buyers now have the unique opportunity to purchase early bird tickets ahead of the big announce.
EVENT DETAILS.
FOUND Festival
Date: Saturday 14th June 2014 – 11am-9pm
Venue: East London location revealed February 2014
4 Stages from:
FOUND
Nofitstate
Love Fever
VIP: Krankbrother Present: The Mad Hatter's Tea Party
Line-up: Announced Thursday 30th January 2014
FOUND Festival After Party
Date: Saturday 14th June 2014 – 9pm-6am
Venue: London location revealed February 2014
4 Rooms from:
FOUND
Hypercolour
Percolate
Comm•une
Line-up: Announced Thursday 30th January 2014
TICKET INFO.
ALL FOUND FESTIVAL, VIP & AFTER PARTY TICKETS ARE ON SALE NOW FROM:
http://www.foundfestival.com
FOUND Festival Tickets:
£25 1st Release – SOLD OUT IN JUST 30 MINUTES
£30 2nd Release – ON SALE NOW, ABOUT TO SELL OUT
£75 VIP Tickets – ON SALE NOW
£35 3rd Release
£40 4th Release
£45 5th Release
£50 6th Release
FOUND Festival VIP Tickets:
£75 VIP Tickets – ON SALE NOW
VIP Tickets include:
– Fast track FOUND Festival event entry
– Access to the private VIP area where Krankbrother Present: The Mad Hatter's Tea Party
– Exclusive VIP line-up
– Exclusive champagne & cocktail menu
– First class street food menu
– Luxury Toilets
– VIP Garden & Seating Area
– Bespoke stage set-up & décor
– Free event programme lanyard
FOUND Festival After Party Tickets:
£15 1st Release – ON SALE NOW
£20 2nd Release
£25 3rd Release
£30 4th Release
£35 5th Release
Joint Festival & After Party Discount Tickets
£12.50 discounted After Party tickets are available for those who've already bought a ticket for the festival. After purchasing festival tickets, buyers will be emailed an After Party promo code to use on the After Party ticket page to get the discount. These tickets are limited and first come, first served.
USEFUL LINKS.
Found Festival 2014 official website: http://www.foundfestival.com
Found Festival 2013 official video: http://bit.ly/foundaftermovie