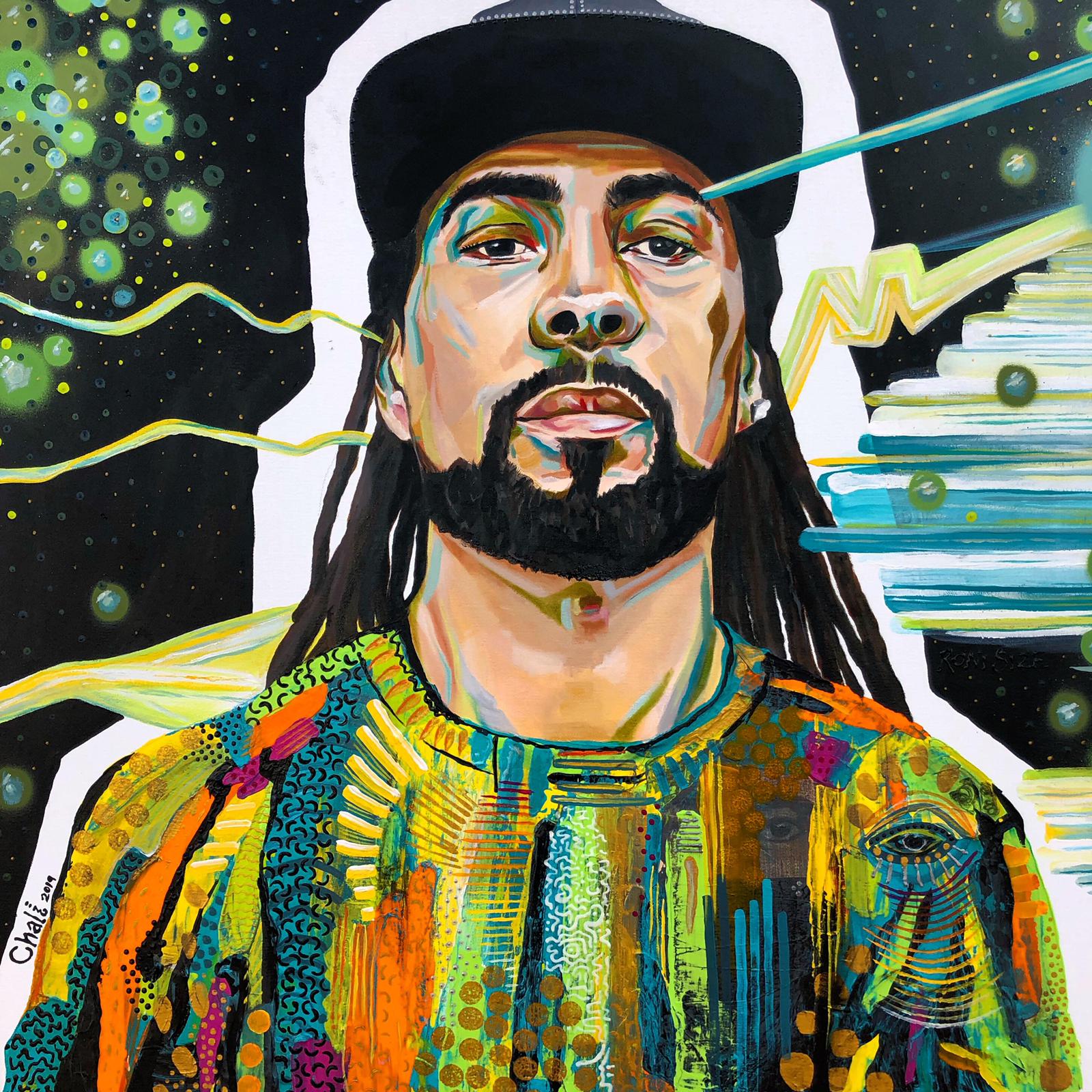 Celebrating the Art of Drum and Bass
Soho plays host to British artist Charlotte Archer's Inaugural Solo ExhibitionFamous faces from the world of Drum and Bass and Jungle form the centrepiece of British artist Charlotte Archer's first ever solo portrait exhibition, 'Sound System Culture 001', taking place next month.
Charlotte will showcase a selection of her oil and acrylic portraits of Jungle and Drum and Bass artists including Fabio and Grooverider, Kemistry and Storm, Roni Size and Shy FX. The exhibition will take place on the site of former record shop, the iconic Black Market Records, in Soho.
Adding to the hall of fame will be some of the pioneers of the scene – Goldie, Darren Jay, Micky Finn, Ray Keith, Stevie Hyper D, Nicky Blackmarket, Jumping Jack Frost and Bryan Gee.  LTJ Bukem will also feature as well as Randall and Andy C, Kenny Ken, Brockie & DET and MCGQ.
Once the hub of the London club scene, D'Arblay Street's Black Market Records (now Cut & Grind Barbershop) will form the backdrop for Charlotte Archer's impressive depiction of a collection of world-class DJs from 7pm on Thursday 12th December 2019. A building that will forever be synonymous with Drum and Bass and jungle, it will relive its musical glory days for one night only.
Artist, Charlotte Archer said: "Having been based in Ibiza for a number of years, I'm incredibly excited to be exhibiting the Drum and Bass collection in London. Being London born and bred, it not only holds a special place in my heart, but it makes so much sense because of what London means to this genre of music.
My inspiration for the collection came not only from my love of Drum and Bass and jungle but from a charity project I was part of in Uganda in 2018 –The Abode Project. I started painting some of the kids from the project that I was out there to support and that has really informed the way I paint people and my style.
I wanted to paint a collection that had meaning; with the DJs who feature in my pieces and how they have shaped the Drum and Bass landscape, I hope I have managed to achieve that."
Darren Jay, one of the big names featured in the exhibition said ""I met Charlotte in Ibiza and was impressed by the portrait work she did in Africa. When she told me she was a huge Jungle and Drum and Bass fan, we got talking about the clubs she used to go to then she showed me the first exhibition portrait she'd done of Shy FX. Her passion for the scene combined with her talent as an artist as well as the current nostalgia towards the early days of jungle struck a chord. It'd be impossible for Charlotte to paint all the people that deserve recognition but how fitting the exhibition is at Blackmarket Records".
All pieces in the collection will be available to purchase on the night. Fifteen percent of all proceeds will be donated to Denny's Fund, a fundraising initiative for Jumping Jack Frost' 6 year old nephew Denny who suffers from ALL Leukemia. Sadly, Denny's recent stem cell transplant hasn't cured his cancer, meaning that he urgently needs further costly treatment in the US that the NHS cannot fund.  Please see the GoFundMe donation page here 
Charlotte Archer's Sound System Culture 001 Art Exhibition event page on Facebook: https://www.facebook.com/events/508643703258066/
Images available here
In a nutshell:
What: Charlotte Archer's Sound System Culture 001 art exhibition
Where: Cut & Grind Barbershop, 25 D'Arblay Street, Soho, W1F 8EJ, (formerly Black Market Records)
When: Thursday 12 December 2019, 7pm-10pm
Entry: Free
About Charlotte Archer
Charlotte Archer is a Barcelona-based British artist. Born and raised in East London, Charlotte has spent many years living in Ibiza where she has won the admiration and recognition of art lovers from around the world.